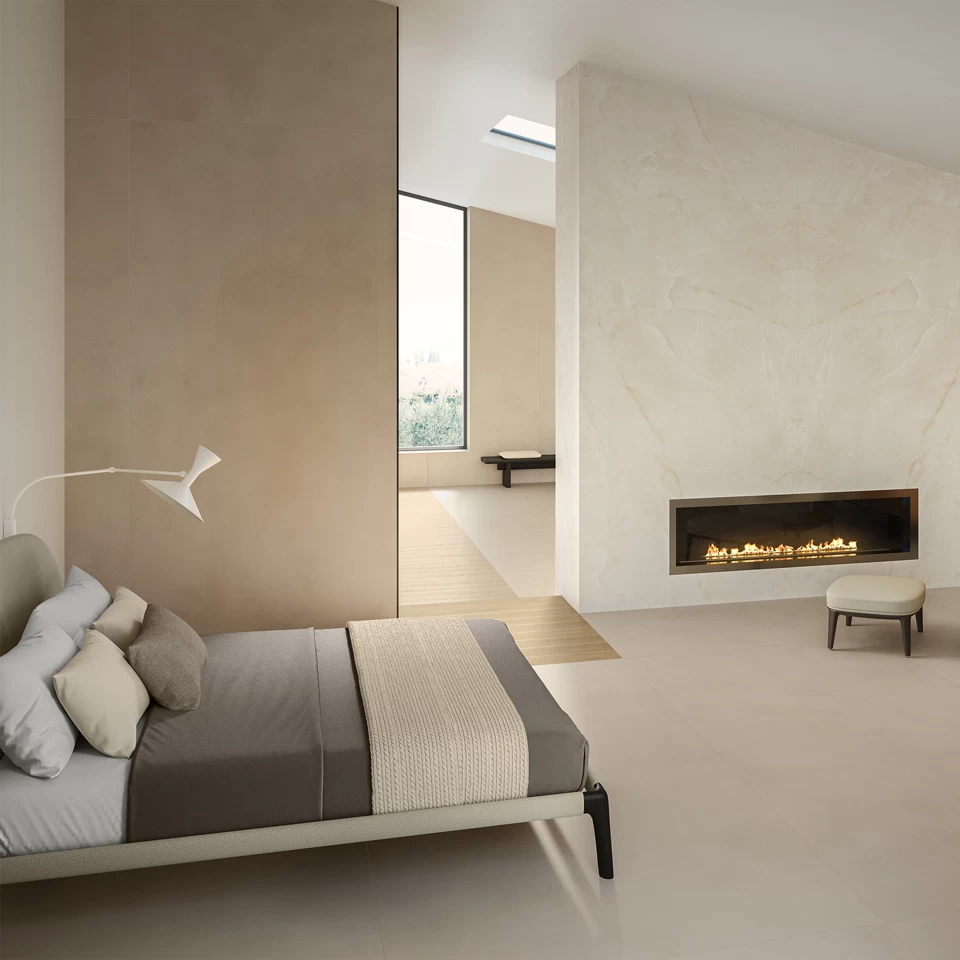 Bedroom wall decor
The bedroom is one of the most important but often underestimated rooms in the house: it is a private place, dedicated to relaxation and rest, and therefore requires special attention during the design phase. Here are some original tips and ideas for a modern and cozy bedroom, capable of reflecting the style of those who live in it.
Bedroom wall panelling: why choose porcelain stonewar
When considering ideas for the bedroom, we often focus exclusively on furnishing accessories such as the wardrobe or the bed frame, leaving out the details that make the space unique and welcoming.
Bedroom wall panelling is a choice that can enhance furnishings and add a sophisticated personal touch, and large format porcelain tiles lend themselves perfectly to these purposes: the finishes available, inspired by natural materials such as marble or stone, are designed to dress walls with a modern look, and since they're low maintenance - which is one of the main benefits of porcelain stoneware - they will keep their charm intact over time.
10 bedroom wall ideas
From the total look to the upholstery of the headboard alone, here is a selection of modern bedroom wall tips and ideas.
1. A faux stone wall
Often it's the details that make the difference, and a faux stone wall is enough to make the entire room unique and original. The basalt stone-effect stoneware slabs, with their intense gray inspired by the famous volcanic stone, are the ideal cladding to give the bedroom a decisive twist while maintaining a clean and minimal look.
2. Playing with contrasts
Those who love wood but do not want to give up a modern and current bedroom can focus on a mix of materials to create new contrasts: covering a wall with vigorous and textured faux cement stoneware will give even more emphasis to parquet or wooden furnishing accessories, such as the bed and bedside tables, creating a welcoming atmosphere but in line with design trends.
3. A soft and delicate atmosphere
An original bedroom wall decor idea is to focus on finishes that transform it into an oasis of well-being and relaxation: in this case, the preferable colors are the warm and delicate shades of beige and ecru, neutral and never trivial. Travertine-effect stoneware slabs, crossed by thin layering, are extremely versatile and go well with both the most classic furnishings, such as wrought iron beds, and the more contemporary finishes, such as glossy laminate wardrobes.
4. A striking headboard
If you're looking for new bedroom ideas but don't want to upset the whole room, you can focus on a bold headboard: among the most unusual finishes are green marble-effect tiles, exotic and unexpected, and Fior di Bosco, embellished with gold veins.
5. Focus on modern colors
If in those shades considered relaxing, such as greens and blues, were chosen for the upholstery of bedrooms, today the contemporary aesthetics trend is to use of bolder and more unexpected colors. Sophisticated and luxurious black marble-effect porcelain stoneware, when used as a bedroom wall panel, becomes a real piece of furniture and gives the room a timeless elegance.
6. An essential bedroom
If the cladding of a single bedroom wall can transform the entire room, those who love minimalist spaces can use stoneware slabs to create a real total look: not just the walls, but also the floors, shelves, nooks, bedside tables and walk-in closet can all be covered with stoneware to create a uniform, essential and extremely sophisticated atmosphere.
7. Total white cladding
There are those who fear that white is trivial, but in reality it is a color that gives maximum expressive and design freedom: cladding the bedroom with Absolute White stoneware slabs is the ideal solution for those who want to enhance whimsical and original furnishing accessories, thus creating a harmonious and balanced atmosphere.
8. Same cladding, different finishes
Those who want to add a sophisticated touch can choose the same cladding throughout the bedroom, but diversify its finishes: the polished finish is particularly suitable for walls because it reflects light and creates a precious and refined atmosphere, while the matte finish is ideal for the floor, rendering it perfectly smooth to the touch with a unique feeling.
9. A rustic atmosphere with a modern twist
It's not always easy to find the right decor idea for a rustic bedroom, perhaps characterized by exposed beams and antique solid wood furniture, but thanks to the versatility of stoneware, you can bring a touch of modernity without distorting the room. Cream Prestige marble-effect stoneware slabs, with delicate veins and a warm shade, fit perfectly into even the most classic bedrooms, adding a splash of modern style without ever being invasive.
10. Bold geometries
The last bedroom idea is dedicated to those who prefer a bold geometric design and solid colors: in this case, the panelling option can only be solid effect stoneware, which, with its compact colors, allows you to design solutions that will surely make a visual impact. The clever mix of finishes can make the difference: porcelain stoneware in a leathered finish, for example, can embellish the headboard of the bed, while a matte black cladding adds a contemporary touch to the entire room.