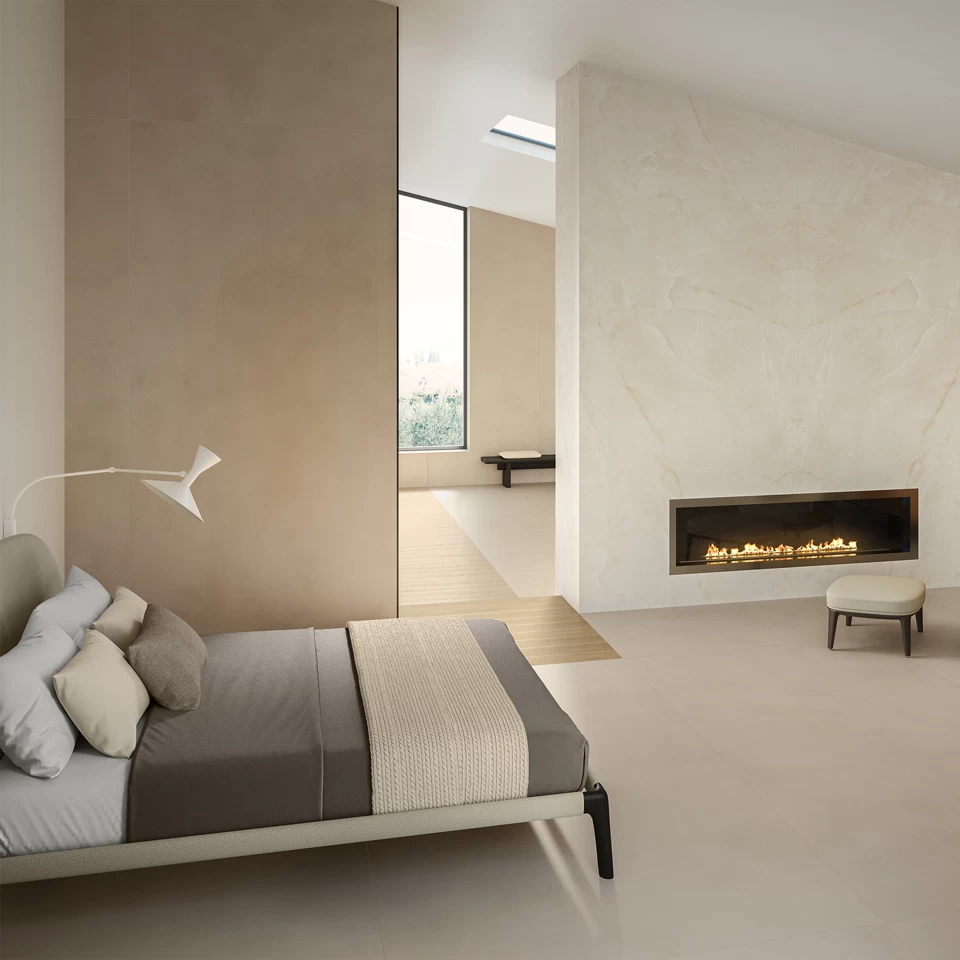 Bedroom wall panelling
The bedroom is one of the most important spaces in the house but it's often overlooked. It's a quiet, private space where you rest and sleep, so special consideration is required when you're decorating it. Here are some original ideas and tips for a comfortable, modern bedroom to match your lifestyle.
Bedroom wall cladding: why choose porcelain stoneware?
When we're considering options for the bedroom, we tend to think only of the furniture we put in it, such as the bed and wardrobe, and overlook details that can provide a unique, comfortable atmosphere.
Your choice of bedroom wallcovering can set off the furniture and add a stylish, personal touch, and large format porcelain tiles are the perfect way to achieve this. The finishes available are inspired by natural materials such as marble and stone and are designed to be a modern, tasteful solution for cladding walls. Since they're also easy to maintain - which is one of the main benefits of porcelain stoneware - they will also retain their appeal over time.
10 bedroom wall panelling ideas
From simple panelled headboard to a total look, here are some tips and ideas for modern bedroom wall decoration.
1. Faux-stone wall
Sometimes it's the details that make the difference, and all you need is one stone-effect wall to create a unique, original room. Slabs in basalt stone-effect stoneware with its intense grey colour inspired by the famous volcanic basalt rock are the ideal cladding to create a clean, minimalist environment with a confident feel.
2. Playing with contrasts
If you like wood but don't want to sacrifice the idea of a trendy, modern bedroom, you could go for a blend of materials to create remarkable contrasts; a statement wall clad in vibrant, robust concrete-effect stoneware will be even more effective if paired with a parquet floor or timber-frame bed or wardrobe to create a welcoming space but featuring the latest design trends.
3. Soft, subtle environment
One original idea is to choose a bedroom wall covering in a finish that transforms the bedroom into an oasis of well-being and relaxation; the key shades in this case would be warm, delicate beige and ecru - neutral but not boring. Travertine-effect stoneware slabs alternating with narrow layers are extremely versatile and look good with both contemporary furniture, such as glossy laminated wardrobes, and more classic furniture like wrought iron beds.
4. High-impact headboard
If you're looking for bedroom ideas but don't want to transform the whole room, you could just go for a high-impact headboard. A headboard in green marble-effect stoneware in Fior di Bosco is an unusual finish that would be totally individual and unexpected with its golden veining.
5. Focus on modern colours
Bedroom wall coverings in shades of green and blue were once considered the most relaxing, but modern aesthetics demand bolder, more unusual colours. A progressive, luxury, black marble-effect porcelain stoneware used as a bedroom wall cladding can actually complement the furniture and give the room a timeless elegance.
6. Understated bedroom
While the whole bedroom can be transformed by cladding just a single wall, an overall minimalist look can be achieved with stoneware slabs cladding not just on the walls but also on the floor, the surfaces, the recesses, the drawers and the wardrobe to create a stylish, understated, uniform environment.
7. Total white panelling
Some people might think white is boring but it's actually the one colour that gives you maximum freedom of expression and design. Panelling the bedroom walls in Absolute White stoneware slabs is the perfect solution as the backdrop to extravagant, creative furniture and for creating a balanced, harmonious environment.
8. Same cladding, different furniture
If you're looking to add a touch of sophistication to your bedroom you could use the same type of cladding throughout, but with different finishes. A polished surface is particularly recommended for walls because it reflects the light, creating a unique, superior environment, while a matt finish on the floor creates a perfectly smooth surface for a unique feel.
9. A rustic environment with a modern vibe
It's not always easy to find the perfect wall covering solution for a country-style bedroom featuring, for example, exposed beams and solid-wood antique furniture, but the versatility of stoneware is perfect for adding a contemporary touch without spoiling the effect. Marble-effect stoneware slabs in Cream Prestige, a warm shade with delicate veining, are the perfect, non-invasive solution to add a hint of modernity to a more classic bedroom.
10. Bold geometrics
Our final bedroom idea is aimed at those who like bold, geometric designs in full colour. The only choice in this case can be solid-effect stoneware with its block colours, which is ideal for creating solutions with an undeniable visual impact. A skilful combination of finishes can make all the difference; porcelain stoneware in a leathered finish, for example, can be used to enhance a bed headboard, while matt black will give the whole room a contemporary feel