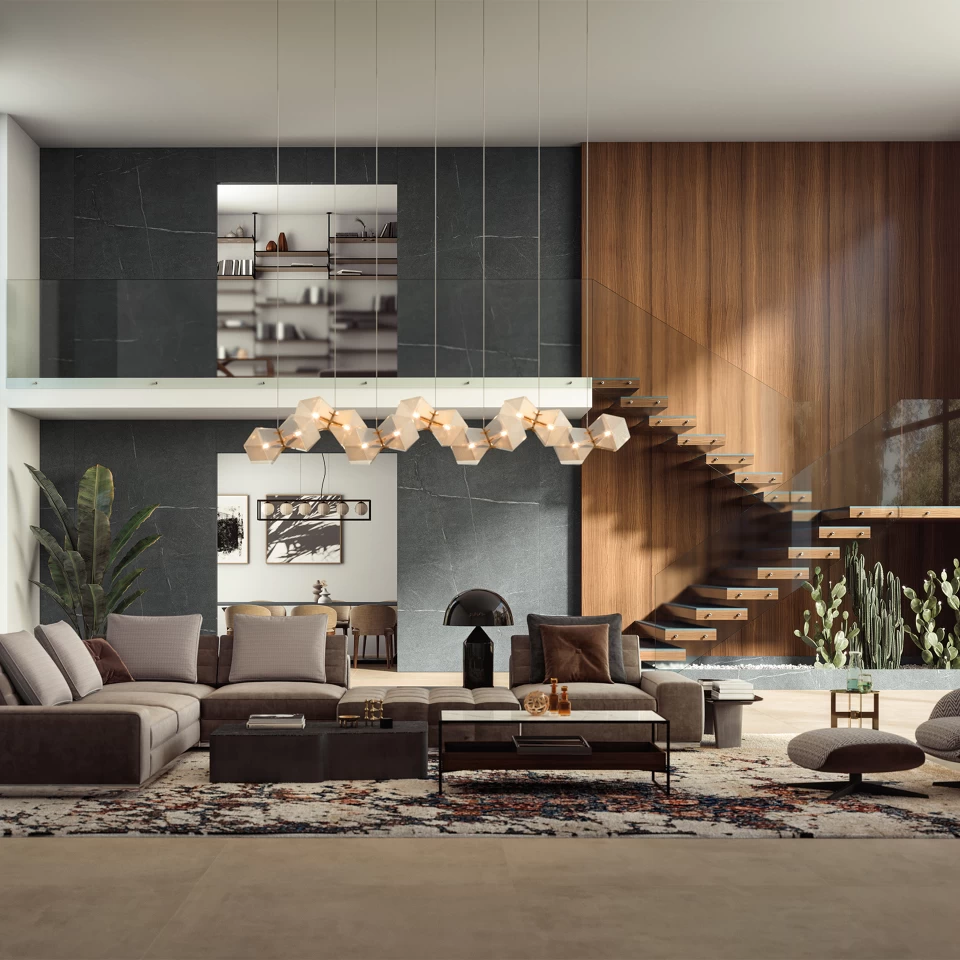 Modern living room wall paneling ideas
When we talk about porcelain tile cladding, we often only think of kitchen backsplash or bathroom walls. In truth, the most innovative ideas for modern living rooms involve using wall cladding even on the walls of the living room and living area, to create striking atmospheres full of personality.
Here are some suggestions to inspire you.
Porcelain stoneware wall cladding
Due to its nature, porcelain stoneware has always been appreciated as cladding for bathrooms and kitchens: thanks to its technical characteristics rendering it both resistant and waterproof, hygienic and easy to maintain. Today, stoneware is also becoming in the living area, both as flooring and wall paneling in a modern living room: a true decor piece that adds character and created both a welcoming and sophisticated atmosphere.
For those searching for new ideas for living room walls or for the design of modern living rooms, you will find the inspiration you are looking for in stoneware: from large-format ceramic slabs to precious marble-effect stoneware cladding, your design freedom has no limits.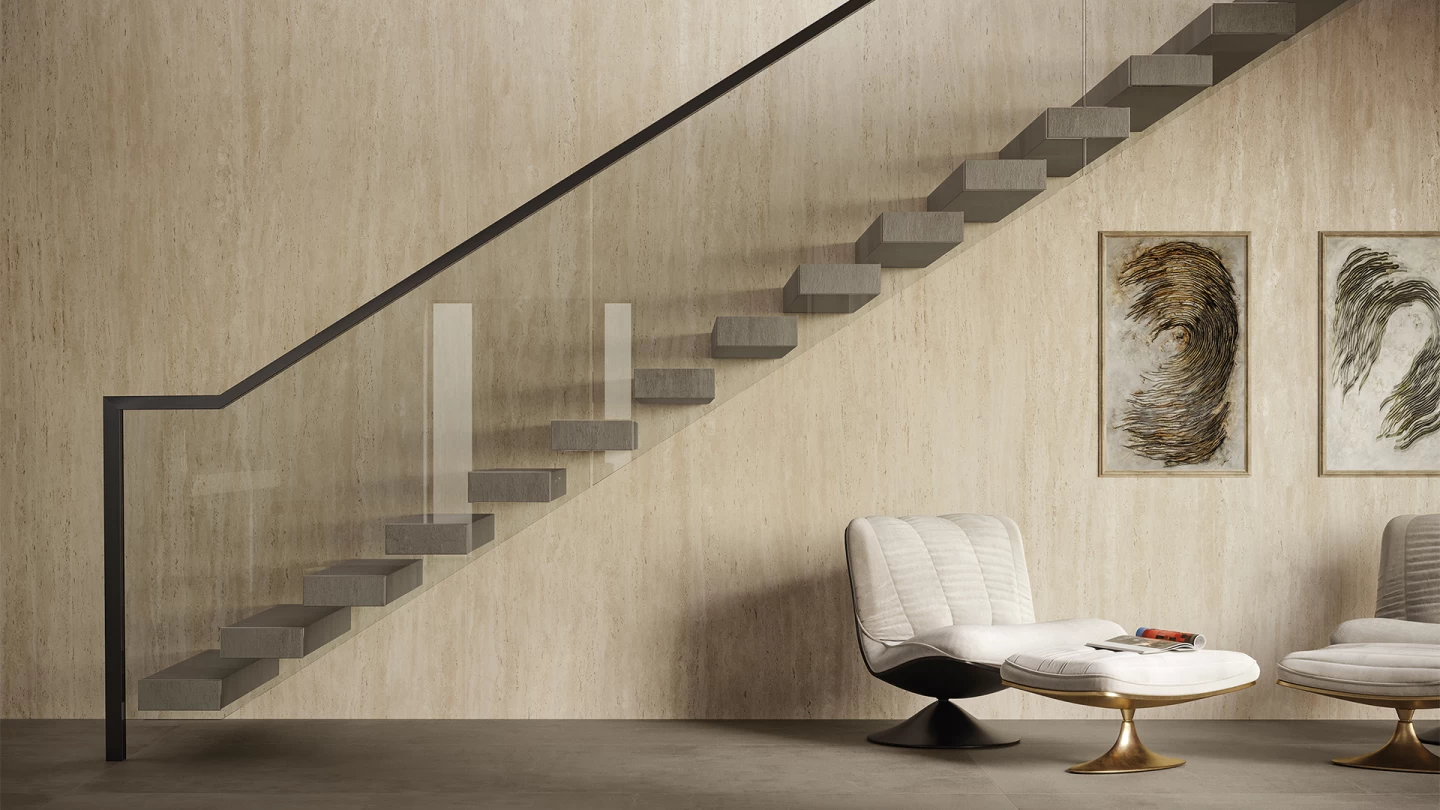 Modern living room ideas
Whether it is purely for aesthetics or a strategic choice - for example, the need to visually separate the kitchen and living room in an open space -, wall cladding in the living area can give new expressive force to the entire space. Here are some ideas for designing an impactful modern living room.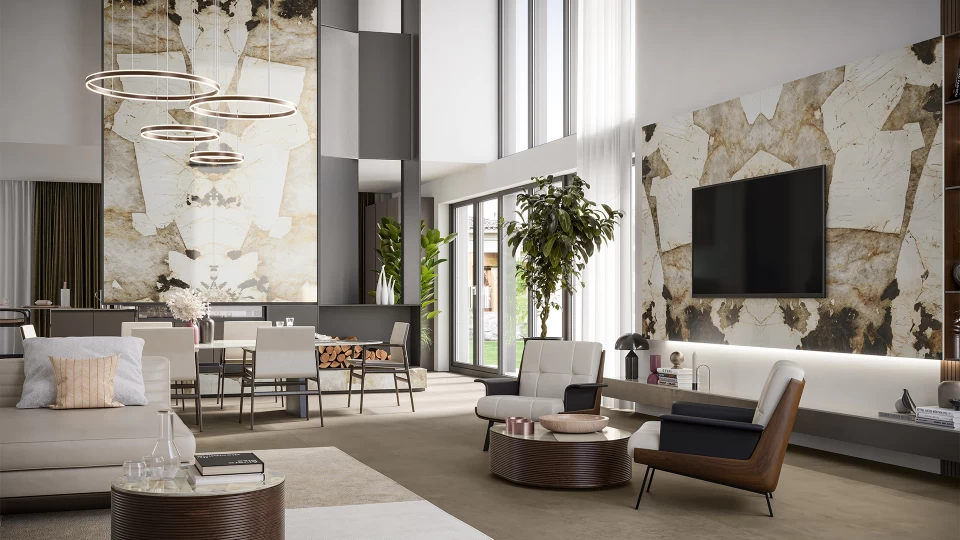 Cladding is the new art
When it comes to designing large living rooms, one of the most complex challenges is to find furnishing accessories with a strong visual impact and dimensions appropriate for the space: a solution may be to choose wall cladding for the living room that is able to immediately capture attention while matching its environment. So let's give the green light to material slabs such as stone-effect stoneware have the green light, or bold intertwining shapes and colors such as those of the large Desert Soul marble-effect slabs.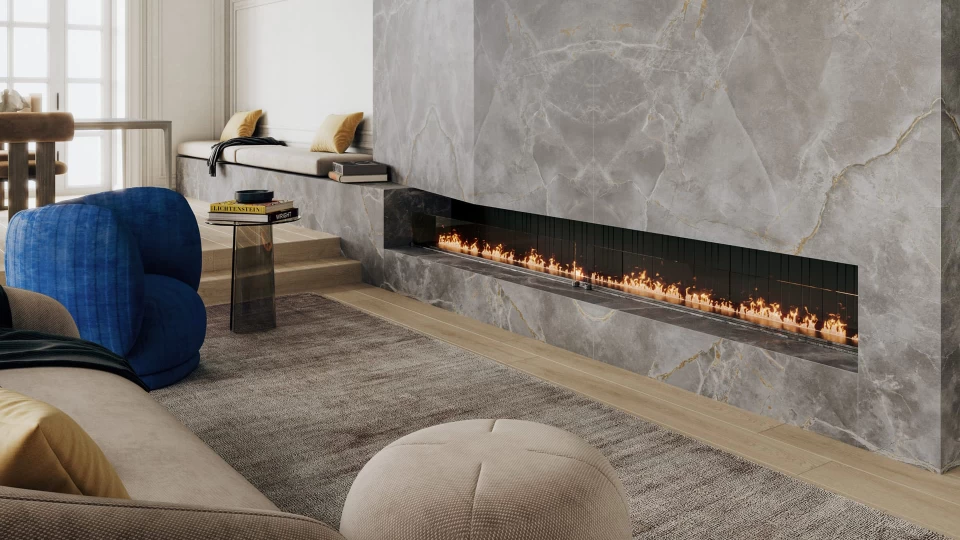 Classic charm but in a contemporary key
Marble-effect stoneware tiles are perfect for giving new life to classic accessories such as a fireplace: in order to interpret the warm atmosphere created by a fire in a modern way, choose a stoneware cladding with intense shades and crisp veins. The same applies to traditional equipped walls or nooks used as bookcases, which can be embellished with sophisticated, contemporary backgrounds.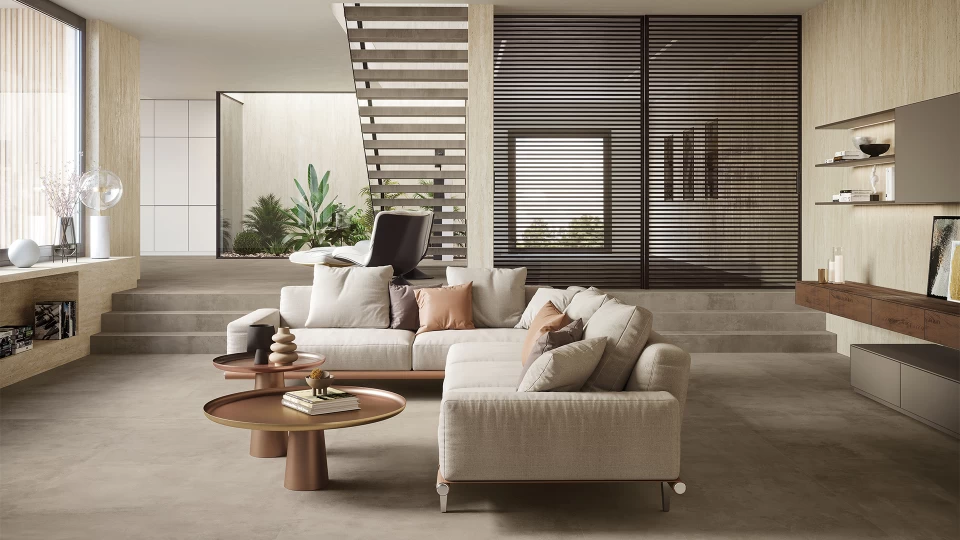 An overall warm and enveloping look
While cladding a living room wall can be an excellent trick to visually separate it from the open kitchen, covering all the walls with the same finish used for the floors allows, on the other hand, to create an enveloping and sophisticated atmosphere. The most suitable shades are undoubtedly beige, ecru and lighter shades of gray, also to be taken into consideration as bedroom wall ideas because they give personality to the room without weighing it down.