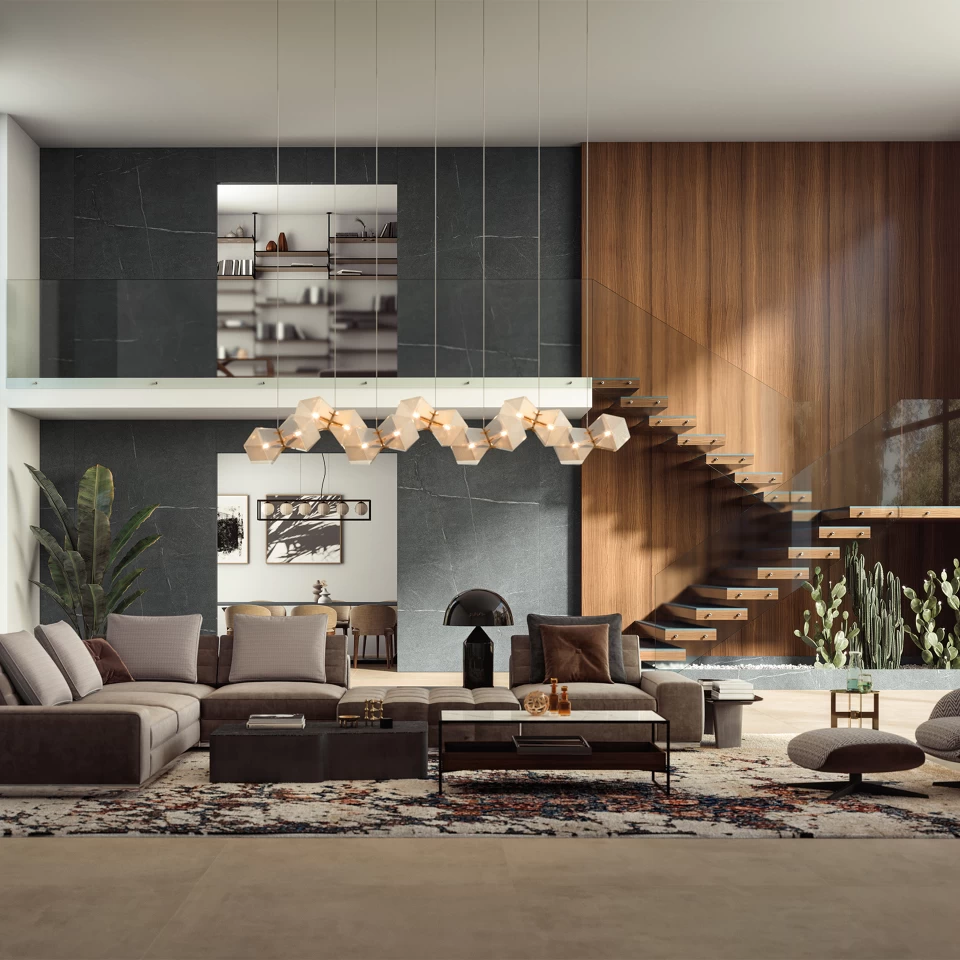 Modern living room wall cladding ideas
When we think about porcelain stoneware cladding, it's usually just for the bathroom walls or kitchen backsplash. The most visionary ideas for modern living rooms, however, use cladding for the walls of living rooms and seating areas too, to create an evocative atmosphere with personality.
Here are a few ideas for inspiration.
Porcelain stoneware wall cladding
Porcelain stoneware has always been a respected natural solution for cladding bathroom and kitchen walls thanks to its technical characteristics - it's not just hard-wearing, it's also waterproof, hygienic and easy to maintain. But stoneware is now becoming a popular choice for living rooms too; it can be used as either flooring or wall cladding to complement your furniture and create a modern, stylish environment for your living area.
If you're considering new ideas for your living room walls or planning a modern sitting room, stoneware is the inspiration you're looking for; from large-format ceramic tiles to exquisite marble-effect stoneware cladding, there are no limits to your creative freedom.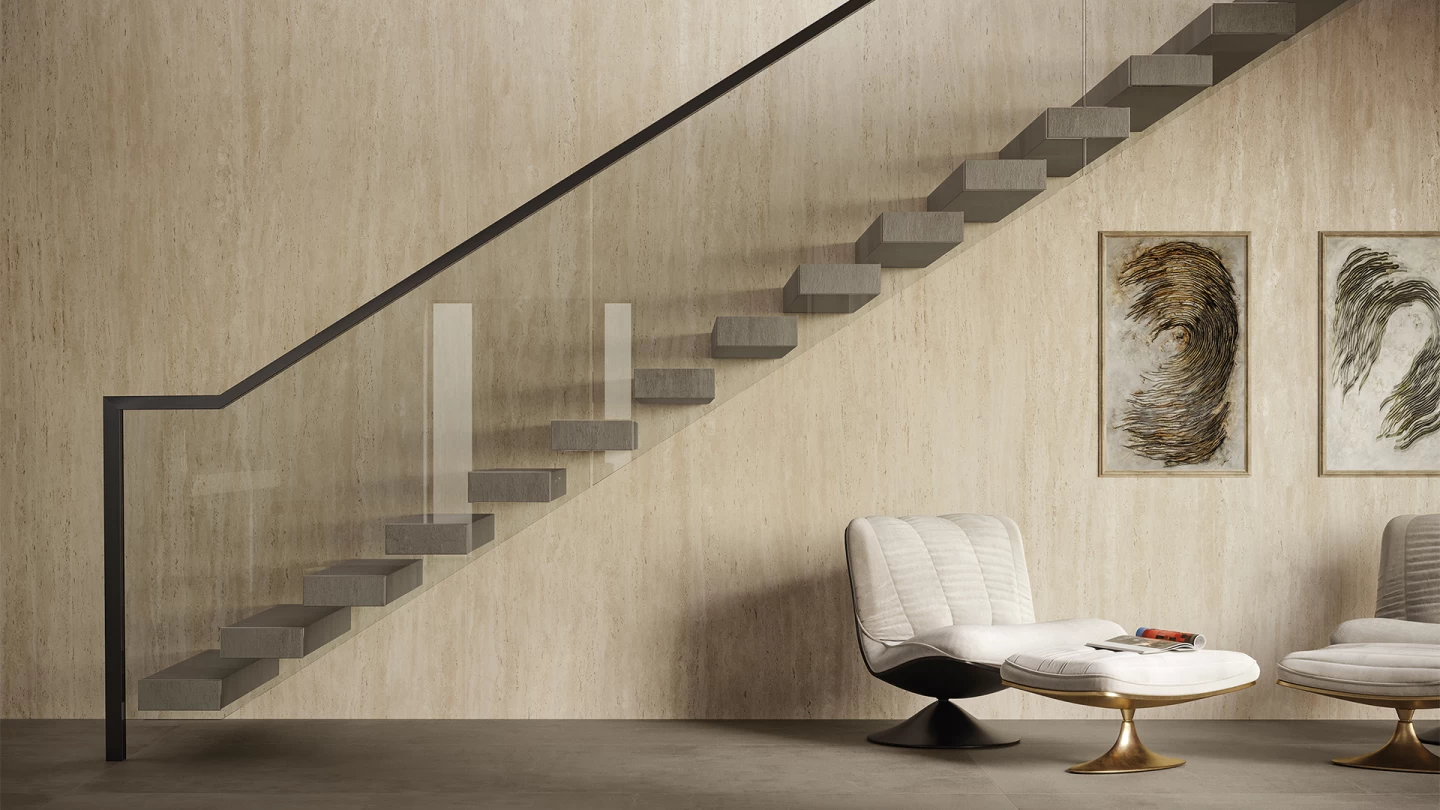 Modern living room wall ideas
Whether it's a purely aesthetic choice or a practical decision - to create a visual separation of an open space kitchen and living room, for example - cladding the walls of the living area can add a new expressive force to the whole space. Here are some ideas for designing a high-impact modern living room.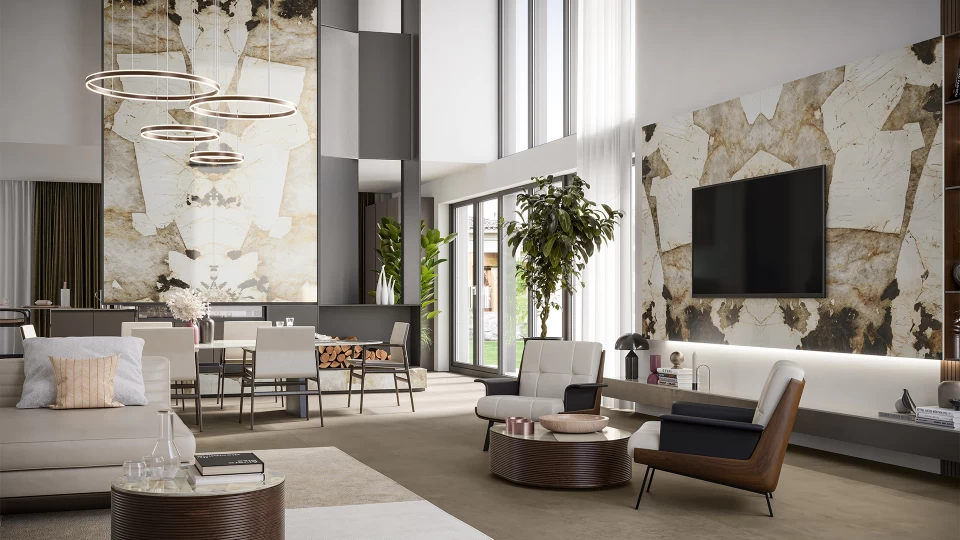 A new take on a mural
When you're designing a spacious living area, one of the most challenging aspects is finding the right furniture in the appropriate dimensions to complement the space and give it strong visual impact. One solution is to choose a cladding material for the living room walls that coordinates with the environment but immediately grabs the attention. An excellent choice here is slabs in tactile materials like stone-effect stoneware, or bold, colourful feature panels made of large-format marble-effect slabs in Desert Soul.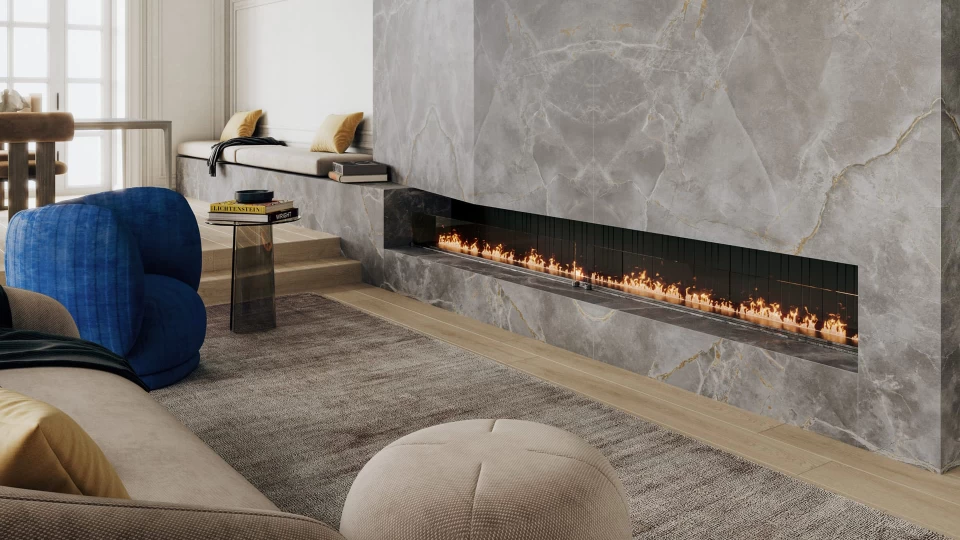 The charm of a classic with a contemporary vibe
Marble-effect stoneware panels are the perfect solution to breathe new life into classic features such as fireplaces. To put a modern stamp on the cosy environment around your fireplace, choose stoneware cladding for the panelling in a vibrant shade with distinct veining. The same goes for traditional wall units and recesses fitted with bookshelves; they too can be enhanced with a stylish modern backdrop to bring them up to date.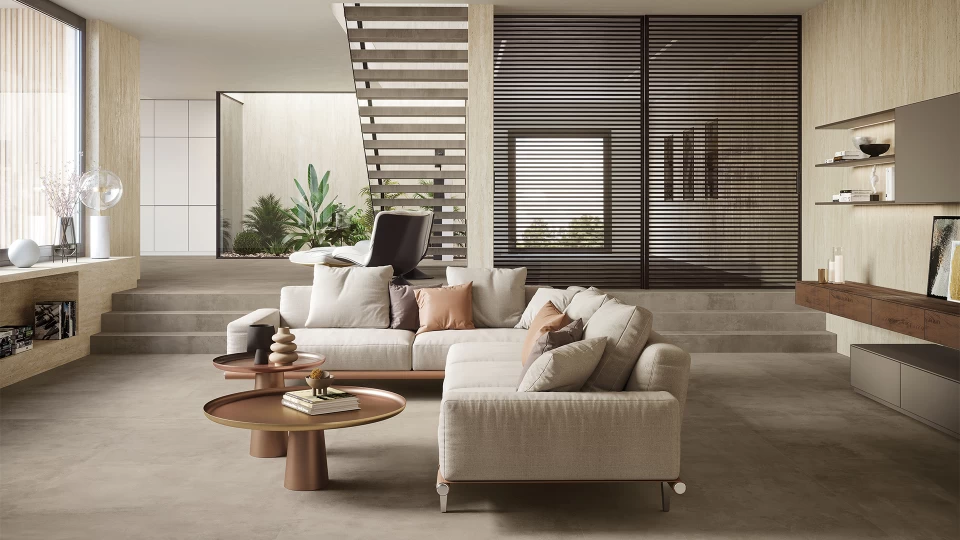 A warm, harmonising look throughout
While cladding a single wall in the living space can be an excellent device for creating visual separation from the open kitchen, you can also create a stylish, harmonious environment throughout by using the same finish for the walls and floor. The most appropriate colours have to be beige, ecru and various shades of light grey, which also work well on the bedroom walls panelling as they lend character to a room without overpowering it.