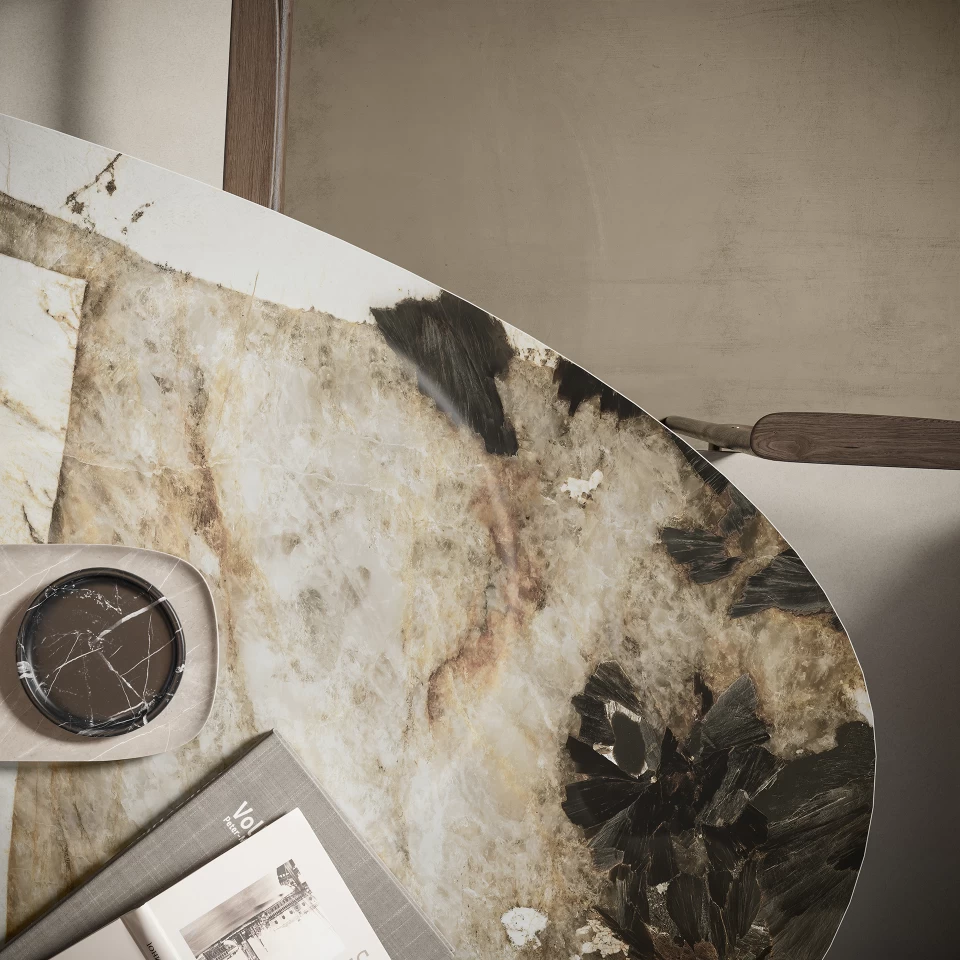 Table tops ideas
Whether it's a dining table, a desk, or the countertop of the kitchen peninsula, choosing the perfect table top is crucial as it can bring character and identity to the entire space. Here is a selection of table tops ideas, perfect for either covering an existing one or creating a brand-new table that matches the porcelain stoneware finishes throughout the house.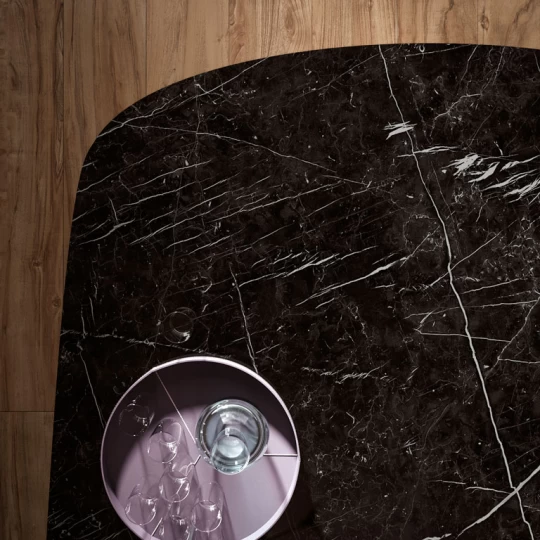 Porcelain stoneware table tops
When considering ideas for home or office tables, aesthetics don't always align with functionality. For example, a raw wood top may be more delicate and difficult to clean, while a simple laminate surface may not satisfy visually. This is where Atlas Plan porcelain stoneware table tops come in as the ideal solution. They can transform a simple surface into a stylish and design-oriented furniture piece that is not only beautiful to look at but also extremely durable and easy to clean.
15 table tops ideas
Stone, marble, concrete, and more: the wide range of available finishes offers endless possibilities for customization, allowing you to enhance every space according to your tastes and needs. If you're looking for some style ideas for home or office tables, here are some suggestions to inspire you.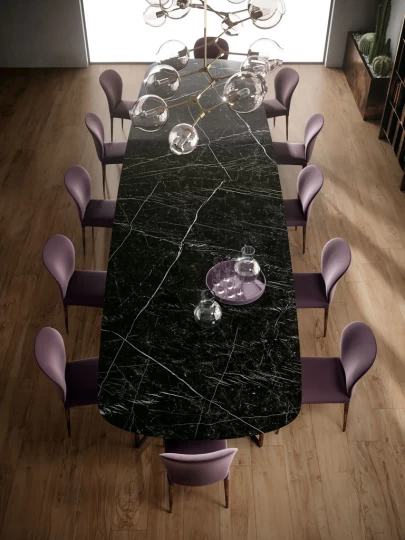 1. Impressive
A table top in deep black enriched with intense irregular veins immediately catches the attention, especially in large spaces. The final result is luxurious and visually striking.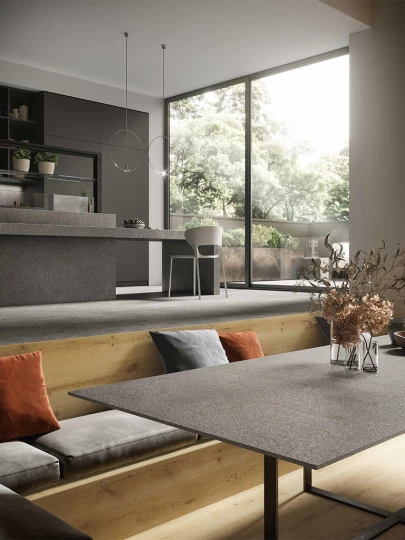 2. Ultra modern
Especially when paired with kitchen fronts or flooring, a stone-effect table covering creates an ultra-modern atmosphere throughout the room. The textural effect of Dolmen Pro Grigio's flamed porphyry, combined with the thinness of the slab, is extremely pleasing even on small tables.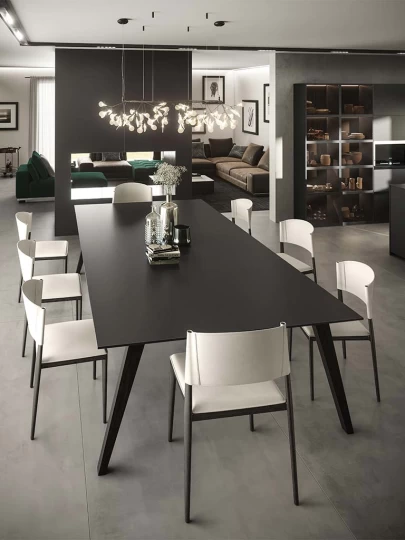 3. Essential
Elegant and bold at the same time, porcelain stoneware with an absolute black finish is perfect for those who want to create clear contrasts while appreciating clean lines. Among the many dining table ideas, it is certainly one of the most admired because it can be easily paired with any type of seating, from the simple to the more sculpted and unique.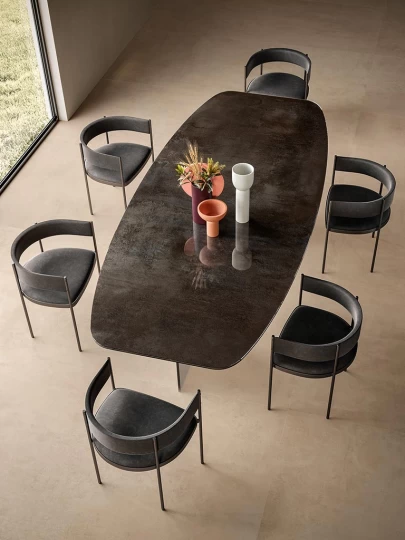 4. The Protagonist
The Blaze Iron oxidized metallic effect can give a unique and evocative twist to neutral-toned spaces. With its captivating surface, this table top exudes a strong character which can be softened by choosing rounded edges or by using legs with softer lines.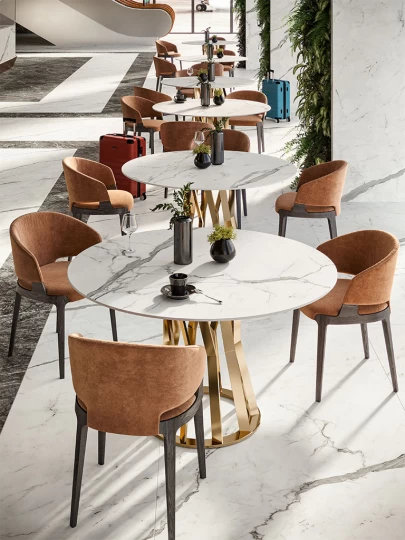 5. A Timeless Classic
Few materials withstand trends like the marble effect. Always elegant and always precious, whether in private spaces or luxury restaurants, table bases in statuario marble-effect porcelain stoneware add a regal touch to any space with their milky white background crossed by elegant gray veins.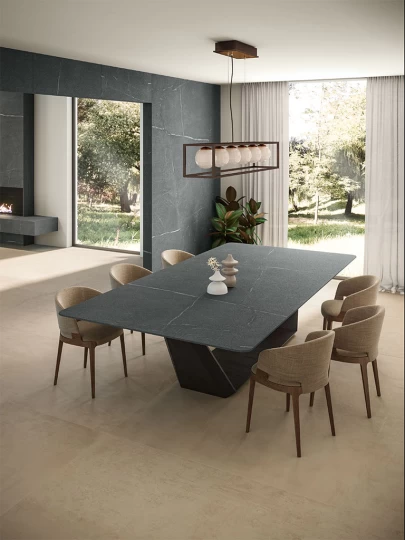 6. Texture
The Soapstone Dark effect provides all the textural feel of soapstone to the touch, but with the durability and practicality of porcelain stoneware. The powdery appearance is even more sophisticated when combined with surfaces and finishes in neutral tones such as ecru.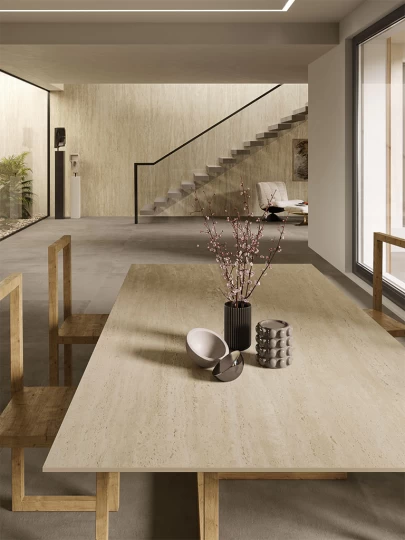 7. Minimalist
A table made of travertine-effect porcelain stoneware is a modern but not simplistic choice that complements both classically inspired spaces and today's minimalist atmospheres. Since it blends perfectly with most furnishings, it is an excellent solution for dividing the kitchen and dining area.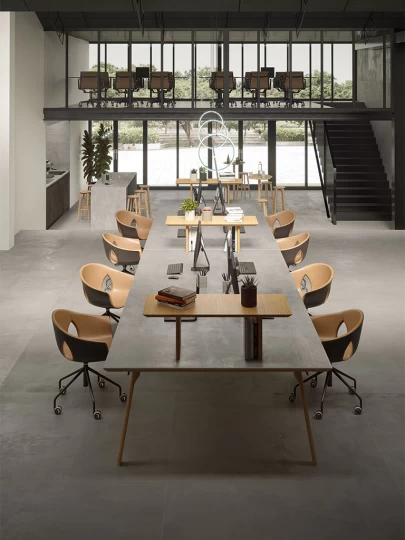 8. Energetic
Very popular in open spaces, the concrete-effect porcelain stoneware table top is like a blank canvas that allows for great customization. It becomes chic and sophisticated when paired with imposing leather seating, while it immediately becomes energetic and bold when placed in modern and dynamic design contexts.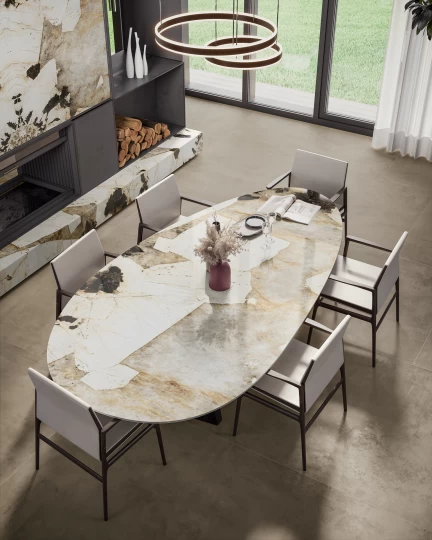 9. Decorative
If the kitchen is the central hub of the home, a table with a Desert Soul marble-effect finish will make it even more evident. Refined and eccentric at the same time, this surface is characterized by prominent color variations and unique patterns that express their maximum charm on large tables.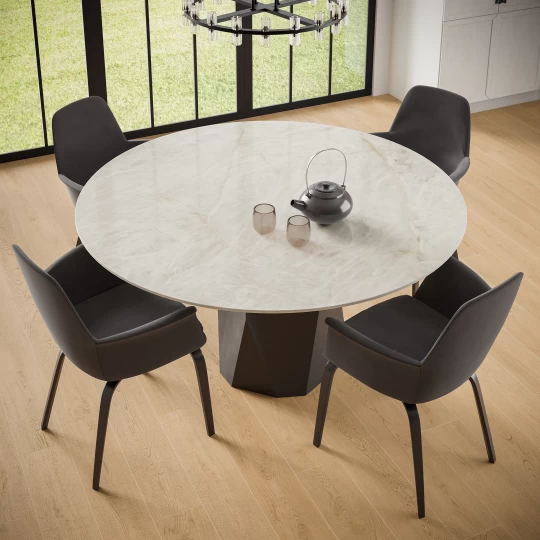 10. Ultra-feminine
Radiant without being flashy, the white marble effect adds a feminine and sophisticated touch that shines best on round or oval tables. The white base embellished with light veins makes this finish perfect for any environment, from modern kitchens to more traditional dining rooms.
11. Linear
With a slightly cooler shade compared to its Sand counterpart, the table covering in Travertino Pearl effortlessly furnishes any space with simplicity and elegance. The grayish hue of the base creates a sophisticated contrast with wooden finishes and furnishings, while seamlessly blending with stone or concrete effect flooring.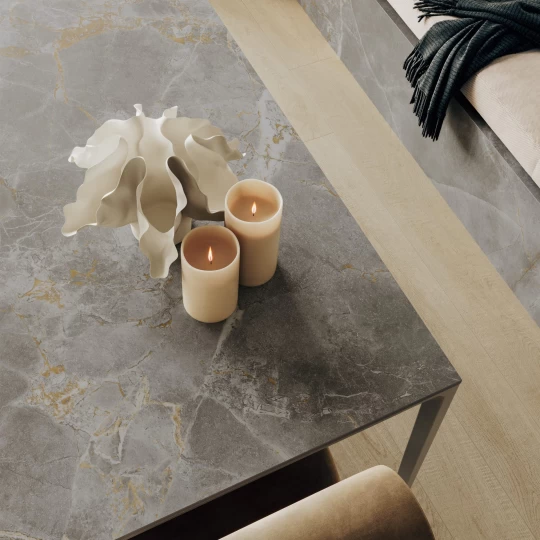 12. Intense
Those in search of ideas for a unique and impactful table top will find the perfect answer in the Fior di Bosco marble-effect porcelain stoneware. The intense gray of the base is embellished with delicate golden veins, making it extremely original and personal.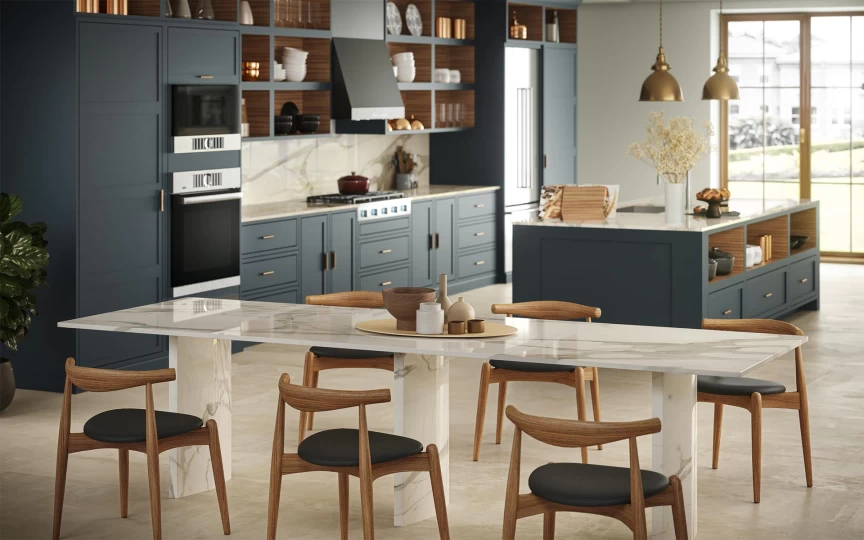 13. Precious
Calacatta Borghini marble-effect porcelain stoneware slabs are the perfect choice to give importance to the table top, whether it's in an executive office or the family dining room. When combined with natural wood or copper tones, it becomes even more precious and welcoming, while it can add a touch of warmth in ultra-contemporary and minimalist environments.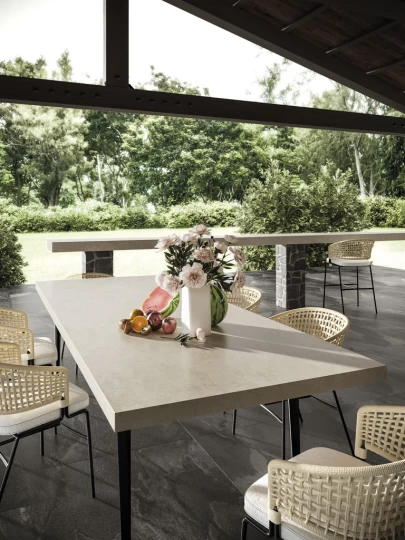 14. Functional
Simple, yet rich in precious details: Cream Prestige marble-effect porcelain stoneware is characterized by warm tones and almost imperceptible veins, making it extremely versatile. Highly appreciated in outdoor settings, when used for the table top in the kitchen it adds a touch of style without overpowering the surrounding decor.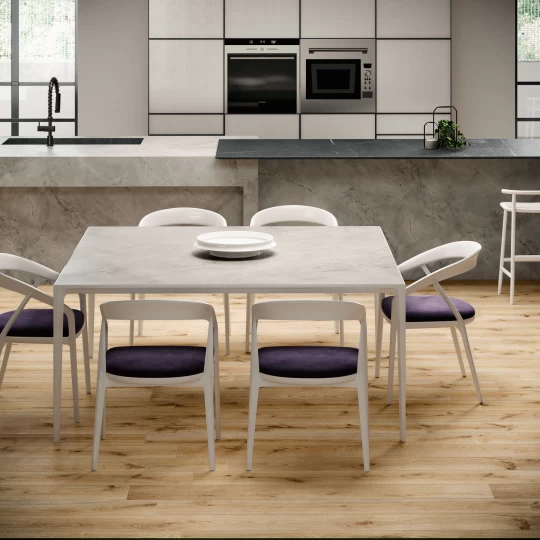 15. Intangible
The solidity and durability of porcelain stoneware, combined with the elegant and ethereal aesthetic of clouds: the White Cloud color is ideal for brightening spaces characterized by imposing furnishings, such as floor-to-ceiling kitchens. The subtle veins traverse the slab, creating an incredibly delicate movement, making this finish perfect for large countertops, table tops, or islands.