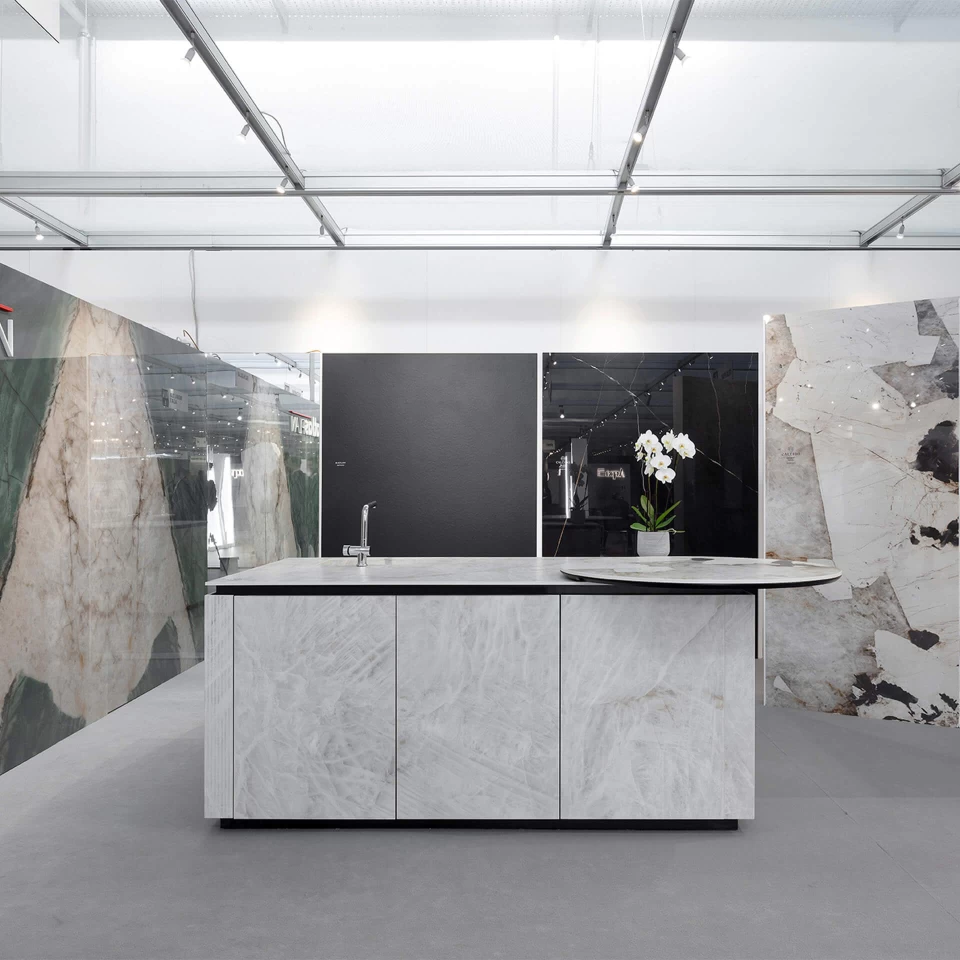 Sicam 2022: between new products and new trends
Atlas Plan returns to Sicam in Pordenone - International Exhibition of Components, Accessories and Semi-finished Products for the Furniture Industry - a complete and exhaustive showcase of all the product novelties and market trends for future collections of furniture, kitchens, bathrooms, contract and interior design.
Hands on porcelain stoneware surfaces
Hands on products and feeling the physicality of materials is increasingly important, especially when it comes to textural surfaces such as porcelain stoneware.
The installation of a kitchen within the stand responds precisely to this need: getting to know Atlas Plan large slabs from close up means experiencing all the extraordinary technical and performance characteristics of porcelain stoneware.
The kitchen by Studio Ferriani
The kitchen at the trade fair was designed by Studio Ferriani, a historic design studio in Florence with over 30 years of experience.
A solid block in the center of the exhibition space was lighter thanks to the use of Crystal White marble look slabs, the Atlas Plan surface that reproduces the delicate and precious effect of crystal and transforms the cladding into pure light.
This material is the ideal solution for all types of indoor and outdoor architectural settings, thanks to its resistance to scratches and wear, its ease of cleaning and maintenance, and its great aesthetic versatility.
Crystal White is one of the innovations of the new Caleido project, already previewed at Cersaie and displayed at the Pordenone trade fair.
The new project gathers five surfaces with a defined personality, inspired by natural stones of unique and distinctive beauty.
From the tropical greens of Exotic Green and Exotic Wave to the interweaving of shapes and dots of color of Desert Soul, ending with the intensity of Black Atlantis and the brightness of Crystal White.