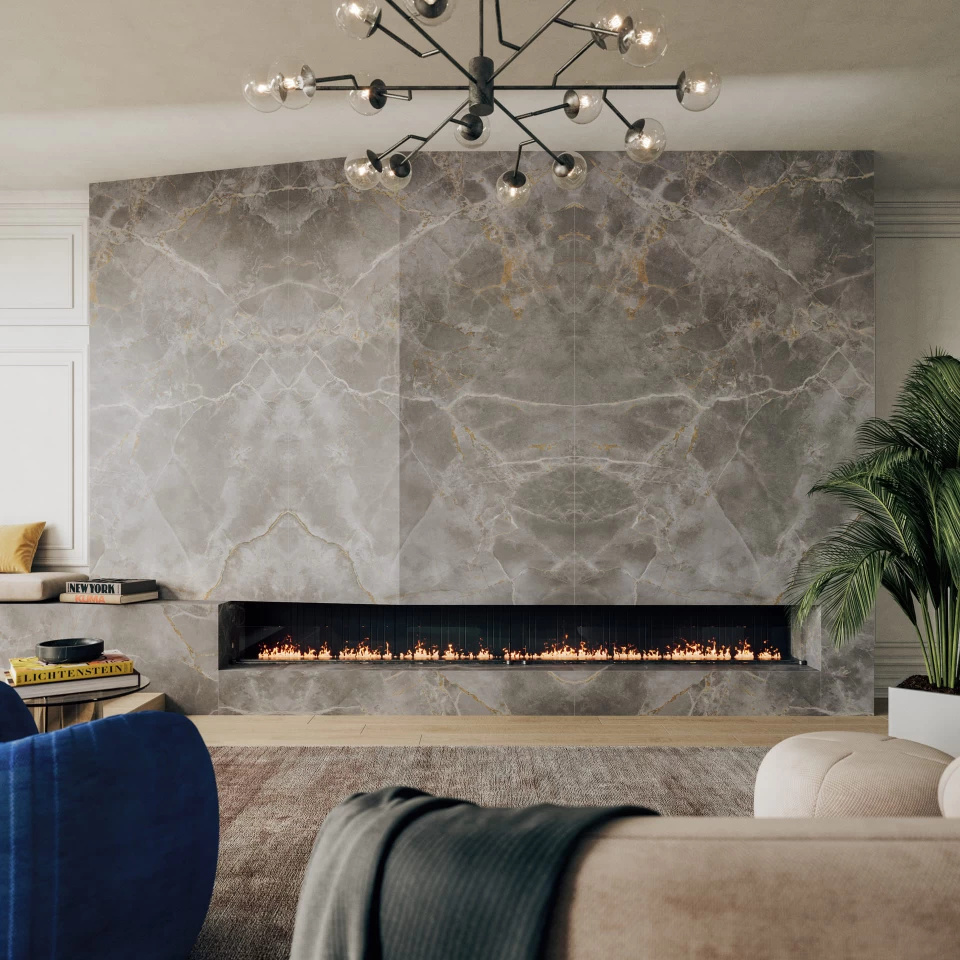 Fireplace cladding ideas
When you think of a fireplace, the first image that comes to mind is often the warm atmosphere of a chalet in the mountains or a cottage in the English countryside. In reality, the fireplace can be a wonderful design piece even in modern city homes, as long as you enhance it: here is a selection of modern fireplace surround ideas, the new protagonist of the designer living room.
Porcelain stoneware fireplace cladding: why choose it?
Homes equipped with a fireplace are now quite rare, and in many cases those lucky enough to have it keep it in its original state, in the - erroneous - conviction that performing major interventions to improve its aesthetics is impossible. And yet, giving new life to a fireplace through porcelain stoneware cladding is not only possible, but it is also a winning choice from many points of view.
Firstly, large format porcelain slabs offer extraordinary technical characteristics and performance: Able to withstand high temperatures or thermal shocks, they are scratch and bend resistant and waterproof, thus they are ideal for fireplace surround and perfect for enjoying its beauty safely.
In addition, thanks to the variety of decorations and finishes available, the stoneware fireplace cladding can reflect the same style as the rest of the space and pave the way for new design solutions; for example, by playing with contrasts or by choosing the same living room wall panels.
Finally, an unforgettable factor is the ease of maintenance, because a fireplace covered in stoneware is much easier to clean than a stone or steel fireplace: a damp cloth soaked in a little neutral detergent is enough to effectively eliminate ash stains and soot that, inevitably, settle on the surface.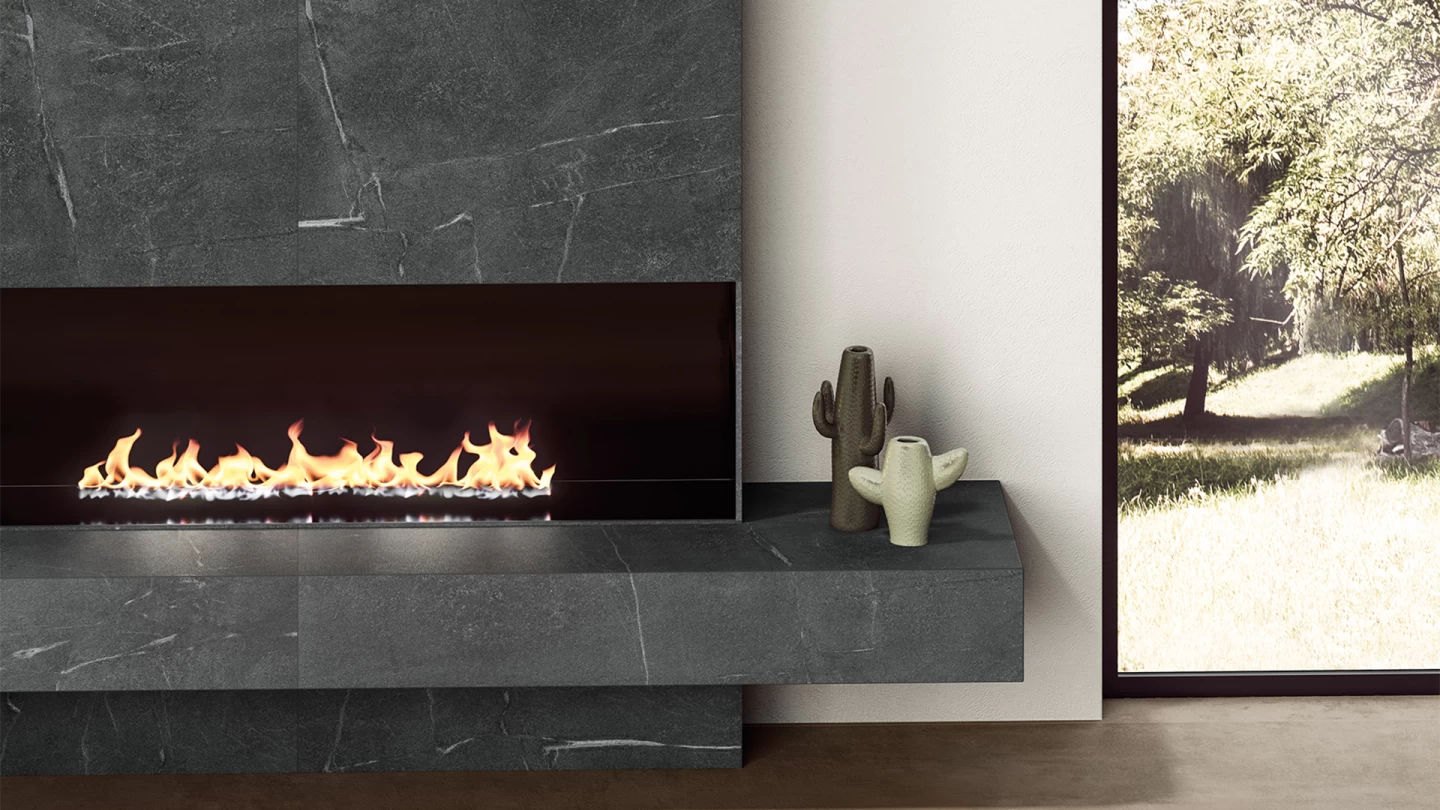 5 fireplace surround ideas
Soft light, a good book and a burning fireplace: what could be more fascinating? Here is a selection of modern fireplace cladding ideas and for enhancing its timeless charm.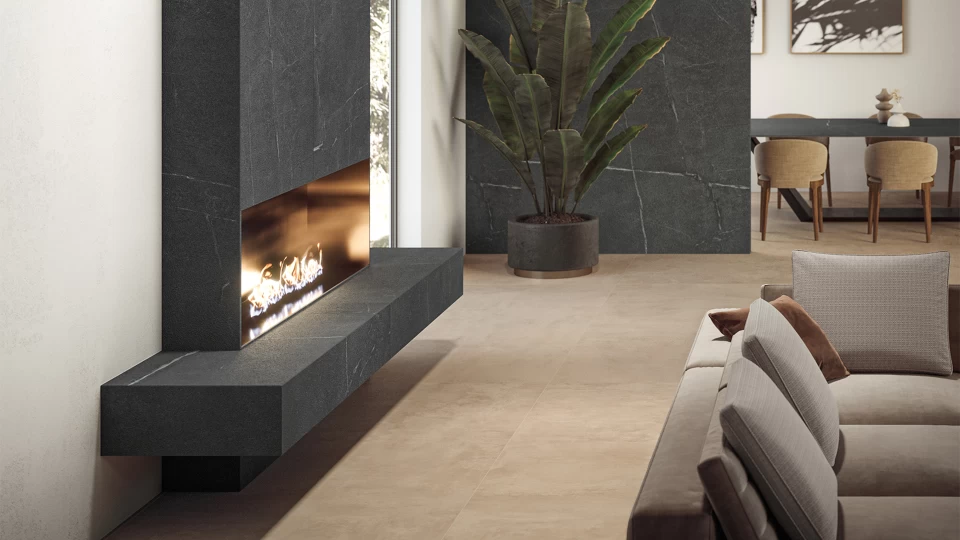 Choosing visual continuity
Among the fireplace surround ideas, one of the most current ones is certainly to focus on visual continuity: choosing the same cladding used for one of the other walls helps to create a balanced and uniform atmosphere, in which the fireplace can integrate and, at the same time, stand out with its golden sparkles.
Emphasize contemporary style
Those who love minimalism and are looking for ideas for fireplace cladding that can be integrated into a contemporary environment can opt for cement effect stoneware, energetic and linear at the same time. The cool shades of gray go perfectly with lofts and industrial spaces, while warmer colors such as beige, taupe and ivory white give a modern and sophisticated personality.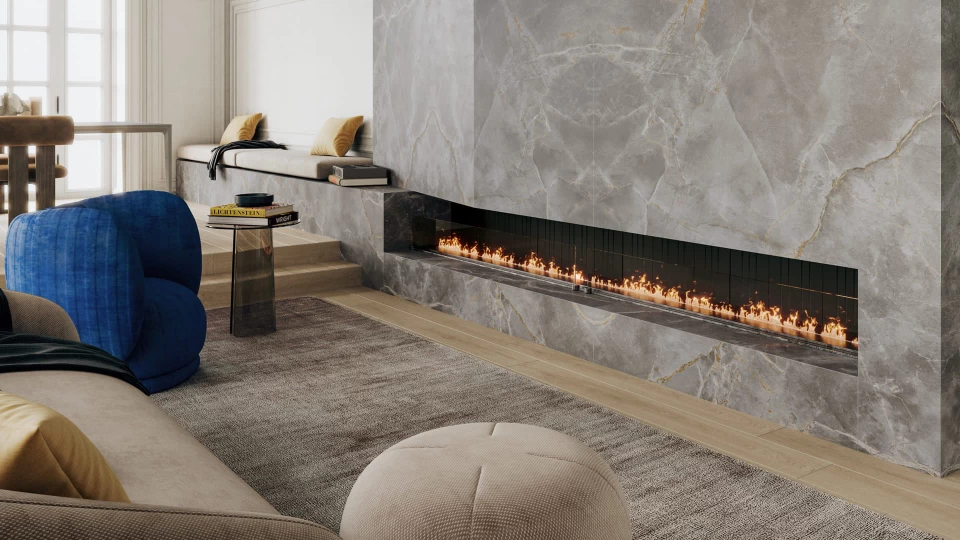 Focus on contrasts
Those who want to make the most of the fireplace and make it the focus point of the living room can instead concentrate on cladding with a bold visual impact or in total contrast to the rest of the environment, perhaps incorporating its structure into the entire wall. The Fior di Bosco marble-effect porcelain slabs, with their precious veins standing out from the intense gray color, add a unique touch to the entire wall, especially when combined with a warm wood-effect stoneware floor.