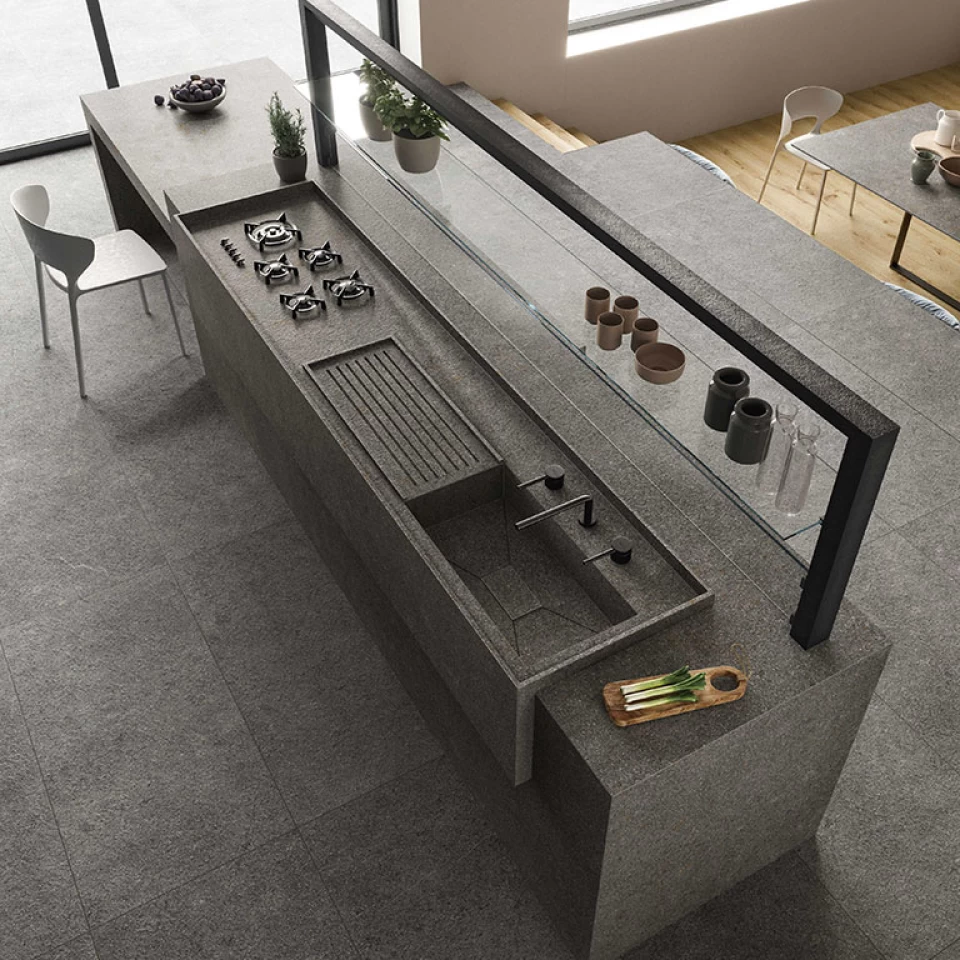 How to clean and polish matte porcelain tiles
Matte porcelain stoneware is one of the most appreciated finishes by designers because it possesses the timeless charm of natural materials while providing all the practicality of a modern and cutting-edge covering. One of the great advantages of porcelain stoneware is, in fact, its ease of maintenance, provided that you follow some simple guidelines and choose specific detergents for each type of finish. Let's take a look at how to clean porcelain stoneware and, specifically, what are the best ways to clean matte porcelain tiles.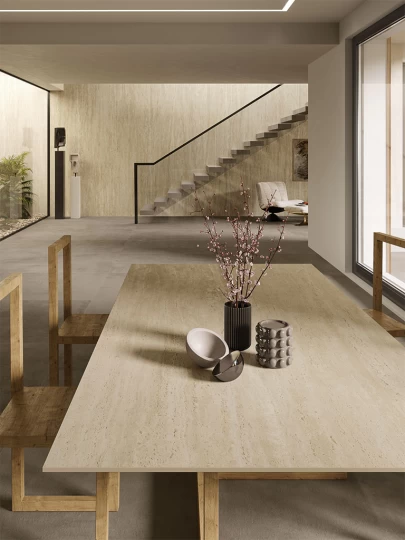 How to clean matte porcelain tiles
Before delving into the specifics of cleaning matte or polished porcelain stoneware, it is important to clarify what we're referring to. The term "matte" refers to the type of finish that is less reflective and more porous compared to a glossy finish.
It is clear, therefore, that a product or detergent for matte porcelain stoneware should have a composition that allows effective cleaning without waxes or polishing substances, so as not to compromise its natural beauty.
We can divide detergents for matte porcelain stoneware into two groups: those to be used immediately after installation and those for daily maintenance. For the initial post-installation cleaning, it will be the installer's responsibility to use specific buffered acid products that will remove all impurities. For daily cleaning, however, it will be sufficient to vacuum up the dust and wash the floor with a neutral detergent diluted in warm water.
Tips for removing stains and streaks
To clean a matte porcelain stoneware floor that has stains or streaks, it is important to resist the temptation to use aggressive detergents: if you act promptly, it will be enough to use a soft microfiber cloth dampened with warm water and a little neutral detergent, scrubbing gently to remove the stain.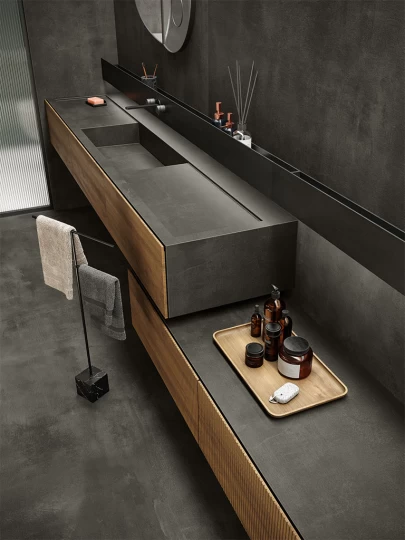 If the matte porcelain stoneware is located in the kitchen — as a backsplash, for example — stains may be more frequent, making daily cleaning even more important. In this case, it is recommended to use a degreasing detergent or a solution of water and baking soda to remove stains from the matte porcelain stoneware. This solution can also be used on kitchen countertops or bathroom vanity tops, followed by a thorough rinse.
Compared to glossy finishes, streaks may be more visible on matte porcelain stoneware, especially if highly concentrated or foamy detergents are used. That's why it's always advisable to dilute the detergents generously and, after washing the surfaces, dry them with a cloth.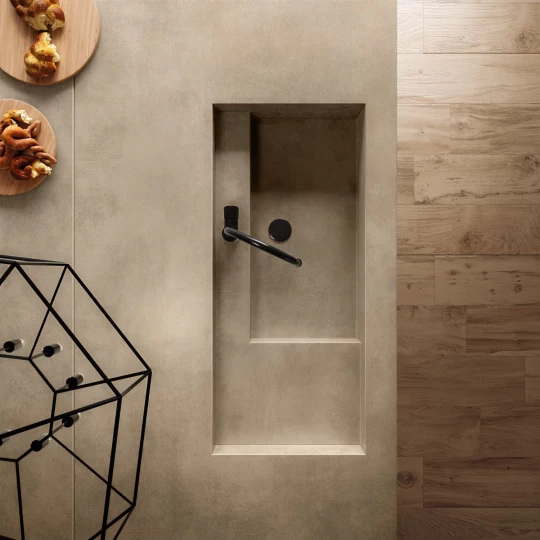 How to polish porcelain tiles?
By following the few simple precautions we have mentioned, matte porcelain stoneware will maintain its natural beauty for a long time. However, if overly aggressive products are used or maintenance is carried out incorrectly, the finish may appear dull and hazy.
But can matte porcelain stoneware be polished? The answer is yes. There are several professional products available on the market to revive a matte porcelain floor or wall covering. However, this is an operation that requires great expertise. It is always advisable to rely on your trusted supplier who can suggest specific treatments to make it shine again. The important thing is to avoid using waxes or polishes that are not specifically designed for matte porcelain stoneware: even though it is an extremely durable material, there is a risk of irreparable damage.