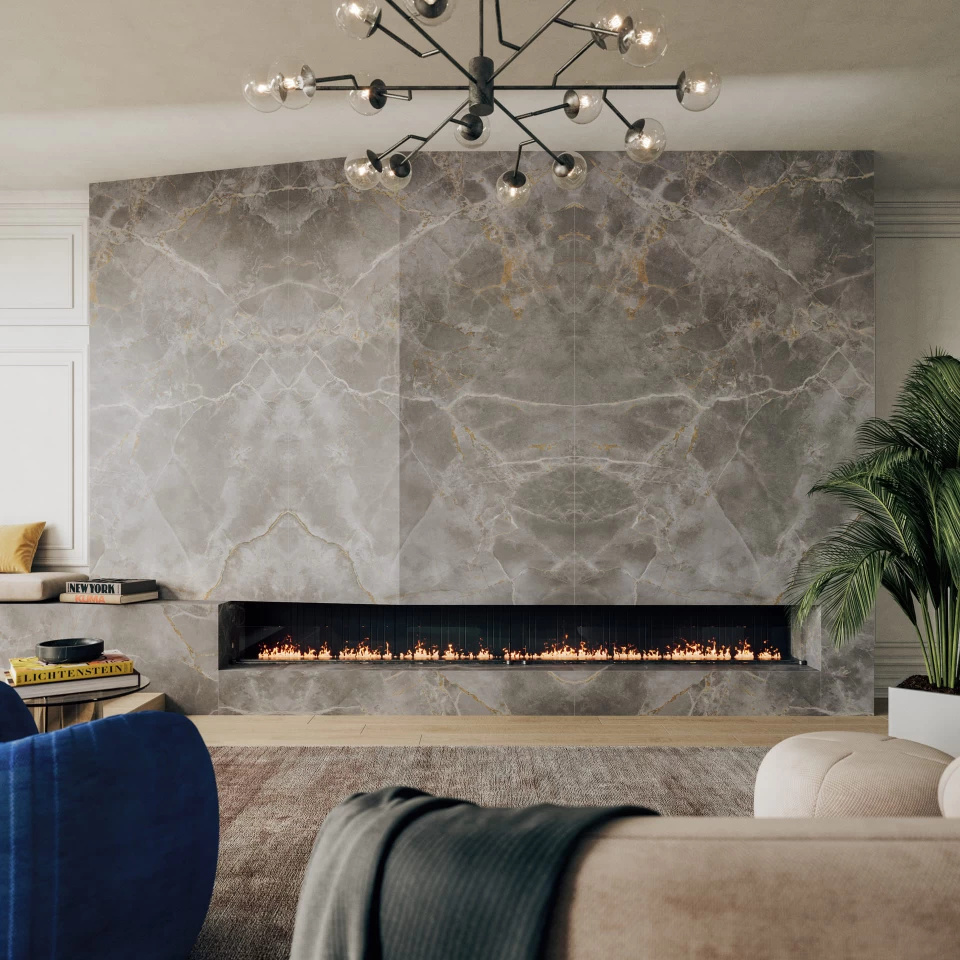 Fireplace cladding ideas
The first thing that comes to mind when you think of fireplaces is a cosy chalet in the mountains or an English country cottage. But a fireplace can also be a brilliant complement to your furniture, even if you live in the city; you just need to optimise its potential. Here are some modern fireplace surround ideas if you have an open fire or stove.
Why choose porcelain stoneware for your fireplace surround?
Houses with open fireplaces are now quite rare; anyone lucky enough to have one is often careful to preserve it in its original state, under the mistaken assumption that there's nothing much they can do to improve its appearance. But in fact, not only will porcelain stoneware cladding give your fire surround a new lease of life, it's actually a winning choice on many other levels.
First of all, large format porcelain slabs have some extraordinary technical characteristics and offer excellent performance; they're not afraid of high temperatures or thermal shock, and they're scratch-resistant, bend-resistant and waterproof, so you can enjoy your fire surround cladding in complete peace of mind.
As well as that, the variety of different types and finishes available means your stoneware cladding can complement the rest of your décor or pave the way for a new design project- exploring contrasts for example, or using the same living room wall panellig.
Finally, don't forget how easy it is to maintain. A stoneware-clad fireplace surround is really easy to clean compared to natural stone or stainless steel; all you need is a damp cloth and a little neutral detergent to effectively remove the soot and ash stains that you'll inevitably get on the surface.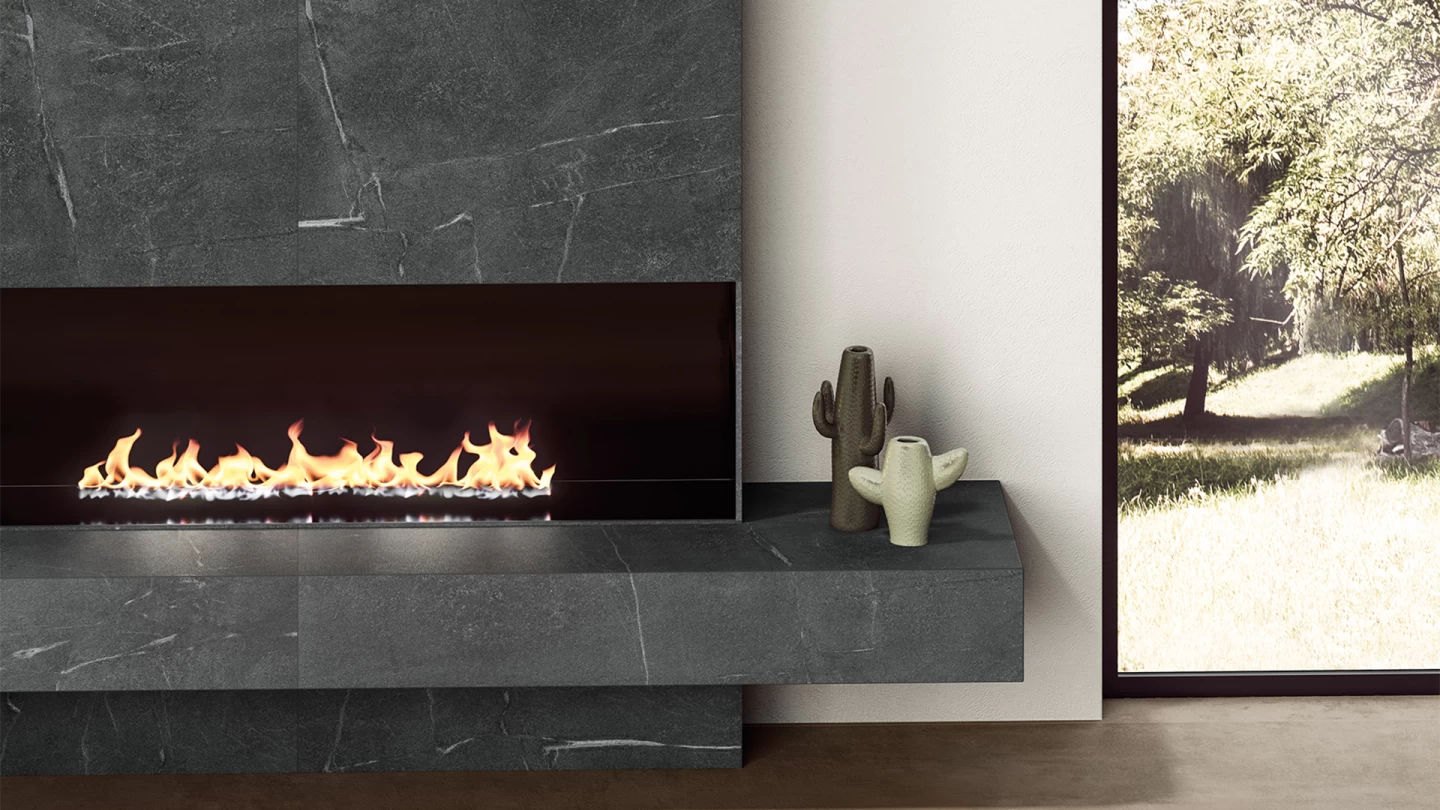 5 fireplace cladding ideas
Soft lighting, a good book and a fire in the grate - what could be more enticing? Here are some modern fireplace cladding ideas to show off the timeless beauty of your fireplace.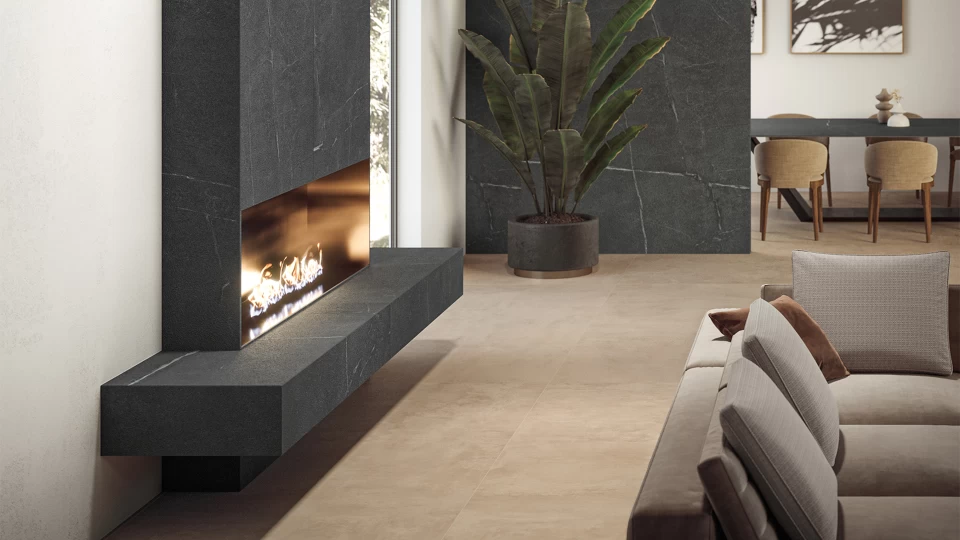 Choose visual continuity
One of the latest ideas for cladding fireplace surrounds is to go for visual continuity. Use the same cladding as for one of the other walls to create a balanced, uniform environment in which the fireplace blends seamlessly yet draws the eye with its dancing flames.
Go for a contemporary look
If you like the appeal of minimalism and you're looking for a suitable fireplace cladding for a contemporary living space, why not go for the simple but powerful character of concrete-effect stoneware. Cool shades of grey are the perfect solution for industrial-style loft spaces, while warmer colours such as beige, taupe and ivory will confer a modern, sophisticated personality.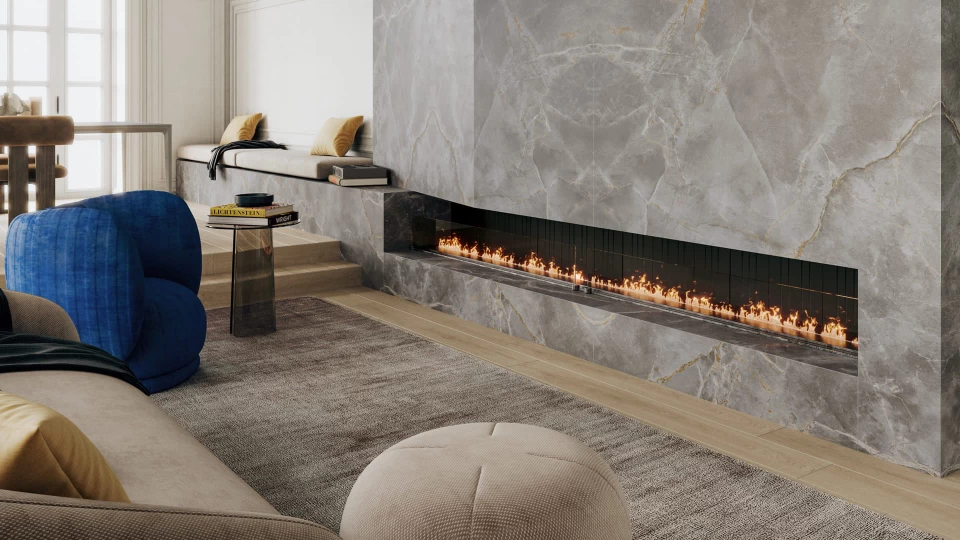 Create contrasts
To raise the profile of your fireplace and make it the focal point of the living room, you could alternatively opt for the high visual impact of contrasting cladding, perhaps extending the effect to the whole wall. Marble-effect slabs in Fior di Bosco with its dynamic grey veining will give the whole wall a distinctive feel, especially if you contrast it with a warm, grey, wood-effect stoneware floor.