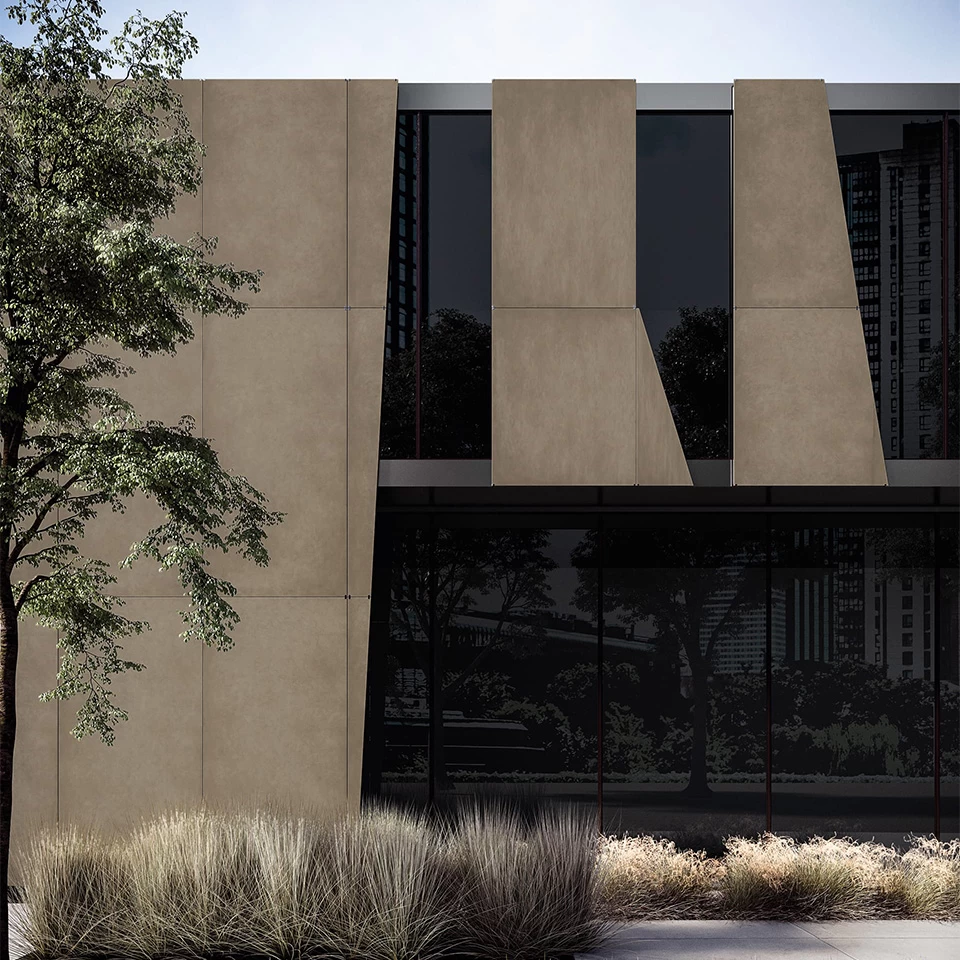 Modern house facade: ideas for finishing external walls
When designing the facade of a house, whether modern or classic, the choice of cladding is of primary importance not only in terms of technical aspects but also to ensure absolute harmony with the surrounding environment. Here are some outdoor wall covering ideas with porcelain tiles, combining contemporary aesthetics and unparalleled performance.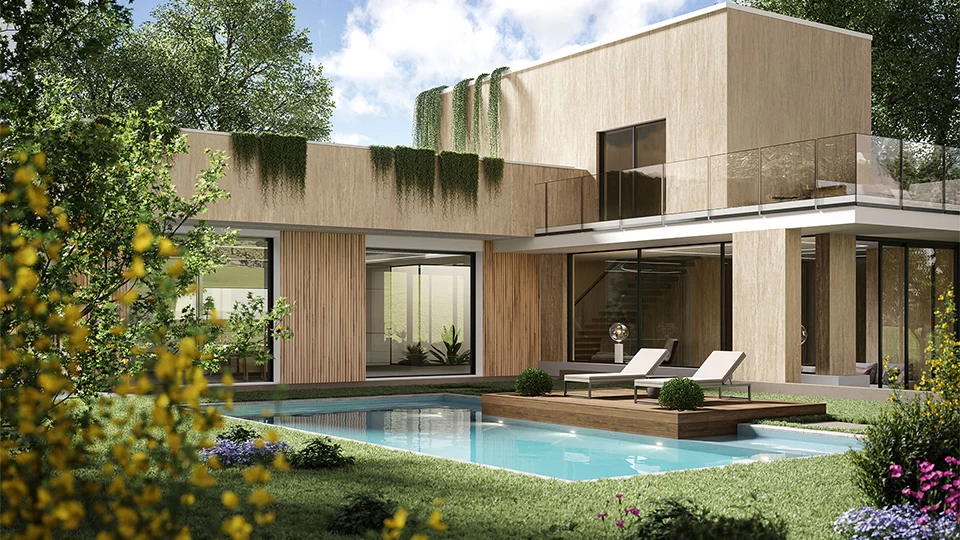 Modern house facade: what material to choose?
Proven resistance against atmospheric agents, unalterability over time, robustness, low maintenance: these are just some of the fundamental characteristics that the outdoor wall covering of modern homes must have.
In recent decades, the world of construction and architecture have evolved greatly, moving from traditional facades in natural stones or cement materials to more unusual solutions such as metals, but the most innovative and high performing option is certainly large outdoor tiles. If this material is already appreciated in interior design for its practicality and versatility, porcelain stoneware facades are the ideal choice for meeting the most rigorous technical criteria and for enjoying great freedom of design.
What are the best effects, finishes and colors?
If you're looking for external wall cladding ideas and inspiration for a home or commercial space, you will find it with porcelain stoneware, a material suitable for every style: the wide variety of finishes available will allow you to create modern facades that are perfectly integrated into the landscape, or characterized by accents and captivating contrasts.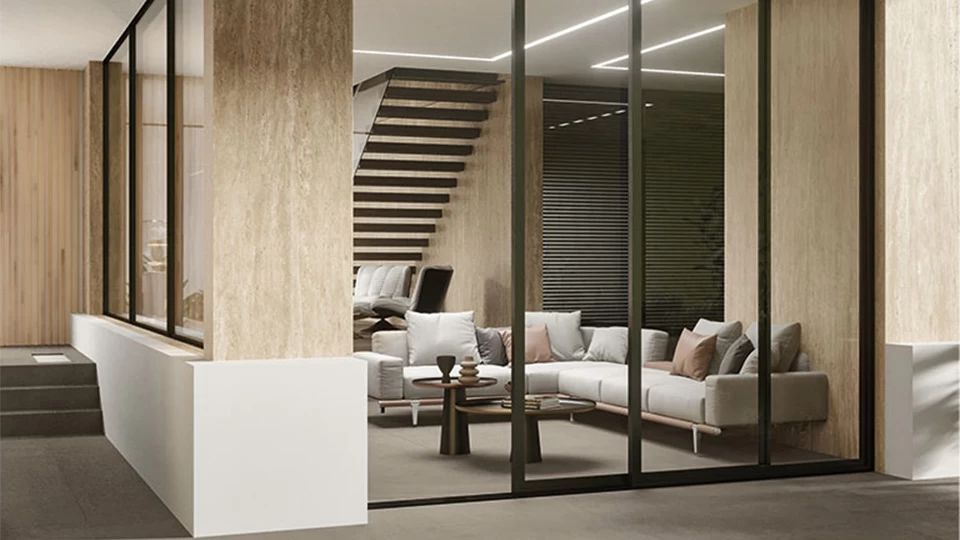 Among the stoneware finishes most appreciated by designers for outdoor cladding, marble-effect stoneware is certainly in first place, in its most sophisticated version: travertine. Intense and at the same time delicate, this finish is embellished with warm nuances and neutral shades that, in the natural light, create a prestigious look.
If modern stone facades fit perfectly into the most rustic and natural contexts, those who want to achieve visual continuity with the surrounding urban environment can create external home cladding with marble or cement effect large stoneware slabs.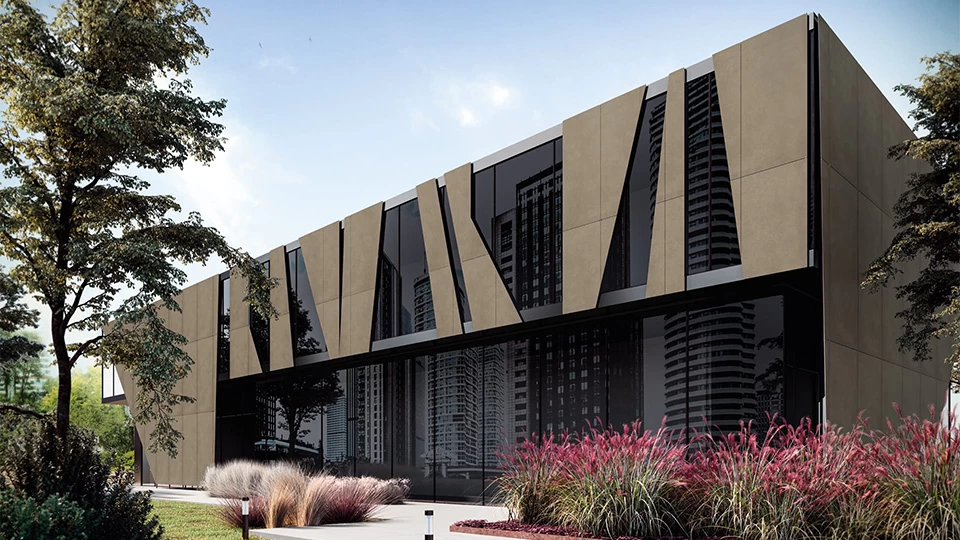 Minimalist and material, cement effect stoneware allows great freedom of expression: for example, it can be applied by creating large geometric patterns on the facades, perhaps in combination with large smoky windows that embellish its aesthetics.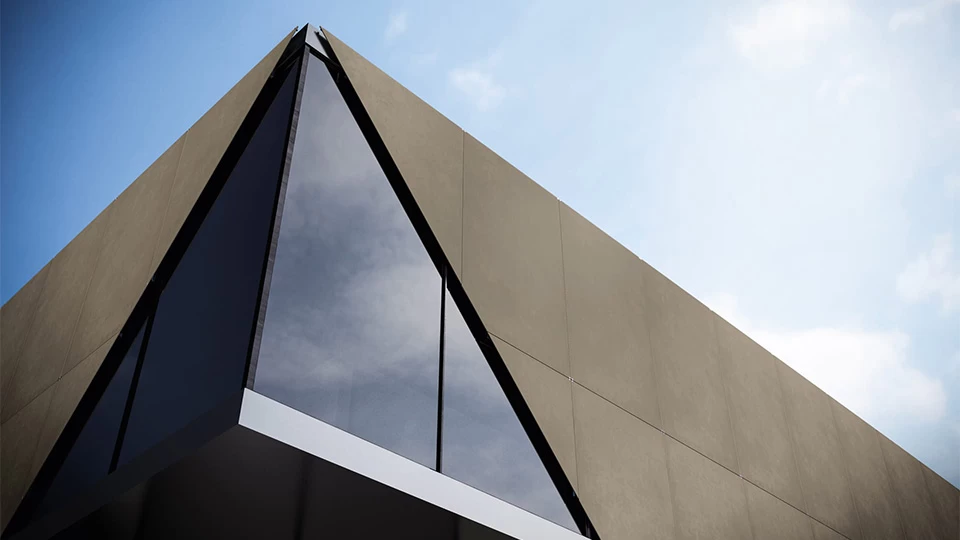 An alternative idea for creating a modern facade with great visual impact is to focus on the monolithic, compact and decisive effect: you just need to choose the same cement-effect stoneware slabs not only for the facade, but also for covering the outdoor stairs flooring. This solution allows you to design spaces rich in character without sacrificing the linearity that distinguishes the latest design trends.
A similar but more delicate look can be achieved by choosing solid-effect stoneware in lighter tones such as sand or cream, or even by focusing on sophisticated marble-effect slabs embellished by light natural veins.