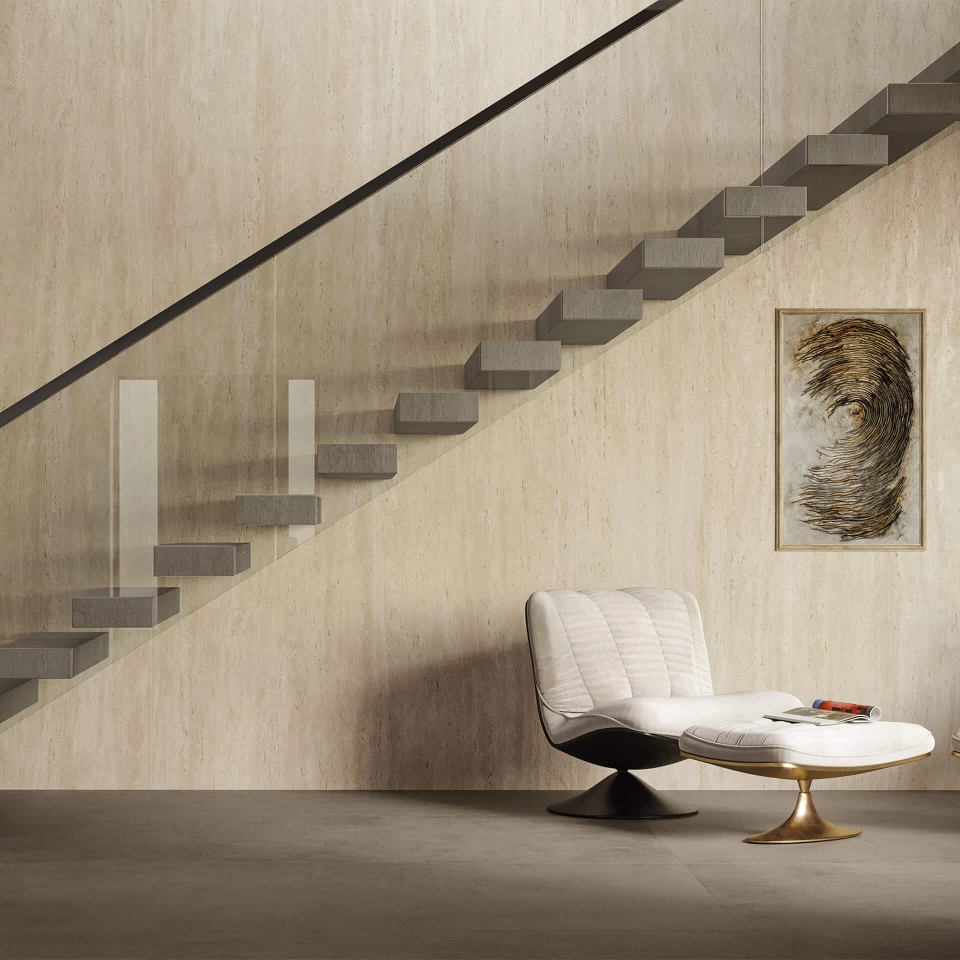 Indoor and outdoor stairs flooring ideas
They are often mistakenly viewed as simple transit areas, but stairs can be elevated to true decor thanks to cladding options with refined and original textures. Whether they are residential or commercial spaces, the alternatives offered by stoneware are potentially infinite: material slabs, contrasting glossy inserts or details perfectly integrated with the rest of the environment, are just some of the ideas for covering indoor and outdoor stairs and transforming them into a small great work of art.
Porcelain stoneware stair cladding: all the advantages
When looking for ideas to cover an external staircase or situated indoors, before even thinking about finishes, it is important to focus on the material, which must meet a series of fundamental requirements: strength, resistance to wear, ease of cleaning and maintenance, durability over time. Porcelain stoneware is able to meet all these needs since it is a highly technological product: not only is it designed to withstand wear, stress and heavy loads, but its surface is also impermeable to liquids and chemicals, providing excellent performance both indoors and outdoors. In addition, porcelain stoneware is an eco-friendly material the production of which leads to zero waste: a very important aspect not only for designers but also for end users, who are increasingly attentive to the issue of environmental sustainability. Unforgettable among porcelain stoneware's benefits is its extreme versatility, allowing for the reproduction of any type of texture, decoration or effect, in order to satisfy every desire in terms of aesthetic preference.
Outdoor stair cladding ideas
Details make a difference, and the entrance to a building is its business card: designing an external staircase that is not only functional but also harmonious and balanced will give prestige to a property and will express the style of those who live in it.
Stone effect outdoor stairs
There are many porcelain stoneware alternatives for cladding outdoor stairs, and they can be selected based on the needs and the ambiance you want to recreate: for example, if the steps connect the garden directly to the entrance of the property, you can opt for stone effect solutions such as travertine with subtle neutral tones, always elegant and able to fit harmoniously into the natural settings. On the other hand, those who want to be inspired by traditional flamed porphyry tiles can choose to cover the external staircase with full-mass gray stoneware slabs, used both for the steps and for paving the porch or terrace.
Marble effect outdoor stairs
Exterior stair cladding ideas don't necessarily have to match the general style of spaces, on the contrary: a wise mix of apparently contrasting textures can lead to a truly appealing final result. The ultra-modern lines of an industrial loft, for example, can be softened by an external staircase covered in light marble effect stoneware: the very light shade reflects light, while the sophisticated veins become a detail that does not go unnoticed.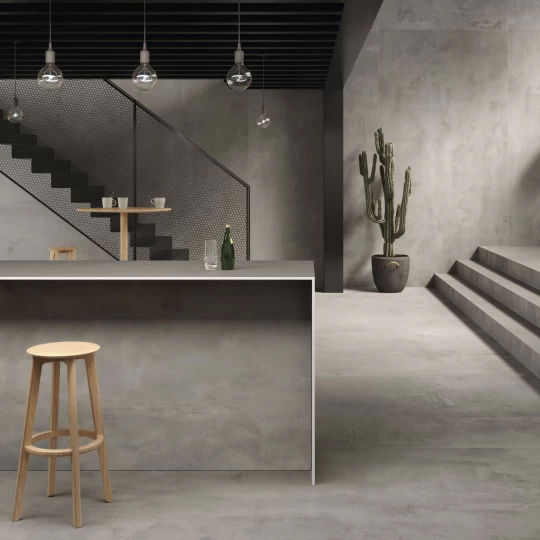 Indoor staircase cladding: ideas and tips
In residential buildings, internal stairs are often designed to occupy as little space as possible and blend in with the rest of the environment.
Concrete effect internal stairs
Concrete effect porcelain stoneware, in a cold gray shade, is definitely among the most appreciated and versatile finishes in contemporary design: compact and decisive, with its minimalist elegance, it also pairs well with laminate or wood-effect stoneware flooring, producing a pleasant contrast.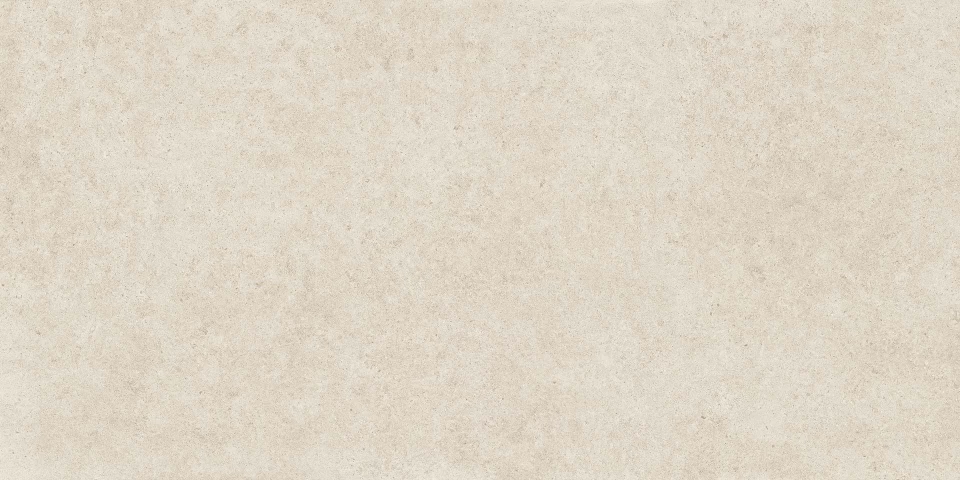 Stone effect indoor stairs
For a uniform and homogeneous result, you can choose to create a monolith effect by cladding your indoor staircase with the same type of stoneware used for walls and floors.
Those who want more character, can choose to clad the interior staircase in basaltine effect stoneware, which recalls the material nature of traditional lava stone.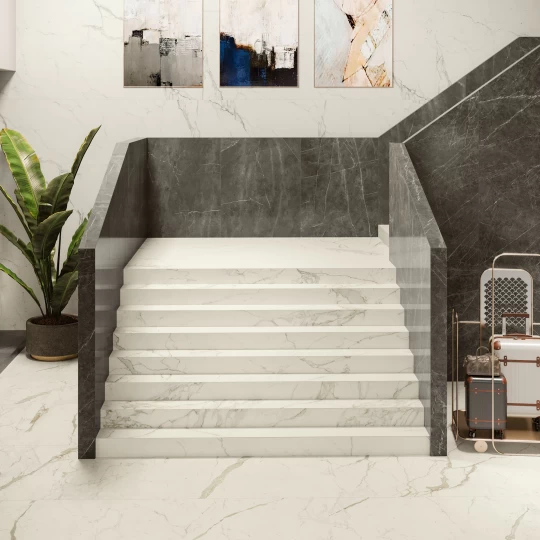 Marble effect indoor stairs
If you wish to be daring with an elegant and imposing staircase, the white marble effect is definitely the best choice. For a classic and sumptuous style, Calacatta Antique porcelain stoneware is the ideal effect; if you prefer something more simplistic, the Calacatta Prestigio collection is the perfect choice.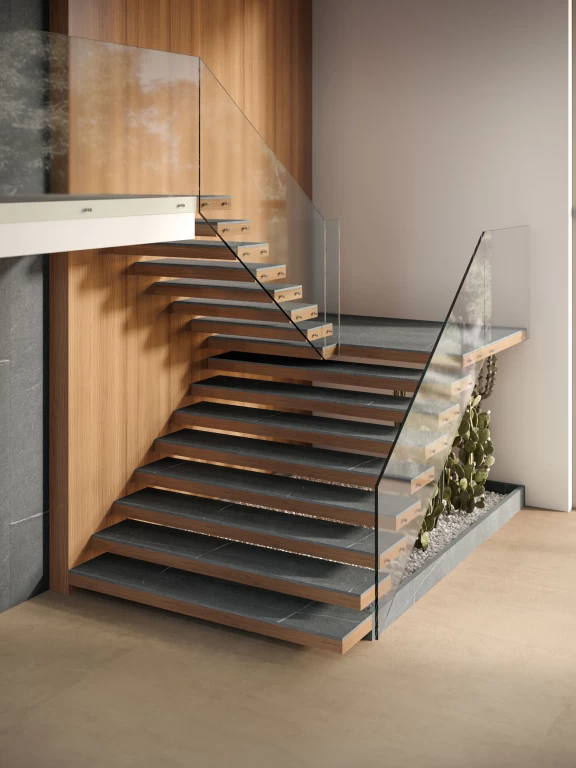 Here are some tips regarding finishes
An original idea for cladding interior stairs, on the other hand, could be to render them the sole protagonist of the space by focusing on effects that capture attention, and the versatility of porcelain stoneware lends itself perfectly to this purpose. The anthracite gray stoneware steps in the soapstone-inspired finish offer a powerful visual impact, thanks to the deep ice-colored veins, a peculiarity made even more evident if you choose to create contrasting elevations.
Those who prefer classic textures but are not fans of predictable solutions, can always add a contemporary touch by opting for special finishes such as matt or polished porcelain stoneware. A polished finish is certainly among the trendiest proposals, which highlights the nuances of stoneware and renders the surface ultra-bright, or the framed finish, which gives a sophisticated rough appearance, both to the eye and to the touch.