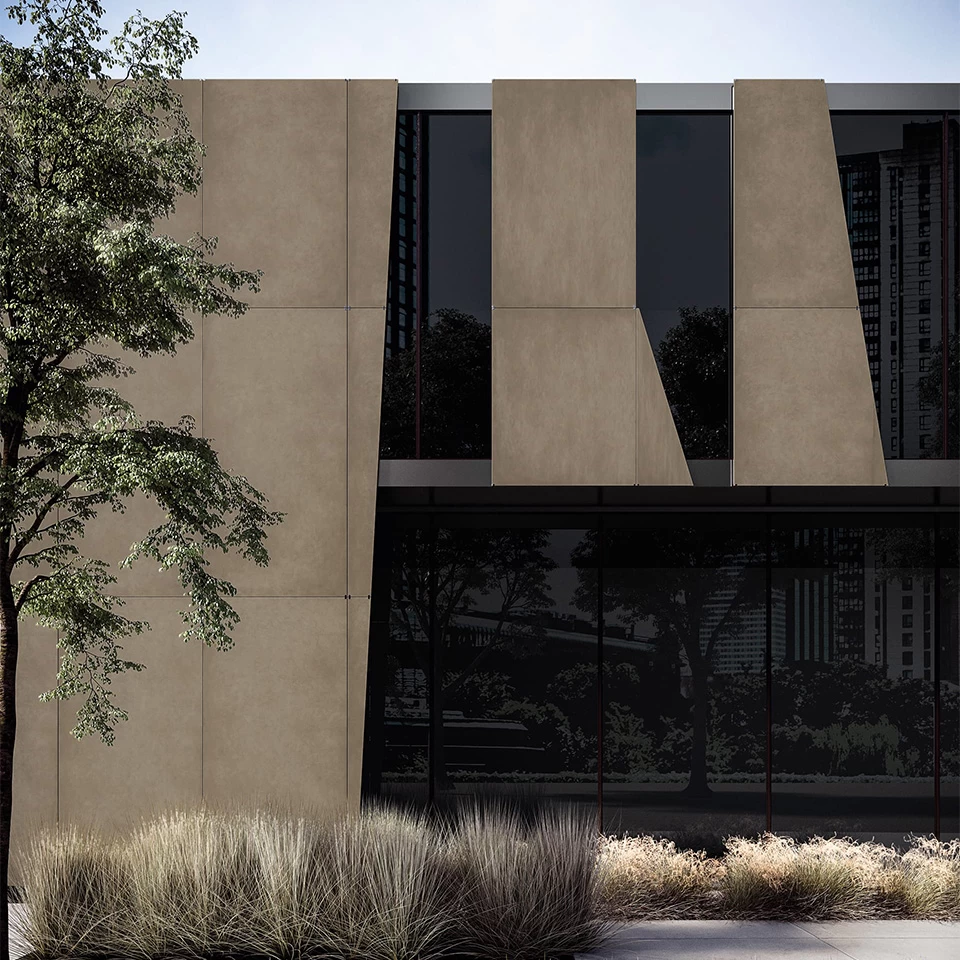 Modern house facade: ideas for cladding external wall
When you're planning the facade of a house, either modern or traditional, the most important aspect to consider is the type of material to use, and not just the technical aspects - it also has to be in keeping with the surroundings. Here are some external wall cladding ideas using porcelain stoneware slabs, which combine contemporary aesthetics with unparalleled performance.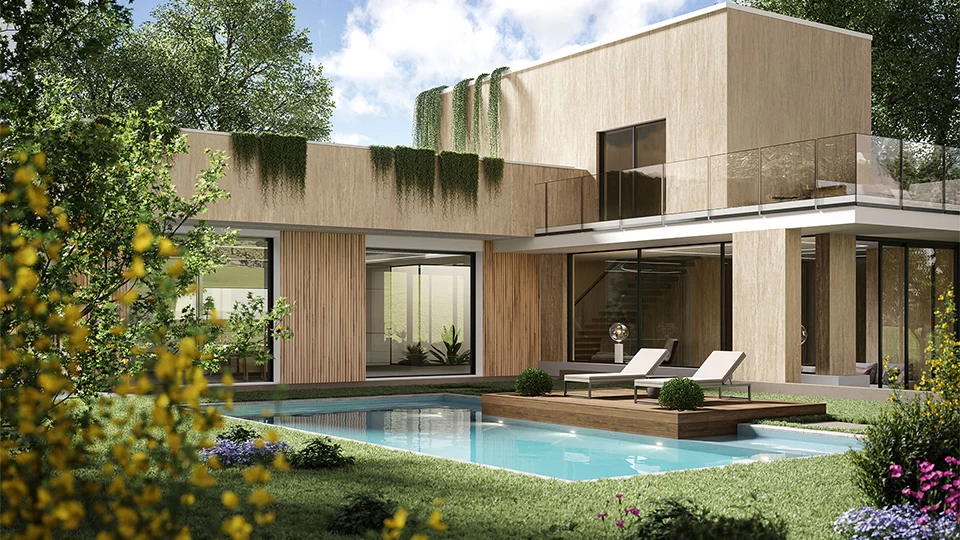 Modern house facade: choosing your material
Modern exterior wall coverings must be robust, easy to maintain and resistant to weathering in order to meet the fundamental requirements and retain their good look over time.
The world of architecture and construction has changed significantly in recent decades, and the traditional concrete-based materials and natural stone used for external facades have been replaced by more unusual materials such as metal, but the most innovative and certainly the best performer is porcelain stoneware. It's already well-known as a practical and highly versatile material for indoor spaces, but external facades in porcelain stoneware are the ideal solution as they meet the strictest technical criteria and offer enormous freedom of design.
What are the best effects, colours and finishes?
If you're looking for ideas and tips on external cladding for a house or commercial property, you'll find porcelain stoneware answers to every stylistic requirement. The wide variety of finishes available mean that a modern facade can be made either to blend perfectly with its surroundings or stand out with spectacular contrasting effects.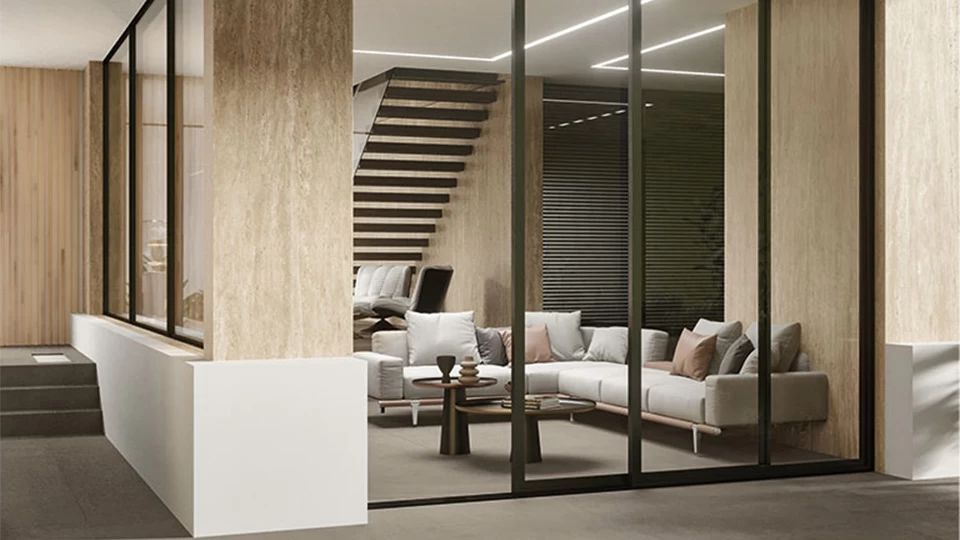 The most popular type of stoneware for external cladding is definitely marble-effect porcelain in the luxurious travertine finish, a powerful yet subtle finish in a warm shade with neutral tones that work with natural light to give a prestige effect.
Although modern stoneware facades work well in natural and rural environments, they can also be used to achieve visual continuity in urban settings, with large format marble-effect or concrete-effect slabs.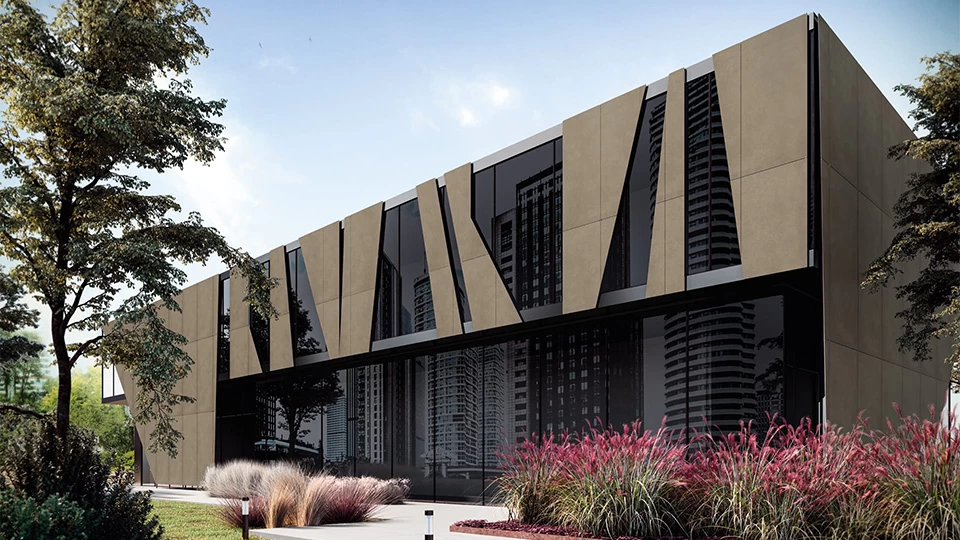 The natural minimalism of concrete-effect stoneware provides great freedom of expression; it can be used to create large-scale geometric motifs on a facade, for example, perhaps in combination with large smoked-glass windows for aesthetic appeal.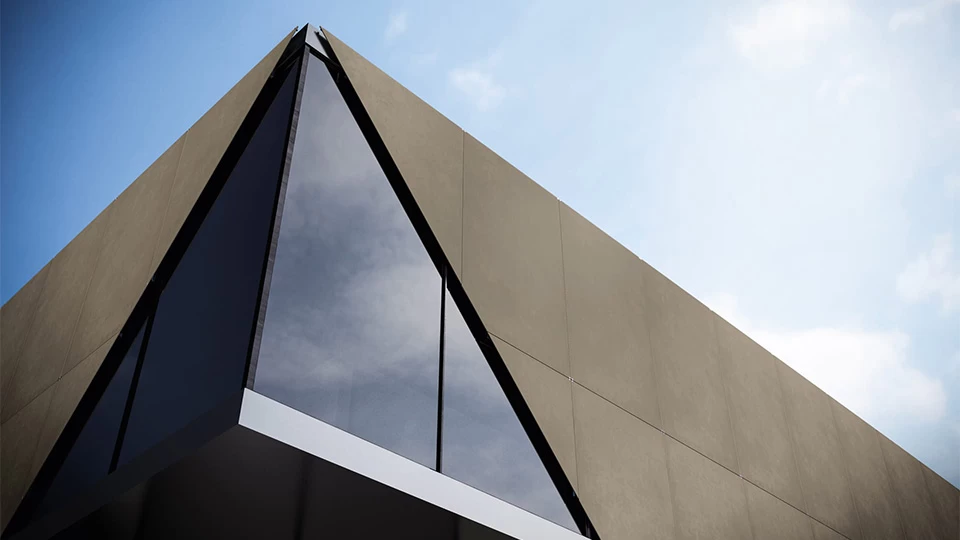 Another idea for creating a modern facade with high visual impact is to create a confident, compact monolithic effect by using the same concrete-effect stoneware slabs for cladding the external staircases and paved areas as for the facade. This creates a highly distinctive space without sacrificing any of the distinctive linearity of contemporary design trends.
A similar but more subtle effect can be achieved with solid-effect stoneware in a light colour such as sand or cream, or even the quality feel of marble-effect slabs with a subtle, natural veining.