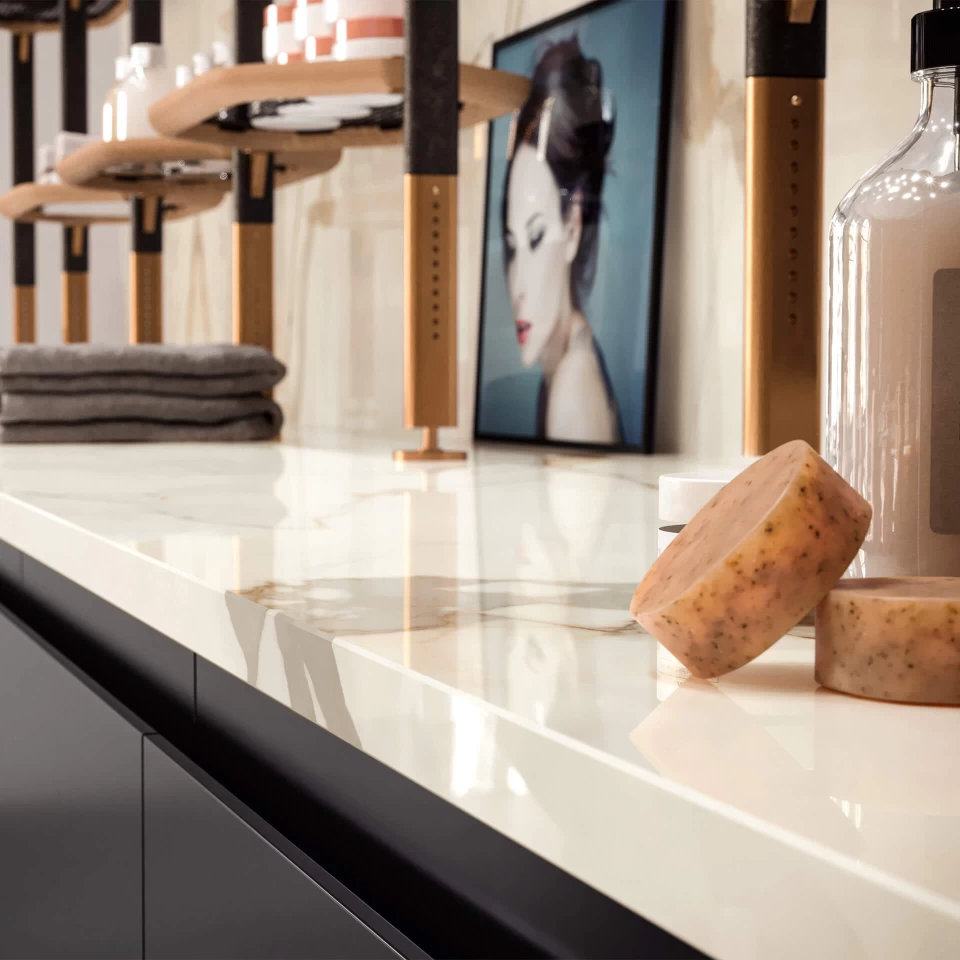 Modern marble look bathroom
Every era has its own style of reference, but marble has been able to remain timeless across all trends thanks to its charm and elegance. Even though marble surfaces often evoke classic ambiences, in truth they can easily adapt to today's needs and tastes: here are some marble look bathroom ideas for choosing the right cladding and furnishings.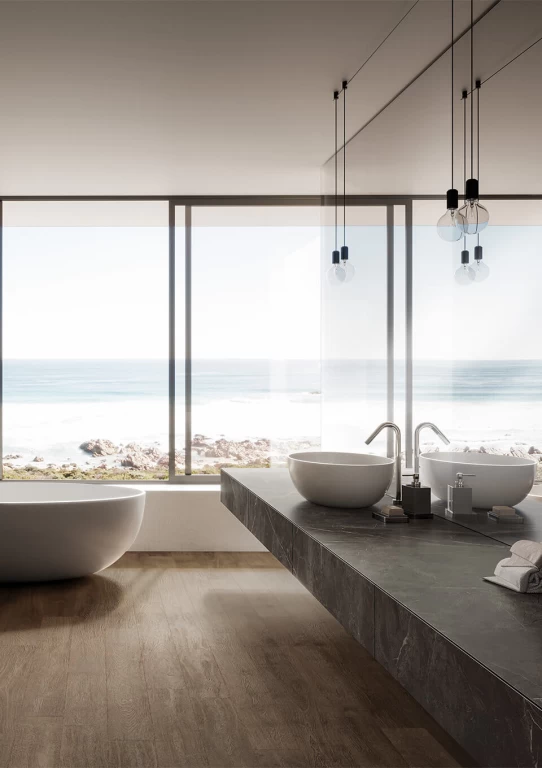 Porcelain stoneware: the perfect material for floors and walls
The bathroom is certainly one of the most used rooms in a home, prone to stress due to humidity as well as soaps or beauty products that can damage surfaces. Creating modern marble look bathrooms with porcelain stoneware means enjoying all the beauty of marble, while avoiding issues such as porosity and frailty: porcelain stoneware is in fact the perfect material for floors and walls because it is waterproof, resistant to thermal shocks and its beauty remains unchanged over time. It is also extremely low maintenance: if you have any doubts on how to polish porcelain slabs, you will be happy to know that all you need is a cloth moistened with hot water, because it is a highly hygienic material designed specifically for use in environments such as bathrooms and kitchens.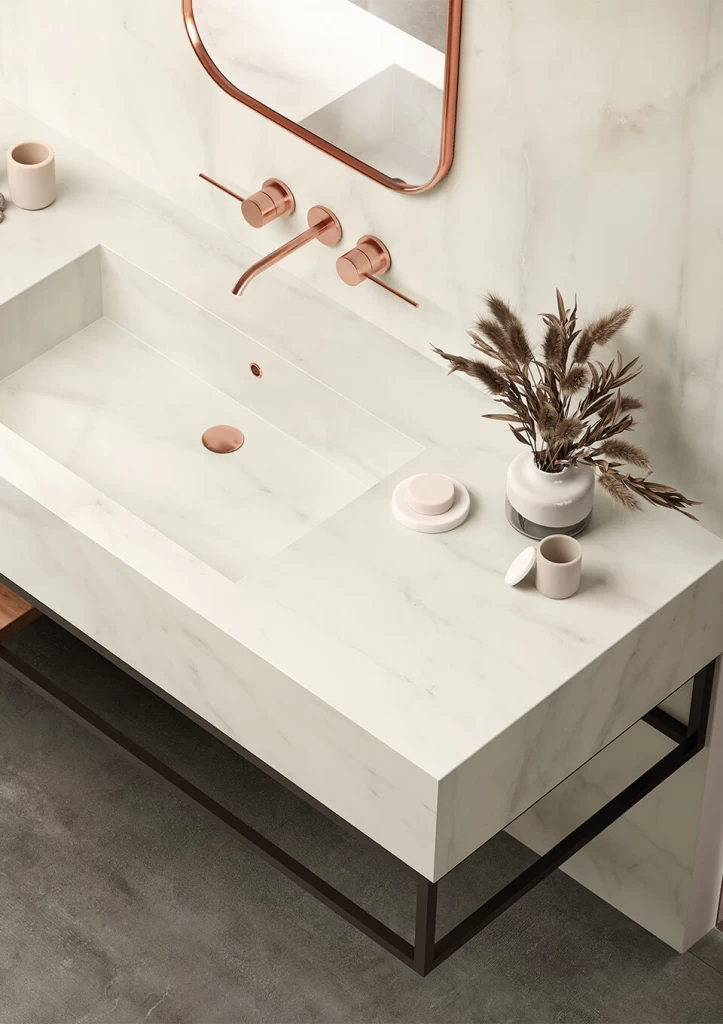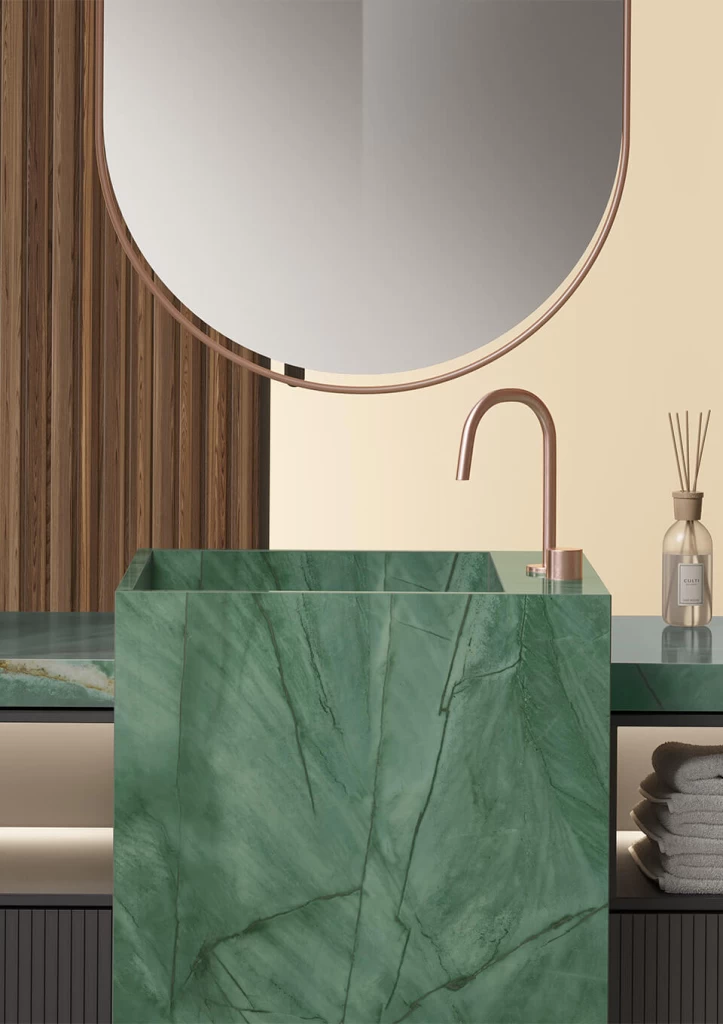 Thanks to the versatility of porcelain stoneware, available in different colors and finishes, there are many ideas for creating a unique and original marble look bathroom. Those who prefer warm and welcoming environments can opt for white stoneware slabs embellished with very light veins, paired with sophisticated brass faucets.
Alternatively, different finishes can also be combined: you can be sure to make statement with a green marble look bathroom made of stoneware and combined with wooden flooring, with the natural veins of the wood accentuating the details and counter surfaces.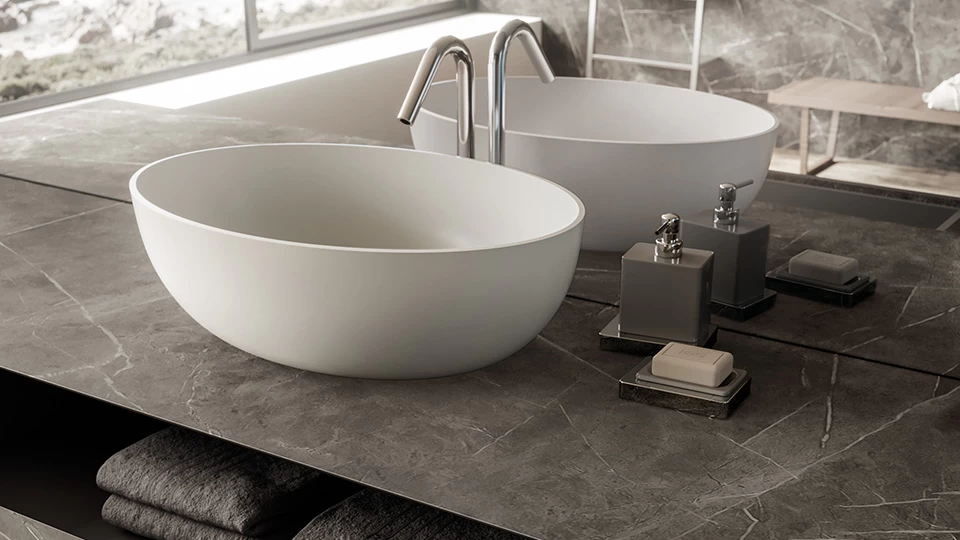 Those who prefer a more decisive look can instead opt for gray marble look stoneware: especially when evaluating small bathroom ideas, dark colors are often perceived as difficult and challenging, but in reality they are a perfect solution for combining functionality with a modern and vibrant aesthetic result.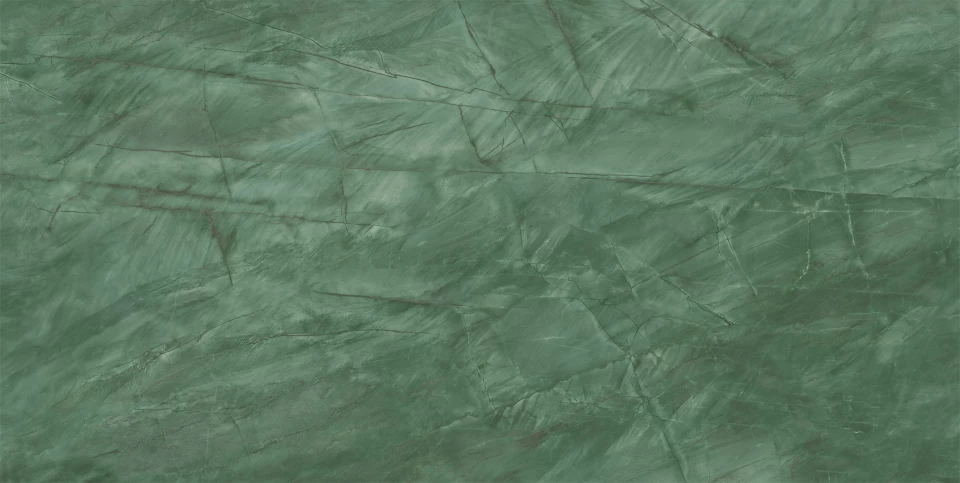 A modern marble look bathroom can also distance itself from the classic standards we are used to thanks to solutions targeting absolute exclusivity. Green marble porcelain slabs is a statement choice that offers an exotic ambiance that is simultaneously lively and refined: it can be used to embellish certain details such as countertops or sinks, or it can become the protagonist with green marble look cladding on all the bathroom walls for a totally unprecedented and unique look. On the other hand, those who wish for a more relaxing and soothing environment can create a beige marble look bathroom, choosing finishes inspired by the warm nuances of the desert.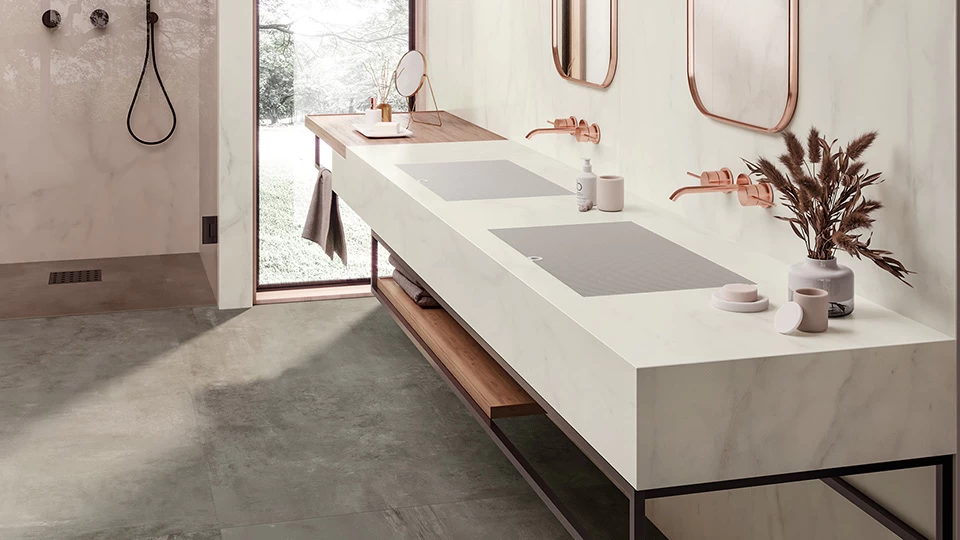 Marble look bathroom decor: some tips
Marble look bathroom furniture is the ideal solution for those looking for impeccable aesthetics without sacrificing practicality in such a strategic and important area of the home. Choosing your furnishing accessories is as important as selecting the floors and walls, which is why, in addition to personal taste, it is important to consider certain factors such as the size of the bathroom, the possibility of a second powder room, or who the main users will be. Here are a few tips:
Carefully evaluate the arrangement of the furnishings: in a narrow and long bathroom, for example, you can place the shower - perhaps walk-in - close to the shortest wall, which often houses the window. This is an extremely original solution and very much appreciated by designers because it allows you to choose contrasting marble look finishes for the shower wall, and it is also a good way to redesign spaces from a functional perspective.
Make the most of the heights: especially if it is the only bathroom in the house, the furnishings must also be designed to accommodate a washing machine or spare linens; it is therefore important to provide spacious facilities that match the general atmosphere. As such, opting for the same shade of marble-effect stoneware for the furnishings, floors and walls can be an effective choice.
Create tailor-made solutions: a family with children will have different needs than a single individual, both in terms of space management and visual rendering. A marble look bathroom decor in porcelain stoneware does not exclude any of the alternatives and makes it possible to combine the practicality of a solid and durable material with extraordinary aesthetic versatility, to give everyone their ideal bathroom.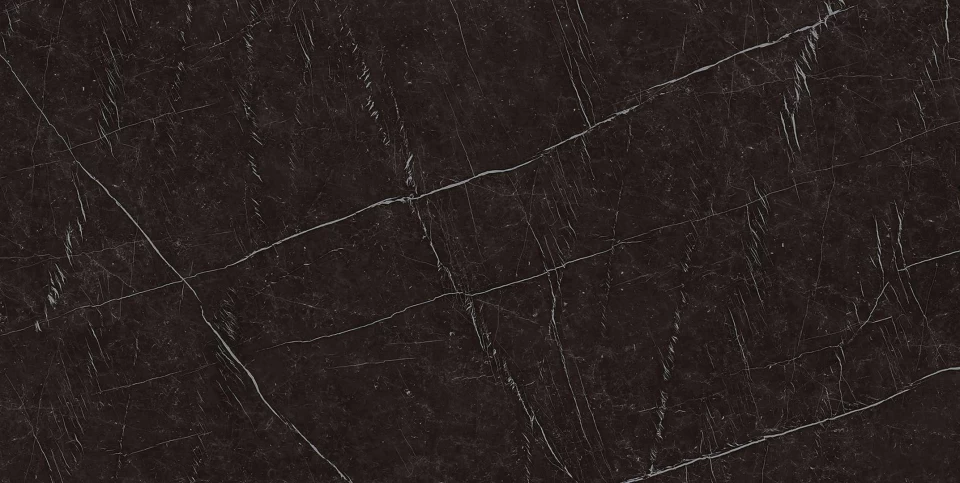 What is the perfect furniture for a marble look bathroom?
Since we are dealing with a true actual furnishing piece, selecting furniture for a marble look bathroom should not only be dictated by functionality, but it must also perfectly represent the taste and personality of those living in that space. A black marble look bathroom cabinet, made with sculptural and square lines, offers an extremely decisive and resolute atmosphere, especially if it contrasts with the wall cladding.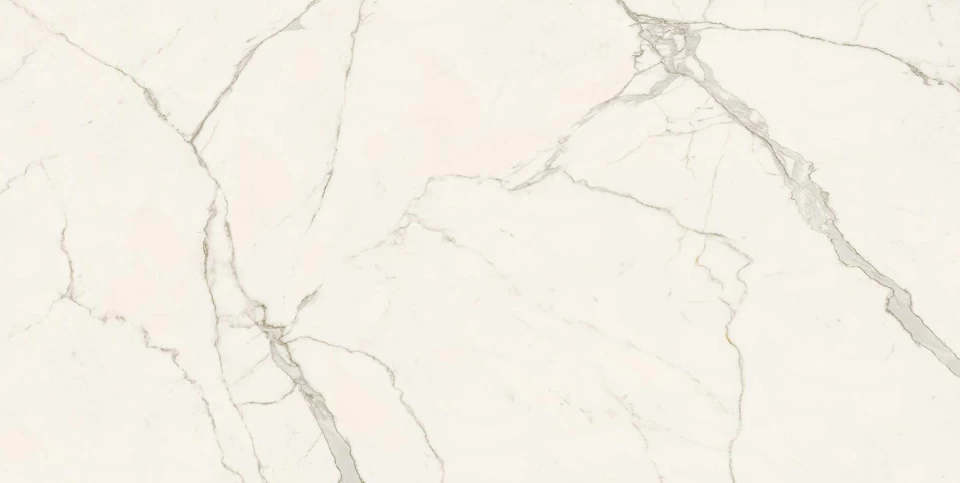 Those who prefer not to stray too far from the traditional total white but are simultaneously looking for a sophisticated and spacious solution, can opt for white marble look stoneware furniture, equipped with practical drawers and floating above the floor for an even more ethereal and delicate effect.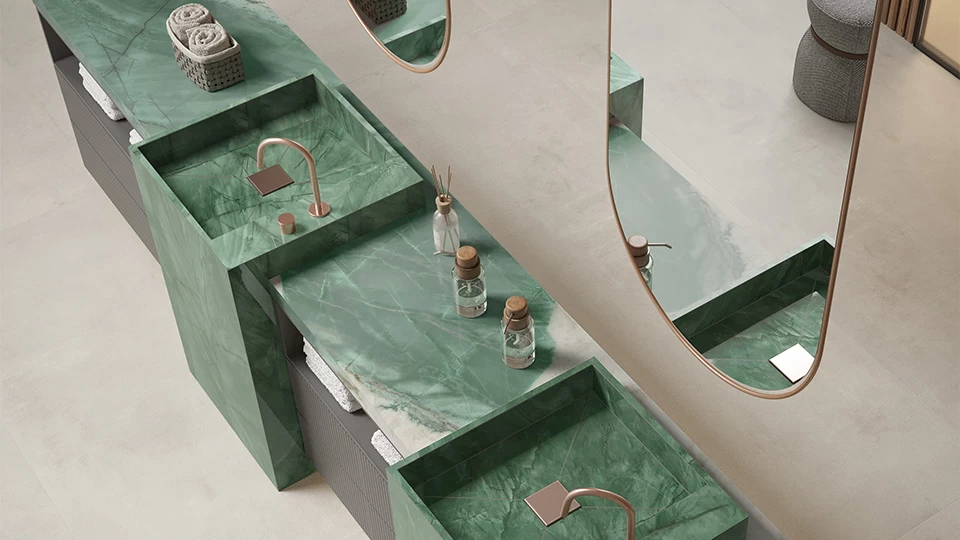 If you have a larger space you may want to consider a marble look bathroom cabinet with a double sink: iconic and precious, allowing everything in the home to have its own space.