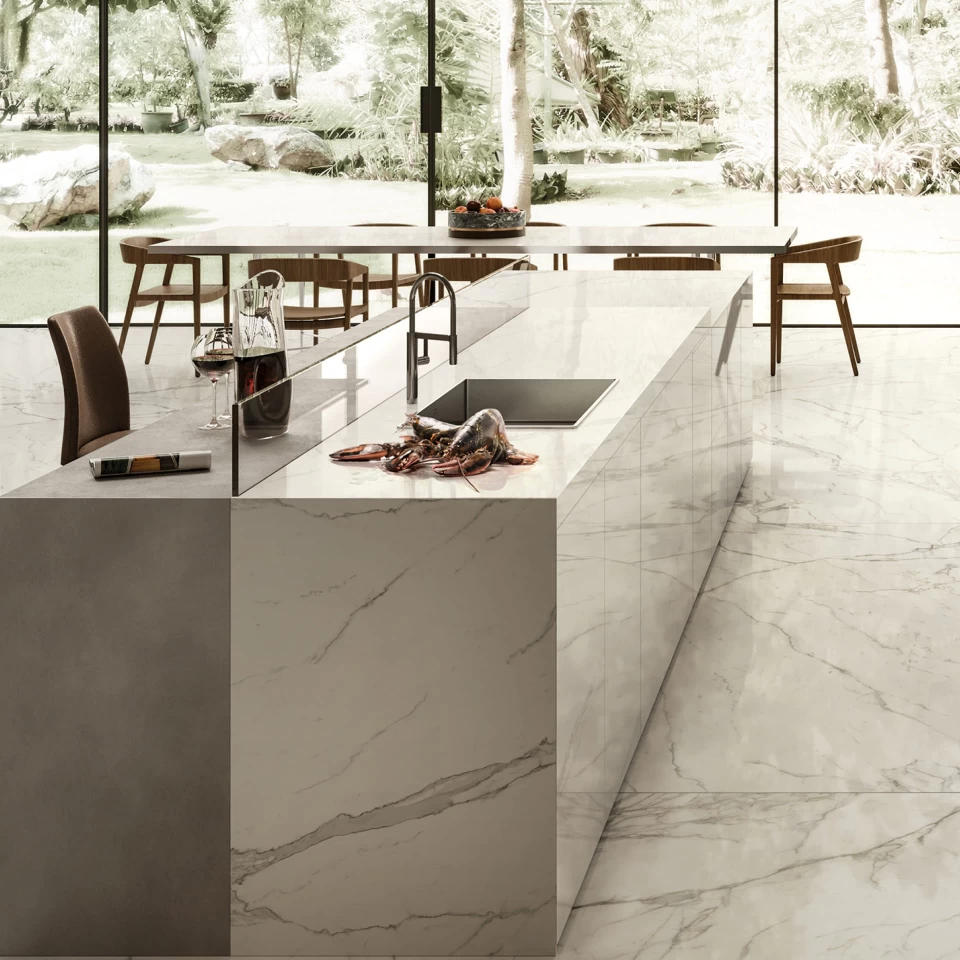 How to clean porcelain tile
One of the benefits of porcelain stoneware is how easy it is to clean and maintain, which is certainly the characteristic making this material one of the most used in modern furniture. In fact, porcelain tile surfaces do not retain dirt and are easily cleaned with a cloth, just follow a few simple rules to preserve their beauty. Let's discover all the secrets of perfect cleaning!
Routine cleaning of stoneware surfaces
For routine cleaning of Atlas Plan slabs, we recommend removing dust with a clean, dry cloth and then using a commercial neutral detergent. Any stains must be removed immediately without allowing them to dry out in order to avoid extraordinary cleaning.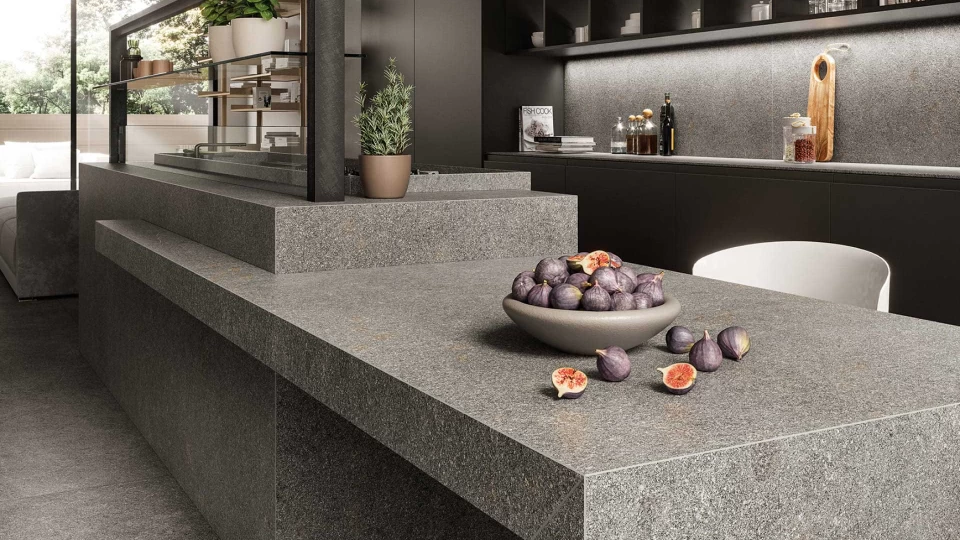 Extraordinary cleaning of porcelain stoneware slabs
In the case of stubborn traces of dirt resistant to ordinary cleaning, we recommend the use of an appropriate detergent depending on the type of dirt. For a successful cleaning, a timely action is required.
Before cleaning the entire surface, it is a good idea to carry out a preliminary test on a small stained portion, thus verifying the effectiveness before carrying out the complete procedure.
Under no circumstances should concentrated hydrochloric acid and/or caustic soda or cleaning agents containing hydrofluoric acid and/or its derivatives be used.
Below are the recommended detergents according to the type of dirt:
Grease, coffee, beer, wine, fruit juice, coke, ink, vomit, urine, ice cream, marker pen, blood, gum, suckers: degreaser-based cleaner;
Rust: rust-removing cleaner;
Silicone: silicone-removing cleaner;
Waxes and resins: solvent;
Aluminum marks, pencil marks, limescale: descaling cleaner.
Porcelain tile cleaners: which are the best?
To clean porcelain tile, it is important to choose a suitable cleaning detergent based on the environment in which the stoneware is located or the type of finish chosen.
Let's start with the flooring: if you have chosen a matte or silk finish, we recommend choosing a specific acid floor detergent for cleaning matte porcelain tiles [1] , making sure that it does not contain waxes or polishing substances. After diluting it thoroughly with water, you can simply soak in it a soft microfiber rag (or a cloth for porcelain tile floors) and wash the entire surface.
In the case of glossy finishes, instead, such as marble effect or slabs with a polished finish, it is best to focus on porcelain tile cleaners with a neutral or alkaline solution and, most importantly, that is free of abrasive substances that could risk scratching the surface and compromising the floor's shine. If after cleaning the porcelain tile there are streaks left behind, the detergent probably not been diluted enough: therefore, we recommend proceeding with a quick rinse using a microfibre cloth moistened with warm water.
The same rules also apply to the cleaning of porcelain tile coverings other than flooring, such as tables or kitchen counter tops: in this case, naturally, we recommend choosing detergents designed specifically for cleaning surfaces that come into contact with food.
DIY solutions: some useful tips
Many people wonder how to clean porcelain tile with DIY cleaners and, above all, what substances to use: even if stoneware is an impermeable material that is highly resistant to chemicals, it is important to choose the right mix to obtain excellent results without compromising the surfaces.
Can vinegar be used to clean porcelain tiles? Yes, but with a few precautions: since it is an acidic substance, vinegar is a very effective natural remedy for eliminating limestone stains, but it can only be used on matt and opaque surfaces as long as it is diluted in plenty of water.
In addition to vinegar, baking soda is an excellent ally for cleaning porcelain tiles, especially when dealing with blackened grouts. In this case too, the doses are fundamental: just dissolve a tablespoon of baking soda in plenty of warm water, immerse a microfiber cloth and, after having rung it out abundantly, clean the surface.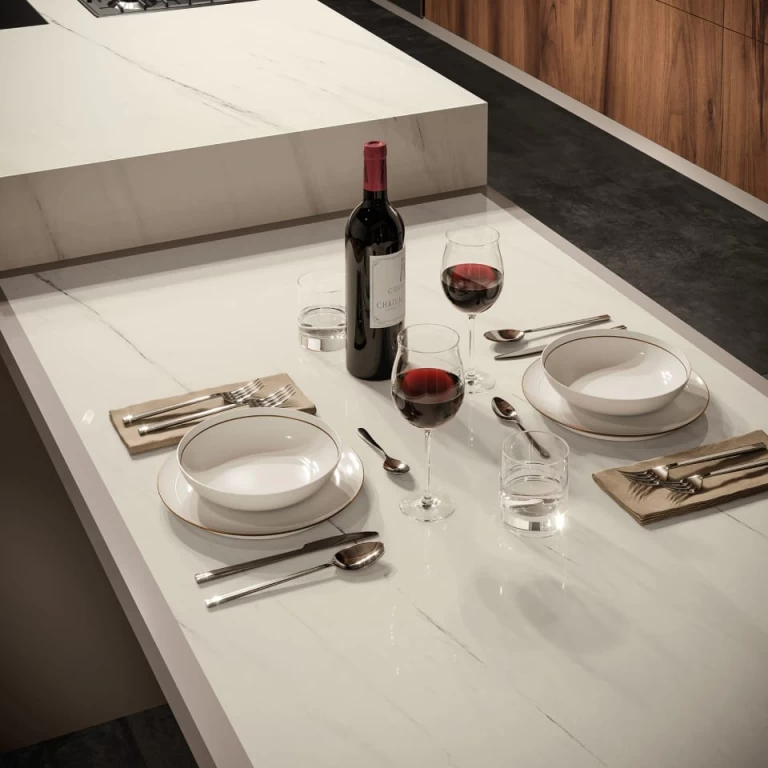 Application Tips
Using a damp cloth or white pad: apply the detergent to the stain and let it work according to the time specified by the manufacturer of the detergent used.
Rinse thoroughly and dry with a cloth.
Dampened non-scratch Scotch-brite scrub sponge: apply the cleaner to the stain and let it work according to the time specified by its manufacturer.
Use a dampened, white, non-scratch Scotch-brite scrub sponge and make circular movements all over the area to be cleaned. Rinse thoroughly with clean water and dry with a cloth.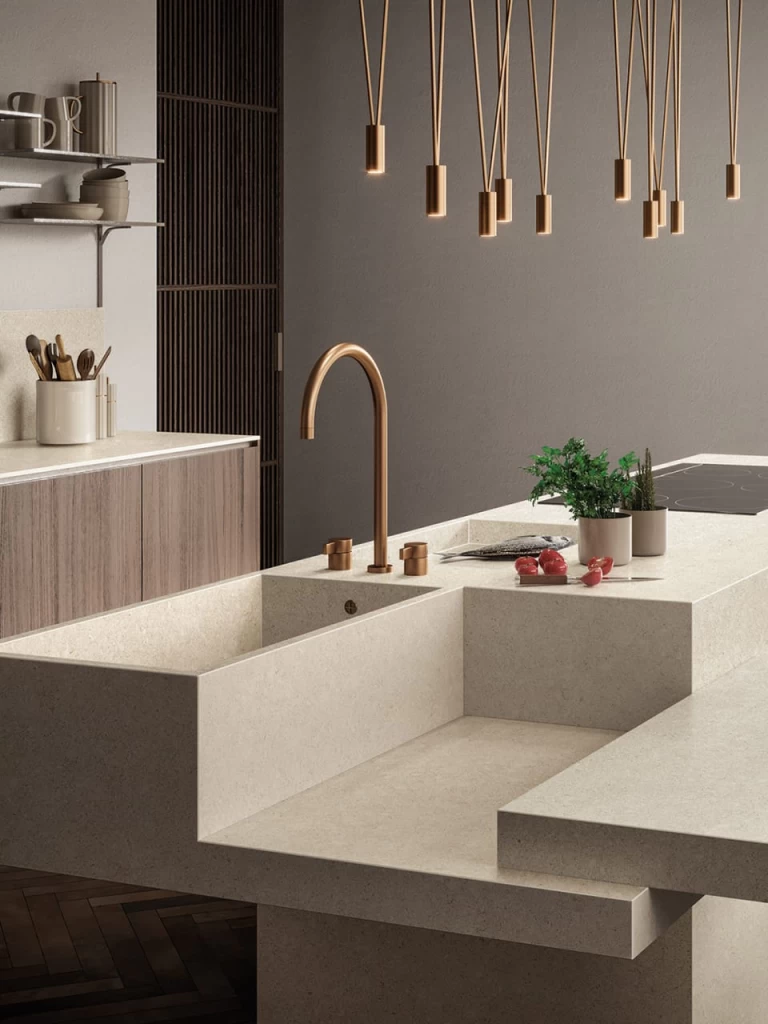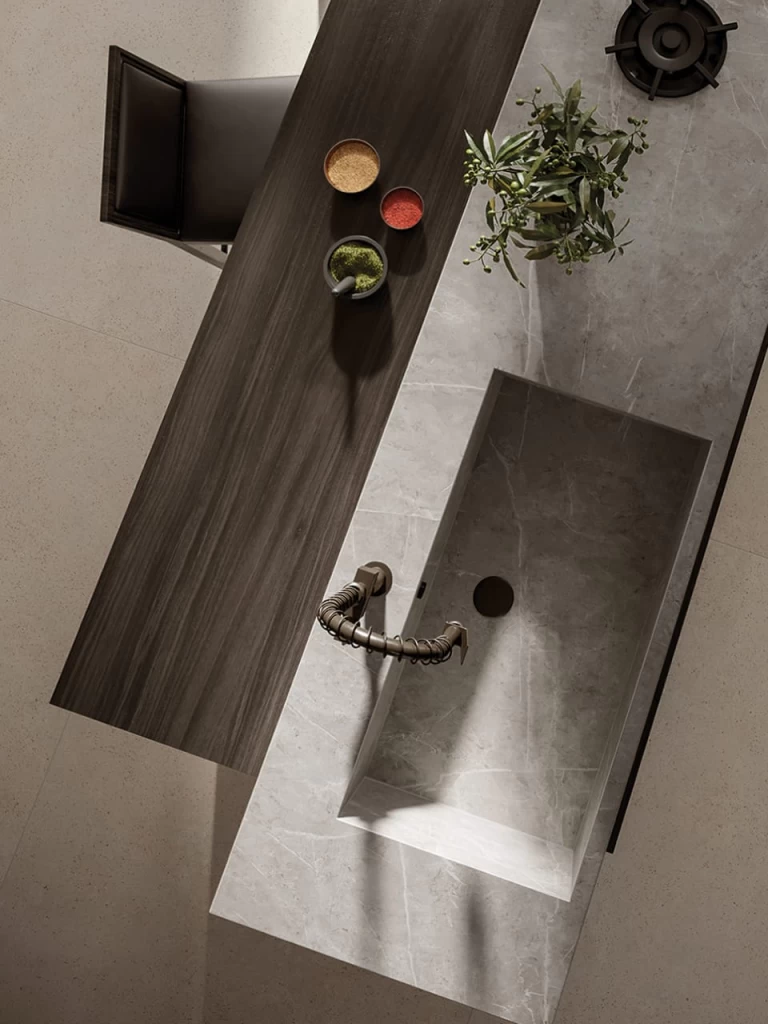 Precautions for use
Here are some tips on how to preserve porcelain stoneware surfaces over time:
Prevent shocks at the most exposed points such as corners and edges, both with and without ledge.
Do not use metal or abrasive wire pads;
Do not use knives with ceramic blades as the hardness of the two materials is very similar;
Provide protection systems, such as wooden and/or plastic cutting boards, when cutting foodstuffs on surfaces having a dark color and/or a Lux Lapped finish;
As a precaution, protect the surface from direct contact with hot objects (e.g. frying pans, pots, coffee pots, etc. ...) using trivets.
For the repair of shallow surface scratches in Lux Lapped finish, please refer to your Atlas Plan team directly.