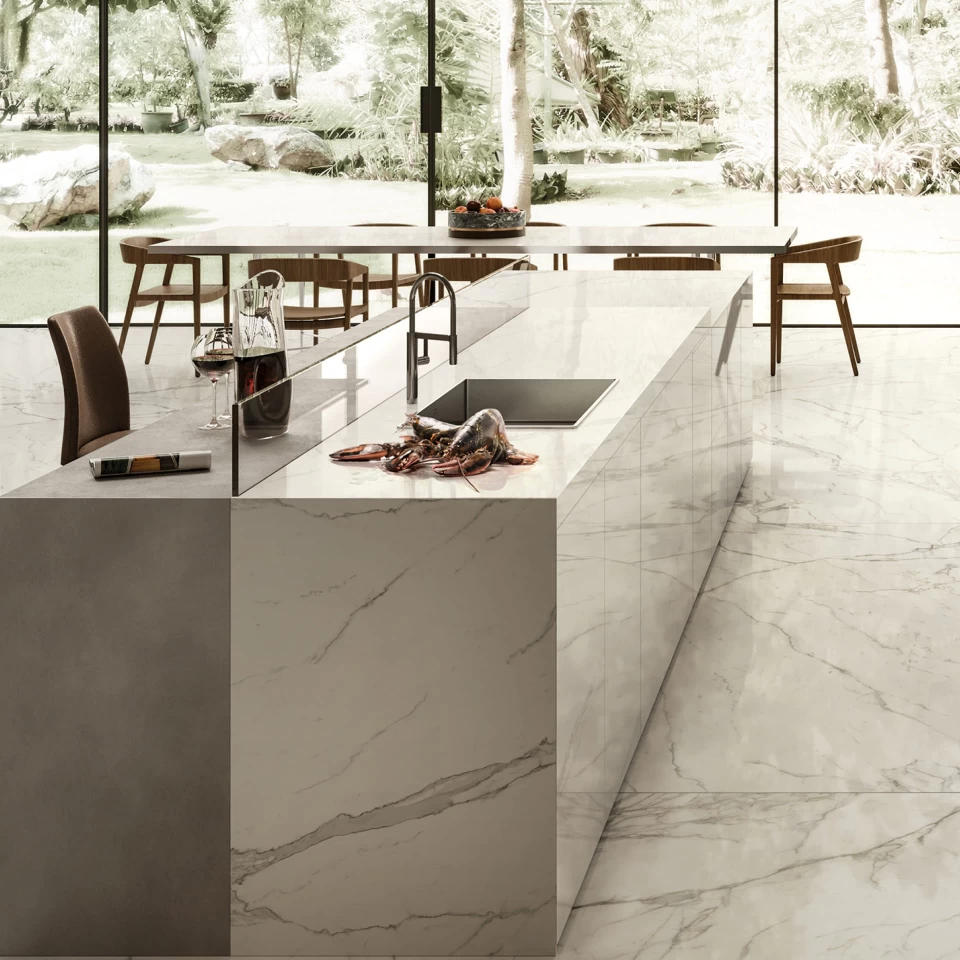 How to clean porcelain tile
One of the advantages of porcelain stoneware is that it is easy to clean and maintain, which is why it is one of the most widely-used materials in modern homes. Porcelain stoneware surfaces do not absorb dirt and are easy to clean with just a damp cloth and warm water. The surface will keep its looks if you just follow a few simple rules. Here are the secrets for perfect cleaning!
Ordinary cleaning of stoneware surfaces
For routine cleaning of Atlas Plan tiles, we recommend you first dust them with a clean, dry cloth then use any neutral detergent for stoneware surfaces that can be found in most supermarkets. Any stains should be removed straight away before they dry to avoid special cleaning.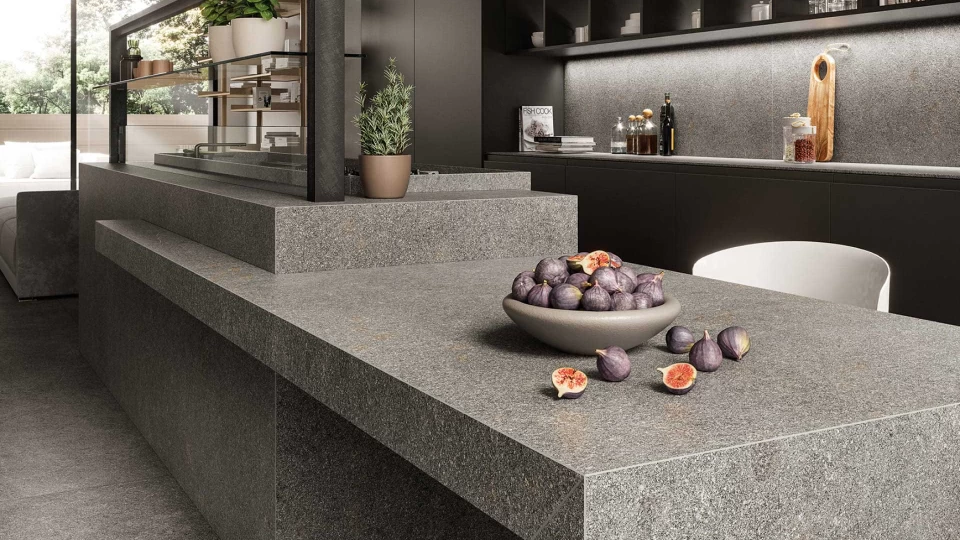 Extraordinary cleaning of porcelain stoneware slabs
For stains that cannot be removed by routine cleaning, a suitable detergent for the particular type of stain is recommended. It is essential to clean stains promptly to ensure they are removed completely.
Before applying a product to the whole surface, it is recommended that you test it first on a small section of the stain to make sure it's suitable.
Do not use concentrated hydrochloric acid and/or caustic soda, or any cleaning agent containing hydrofluoric acid and/or its derivatives, under any circumstances.
Below are the recommended detergents according to the type of dirt:
Grease, coffee, beer, wine, fruit juice, coke, ink, vomit, urine, ice cream, marker pen, blood, rubber, suckers: degreaser-based cleaner;
Rust: cleaner for rust removal;
Silicone: silicone-removing detergent;
Waxes and resins: solvent;
Aluminium marks, pencil marks, limescale: descaling cleaner.
What are the best cleaners for porcelain stoneware?
It's important to use the right detergent for the stoneware finish you've chosen and the place where it's installed.
First of all, flooring: for matte and silk finishes, an acid floor cleaner suitable for cleaning opaque porcelain stoneware is recommended; check first that the detergent contains no polishing substances. Dilute the cleaner with plenty of water then simply wipe the whole floor with a microfibre cloth (or special cloth for cleaning stoneware flooring) soaked in the diluted cleaner.
For gloss finishes such as polished and marble-effect tiles, it's best to use a neutral or alkaline cleaner for porcelain stoneware containing no abrasive substances that could scratch the surface and compromise the finish of your floor. If there's any residue left on the surface after cleaning it, it probably means the detergent was not sufficiently diluted. In this case you should quickly wash it off with warm water and a microfibre cloth.
The same process also applies for cleaning various types of porcelain stoneware cladding such as kitchen worktops and tables; for these types of surface, a detergent suitable for surfaces with food contact is recommended.
Homemade cleaners - useful tips
We're often asked whether homemade detergents can be used to porcelain stoneware, and what types of substance are recommended. Although stoneware is impermeable and resistant to chemical agents, it's important you use the right solution to achieve the best results and avoid spoiling the surface.
Can I use vinegar to clean porcelain stoneware? Yes, but with a few provisos: vinegar is an acid substance so it's an effective natural solution for removing limescale, but only when it's diluted with plenty of water and only on matte and opaque surfaces.
Bicarbonate of soda is another excellent cleaning agent for porcelain stoneware, especially dirty grout lines. Again, it's important to use the right solution: dissolve one tablespoon of bicarbonate in plenty of warm water. Soak a microfibre cloth in the solution and squeeze it out well before applying to the surface.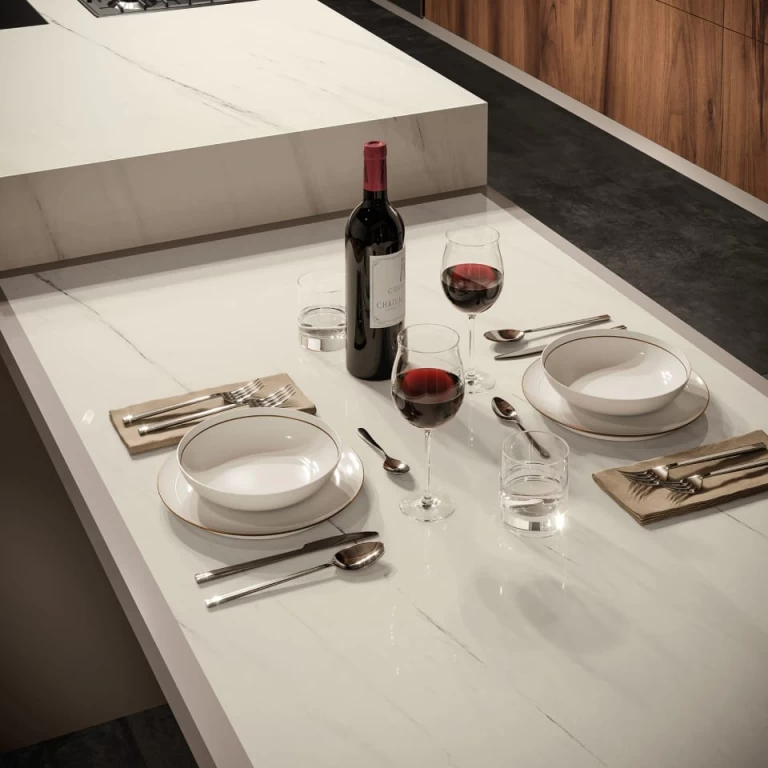 Application Tip
Using a damp cloth or white pad: apply the detergent to the stain and let it work according to the time specified by the manufacturer of the detergent used.
Rinse thoroughly and dry with a cloth.
Dampened non-scratch Scotch-brite scrub sponge: apply the cleaning agent to the stain and let it work according to the time specified by the manufacturer of the cleaning agent used.
Use a dampened, white, non-scratch Scotch-brite scrub sponge and make circular movements all over the area to be cleaned. Rinse thoroughly with clean water and dry with a cloth.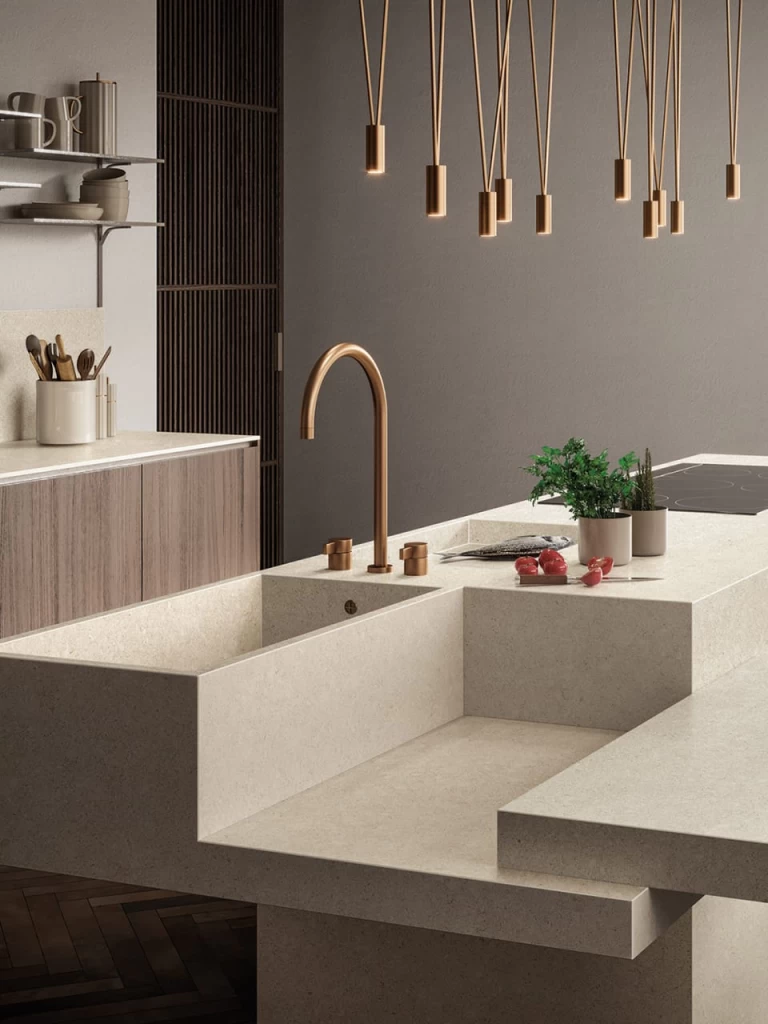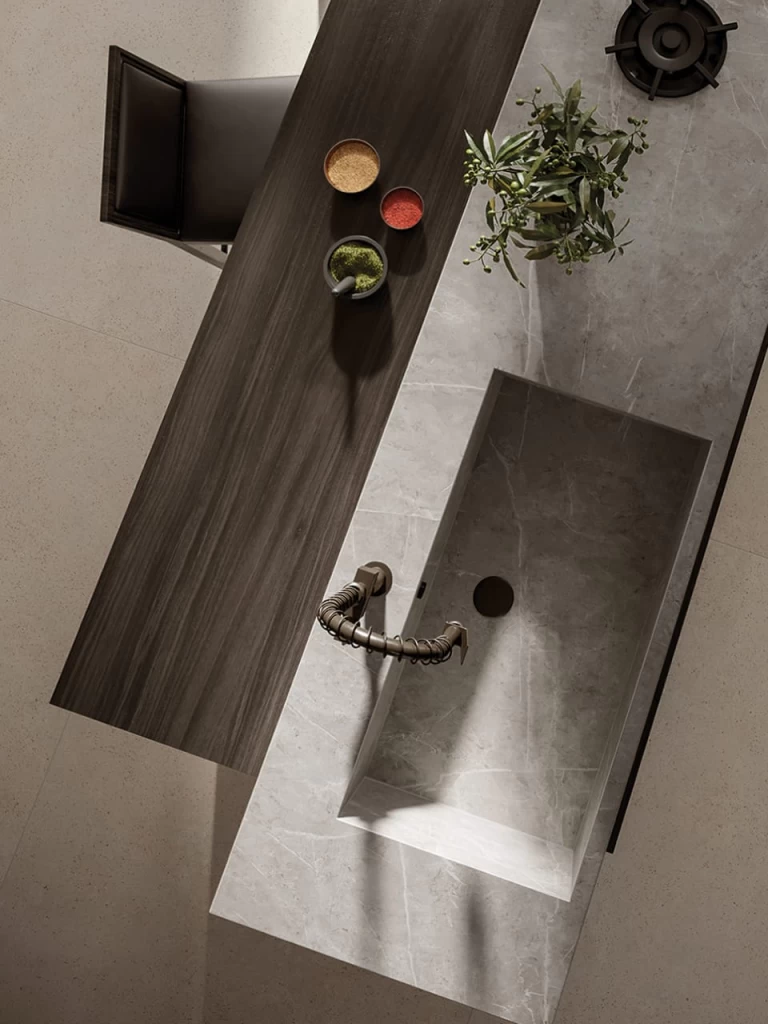 Precautions for use
Here are some tips on how to preserve porcelain stoneware surfaces over time:
Prevent shocks at the most exposed points such as corners and edges, both with and without ledge.
Do not use metal or abrasive scourers;
Do not use knives with ceramic blades as the hardness of the two materials is very similar;
Provide protection systems, such as wooden and/or plastic cutting boards, when cutting foodstuffs on surfaces having a dark colour and/or a Lux Lapped finish;
As a precaution, protect the surface from direct contact with hot objects (e.g. frying pans, pots, coffee pots, etc. ...) using trivets.
For the repair of shallow surface scratches in Lux Lapped finish, please refer to your Atlas Plan team directly.