The brand of large slabs
Atlas Plan is the Atlas Concorde brand that specialises in the production of large-sized ceramic slabs.
The Atlas Plan range completes Atlas Concorde stylistic proposal of surfaces and products, contributing to a product system designed for complete and coordinated settings: furniture, walls, ventilated façades and floors.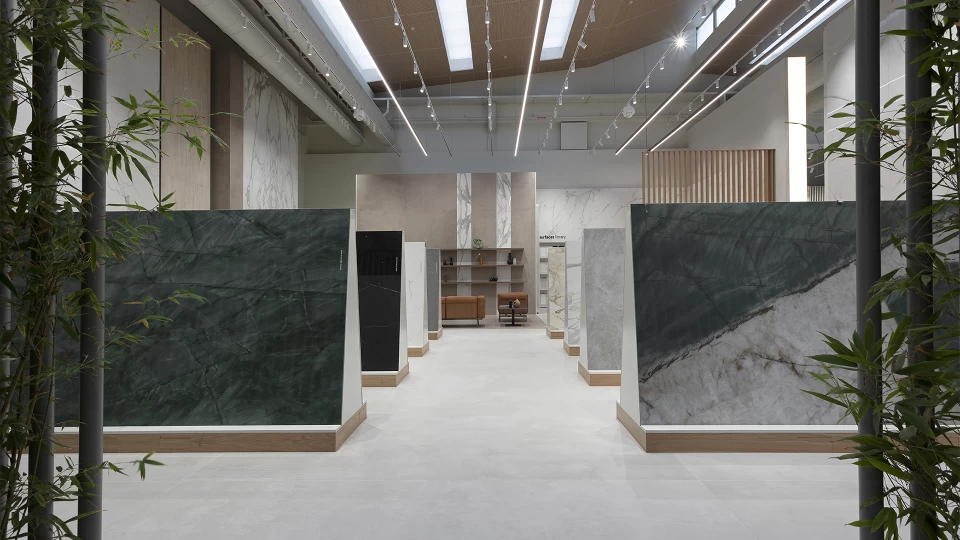 Atlas Plan: the excellence of large slabs
Atlas Plan was established in 2017 out of the historic path of Atlas Concorde.
The constant pursuit of process and product excellence has led Atlas Plan in just a few years to grow into a benchmark brand in the market of large slabs.
The large size of Atlas Plan slabs allows them to be installed in any type of project: furniture elements - kitchen and bathroom tops, backsplashes, integrated washbasins and vanity tops, worktops, table tops and desks, counters - wall applications for indoor settings and outdoor solutions such as ventilated façades and floors.
Atlas Plan large slabs are ideal for surfaces that demand maximum hygiene, safety and resistance and for design projects looking for a great aesthetic impact.
Since 1969, Atlas Concorde, the parent company of Atlas Plan, has been consolidating its position as one of the leading brands in the ceramic industry worldwide. Atlas Concorde has always been the ideal partner for customers and designers who are looking for a unique and integrated system of outstanding ceramic floor and wall tiles that meet the needs of contemporary architecture.
Atlas Plan and Atlas Concorde are part of the Concorde Group, a leading porcelain stoneware manufacturing group in Italy and abroad, with more than 2,500 employees and a widespread presence in all five continents. Atlas Plan receives from the Group the strength of a shared approach to industrial production, which allows the company to be solid and structured, optimising technological-production processes and product innovation.
A single material, a complete system
The porcelain stoneware large slabs by Atlas Plan, together with the Atlas Concorde Habitat line of stoneware bathroom furniture, complete the ceramics offer by Atlas Concorde, creating a unique and integrated product system for the design of residential, commercial and hospitality interiors.