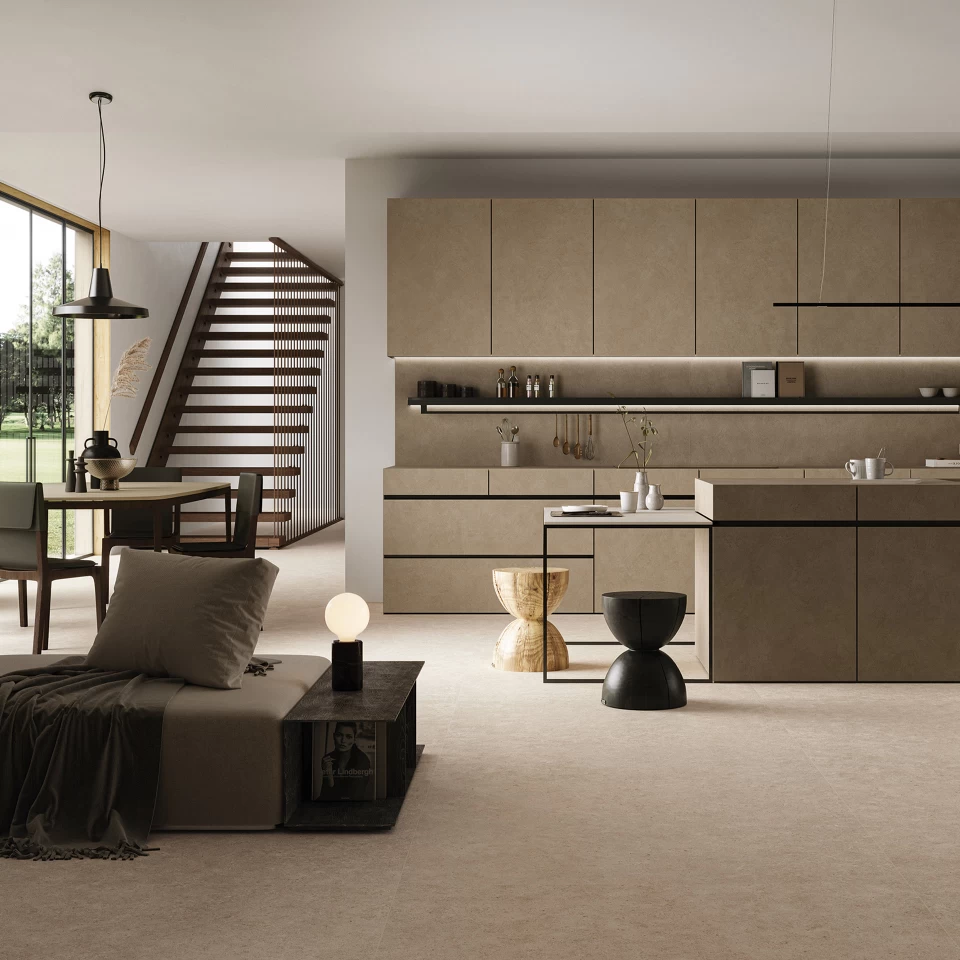 Furnishing your combined living and dining room
It's sometimes a matter of size, but a single environment that serves as both living room and dining room can often be a deliberate choice to promote social interaction and sharing. To furnish a small living room with a kitchen area in a functional but distinctive way, it's important to consider the positioning of each individual item carefully and choose different finishes that will separate the two areas visually yet maintain a dialogue between them. Here are some tips on how to make the most of the space and furnish your combined living-dining room with all the advantages of porcelain stoneware.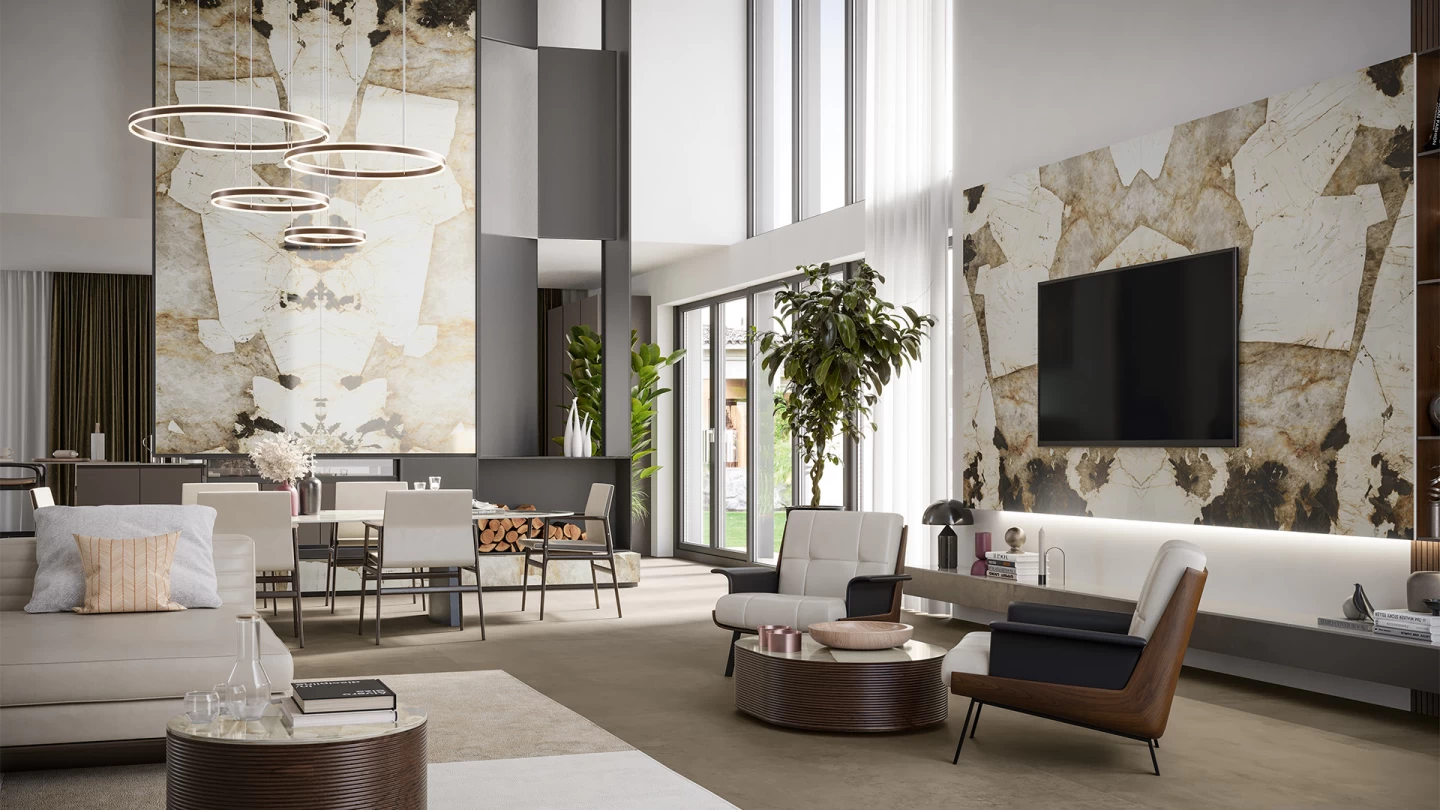 Making the most of spaces: how to furnish a small living-dining room
If you already have plenty of space the important thing is to organise the different areas within it effectively, but if you only have a small space you need to be really smart. Before we go into the different porcelain stoneware styles that are available, here are 10 smart ideas for creating a combined living-dining space that works when every centimetre counts.
1. Don't put all the furniture against the walls
It's a common misconception that you should leave the space in the middle of the room empty to make it look bigger, but if you place a small cabinet or sofa in the middle of the room it can actually create better definition and give you more space to work with.
2. Go for furniture with minimalist lines
Floor lamps, vases of simple design and bookcases that are long and shallow or have invisible edges create an airy atmosphere.
3. Choose a round table for the dining area
A round table is more a fluent shape than a rectangular or square one and appears less bulky.
4. Choose your colours carefully
It doesn't necessarily have to be monochrome but it's best not to combine more than two or three shades, and make sure your furniture and accessories are matching.
5. Don't underestimate furniture with storage capacity
Order is your best friend in a confined space, so it's best to go for sideboards and other items with capacious drawers and doors that close.
6. Consider swapping your sofa for armchairs
Chairs are just as comfortable but take up less room, they're also easier to move if you need more space for the dining table when you have guests.
7. Have an island in the kitchen area
An island provides a valuable extra work surface that you can also use as a breakfast bar or when you have friends round for drinks.
8. Mount the TV on a wall
Mounting the TV on the living room wall instead of standing it on a TV unit is a space-saving device that's also aesthetically pleasing, especially if you choose a slimline model with a frame that matches the decor. This small expedient also means you can see the TV from any corner of the combined living-dining room.
9. Make the most of height
Ceiling-grazing bookcases and shelving units in a minimalist design give you ample space to store everything and optimise the available space to the max.
10. Think about proportion
To create harmony in a space, each item of furniture should be in proportion with the rest and not too big for the overall size of the room.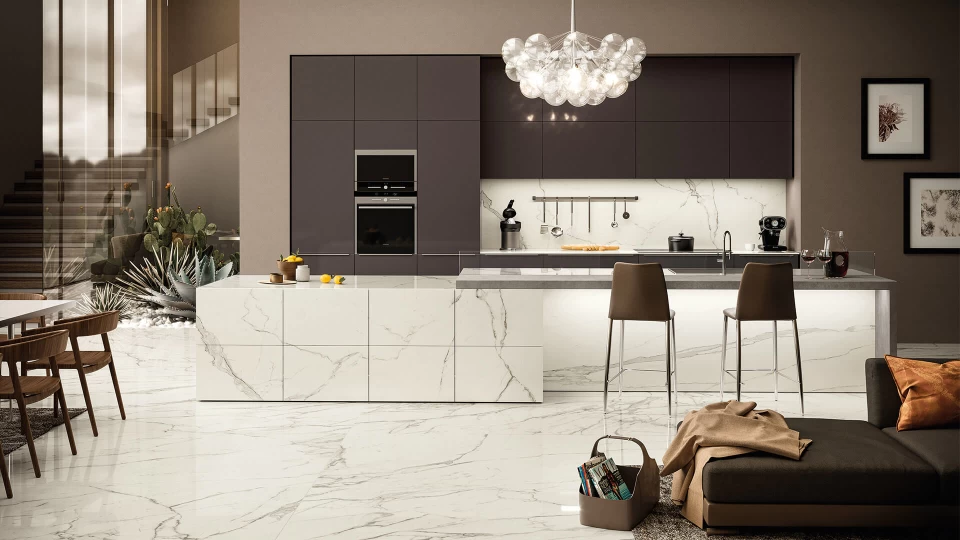 How to combine living and dining rooms
Design trends in recent years have undeniably revolutionised the concept of 'purpose'. In the past, every room was planned for a specific use – cooking, watching TV, entertaining guests, etc., but we now focus on multifunctional spaces with maximum flexibility that can be used by anyone in the house. When you're furnishing a living room and dining room combo, therefore, you need to bear in mind the concept of togetherness and think about continuity. If, for example, you find inspiration in earthy colours like brown, clay and sand for the living area, it might be a good idea to continue the colour scheme with toning accessories such as dining chairs or rugs. And if the kitchen looks out over the living space, you could choose the same floor tiles and cladding for both; marble effect porcelain stoneware with its attractive, subtle veining is the ideal common thread to connect the two spaces in complete harmony.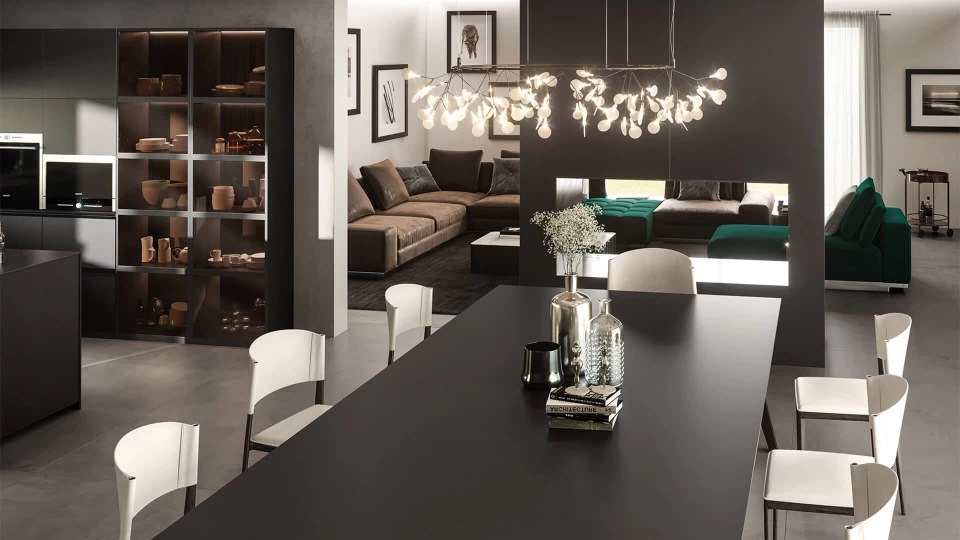 How to separate the dining area from the living area
Designing and furnishing a small living room dining room combo can be a real challenge, and the secret lies in dividing the two spaces in a way that works but doesn't make the room look even smaller.
The main thing to consider is the shape of the space. If it's rectangular it might be worth having a partition in the middle of the room to partly separate the two environments, leaving at least a one-metre gap at either end of the partition for ease of passage. Alternatively you could opt for a stylish glass screen - which are currently in vogue - or an open bookshelf for an airier look. If the room is square or very small, it's best to avoid introducing any rigid structures like walls or columns and instead focus on a strategic arrangement of the furniture based in a diagonal theme, with the sofa and dining table in opposite corners to effectively divide the space. Another fundamental aspect to consider is lighting; even where a room incorporates both living room and dining room, each environment should have its own lighting. A ceiling light or hanging lamp is ideal over the dining table, while the lounge area needs a softer, more intimate atmosphere that you can create with a dimmable floor lamp or a table lamp beside the sofa.
Classic living and dining room
Living room dining room combos are not the exclusive preserve of contemporary homes - they can also work well in more traditional settings. If you're decorating a combined living room and dining room in a classic style it's best to take inspiration from existing features such as exposed beams, metal window frames or original fittings, and continue the colour scheme. A natural marble effect stone such as travertine with its seductive, warm tones enhanced with dove-grey details recalls the elegance of former times but delivers all the practicality of a modern, technical material. The need to combine modern functionality with classic styling is even more important if you're renovating an old family home. The choice of porcelain stoneware for living room is particularly attractive in this case because it creates a welcoming, convivial space that's perfect for festive get-togethers but designed using a material with extraordinary properties that mean it's hardwearing and easy to clean.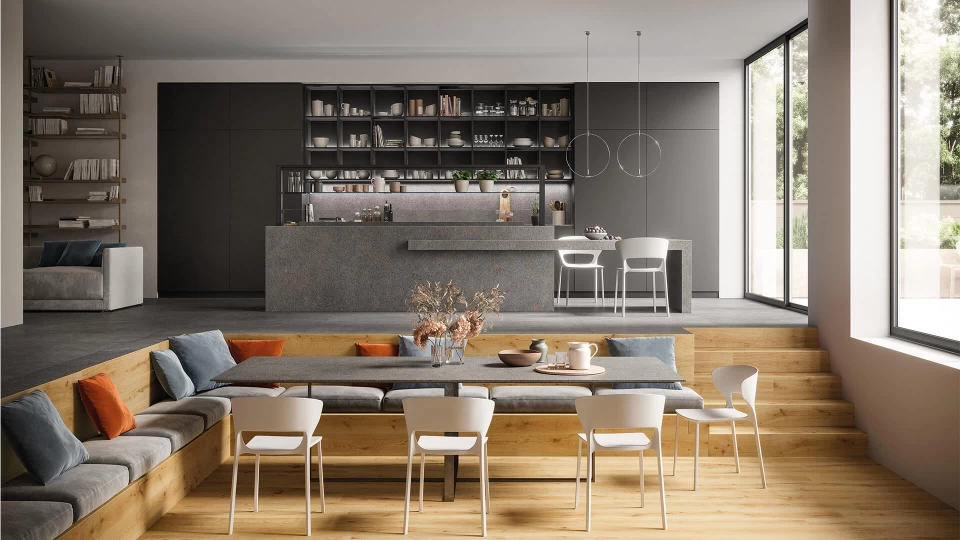 Modern living and dining room
Anyone looking for modern living room dining room combo layout ideas will discover endless possibilities in stoneware slabs. The grey stone effect finish has greatly influenced the creativity of designers over the years because it brings the vibrant energy of flamed porphyry - traditionally used outdoors - to any domestic setting. Stoneware creates a huge impact when it's used for kitchen worktops and breakfast bars, and is even more stylish when it's combined with wood effect cladding details which have a softening effect and accentuate its natural lustre. If you're looking to decorate a living room dining room combo in a modern style but prefer warm, comfortable tones, you might opt for the more muted shades of stone-effect stoneware such as ivory or cream, or concrete-effect stoneware in clay shades, which is perfect for creating a modern kitchen.