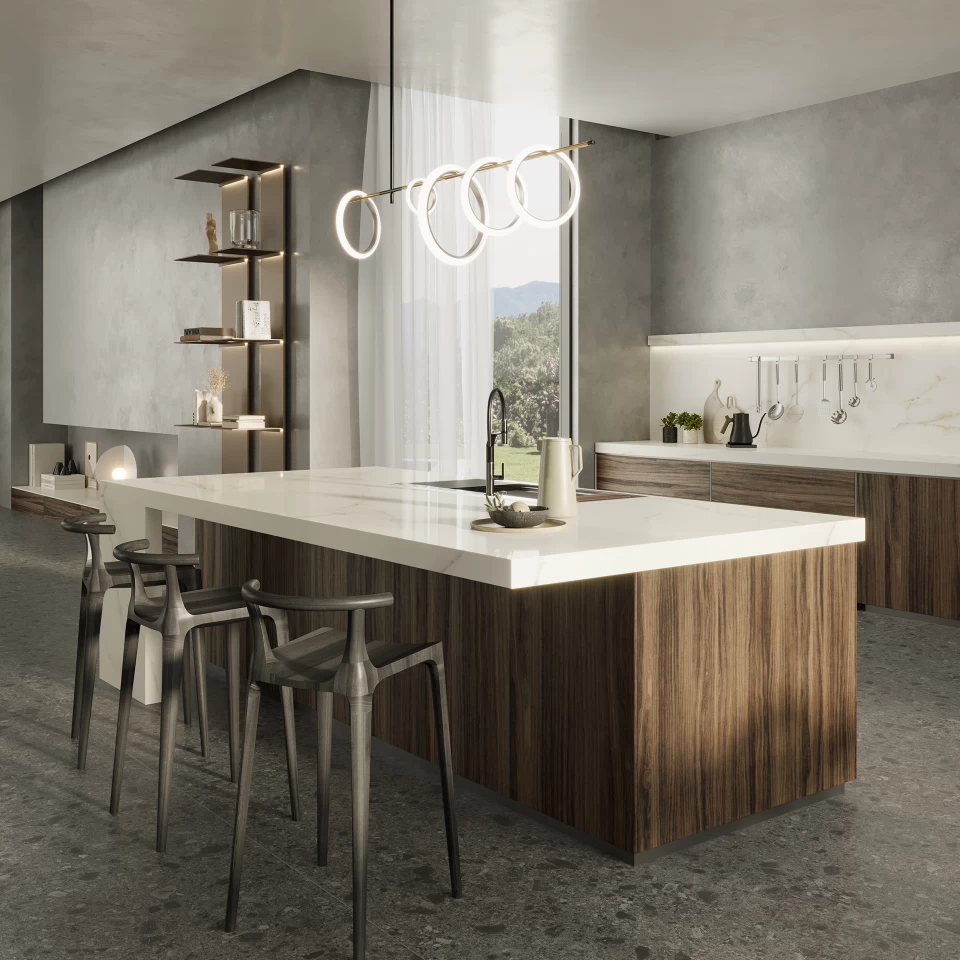 Modern kitchen ideas: porcelain stoneware wall tiles
Whether it is located in a separate room or overlooks the living area, the kitchen is the beating heart of any home and requires excellent technology that combine functionality and durability, declined in a current and design-oriented aesthetic. Here is a selection of ideas for a modern kitchen that harnesses the benefits of porcelain stoneware, a material with extraordinary performance to achieve unique finishes and wall claddings.
Modern L-shaped kitchens: how to furnish them?
If you are fortunate enough to have a lot of space, you can choose from many contemporary solutions that provide a strikingly scenic effect, but before sifting through the ideas for modern L-shaped kitchens,it is a good idea to focus on the arrangement of the individual elements: the most functional layout - also used in the kitchens of starred restaurants - is undoubtedly the one based on spaced refrigerator, sink and hob, which are positioned so as to create an imaginary triangle in which to move easily to facilitate cooking.
A second aspect concerns the style of the wall,tiles, which must not only blend in with the rest of the house but also fully represent the taste and preferences of the people living there: choosing porcelain stoneware in the kitchen means opting for a versatile material offering infinite possibilities for customisation, ideal both for those seeking sophisticated atmospheres and for those who prefer a more marked contemporary look.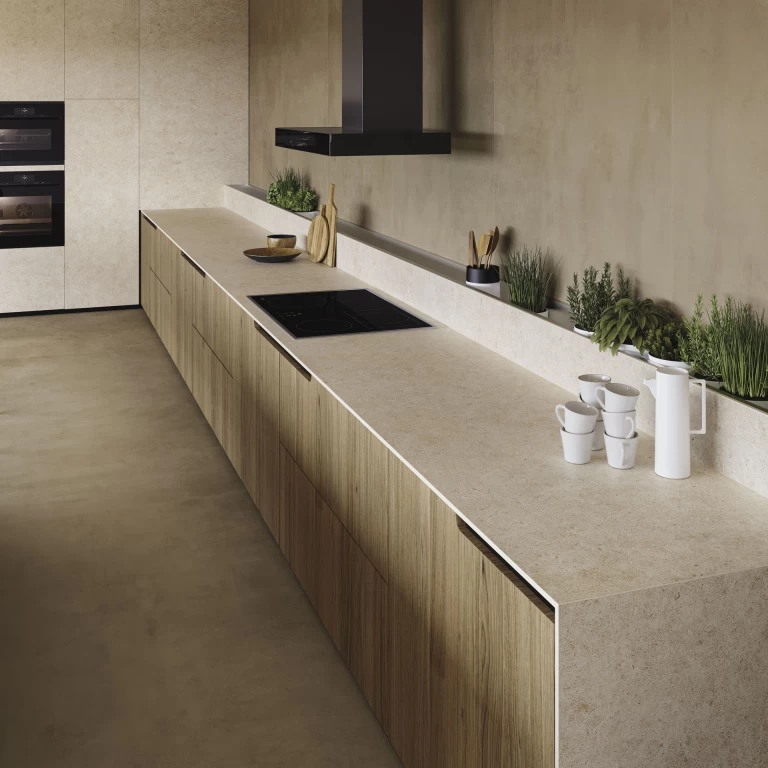 For example, those who aspire to a modern kitchen with essential lines can opt for textural finishes with a stone effect, with a minimal and contemporary taste, or choose the timeless elegance of marble-effect stoneware, to be applied both on worktops and backsplashes to give visual harmony to the entire room.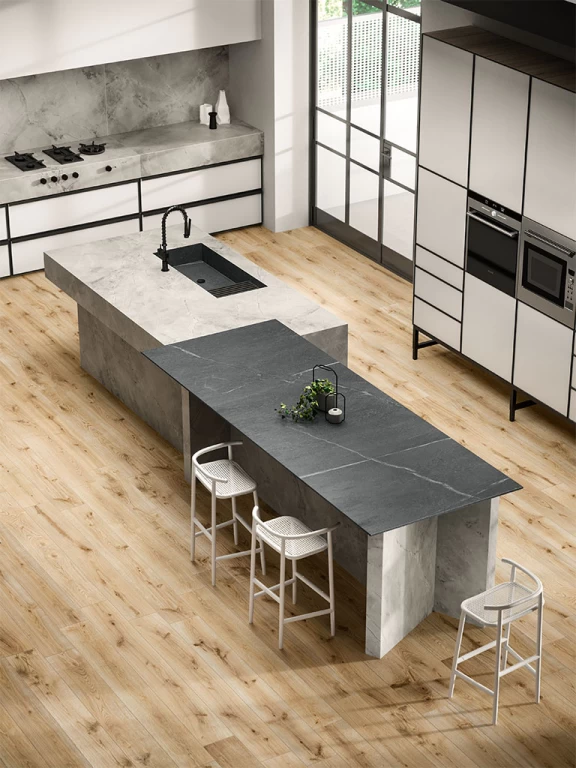 Those, on the other hand, who want to achieve an important scenic effect can play with contrasts and geometries: light and sophisticated nuances for the main structures, deep and bold colours for the tops and accessories. This is also an ingenious solution for those who are looking for ideas for a small kitchen, because emphasising the worktop by underlining its length will make the entire space seem larger.
Modern kitchens with island: ideas and suggestions
A child of modern architecture and open-plan places, the island is the key to transforming a simple kitchen into a space for conviviality and sharing: a multifunctional element, that can be designed not only to place household appliances and storage compartments but also to welcome guests for an aperitif or to eat quick meals.
The ideas for modern kitchens with an island are potentially infinite, especially if you play with sophisticated and unusual declinations. If the island embraces the living room, you can choose to recall the finishes of the room, such as the marble of the dining table or the textiles of the armchairs, while to create a clear division without using walls or fixtures you can opt for the juxtaposition of classic design elements and ultra-tech materials.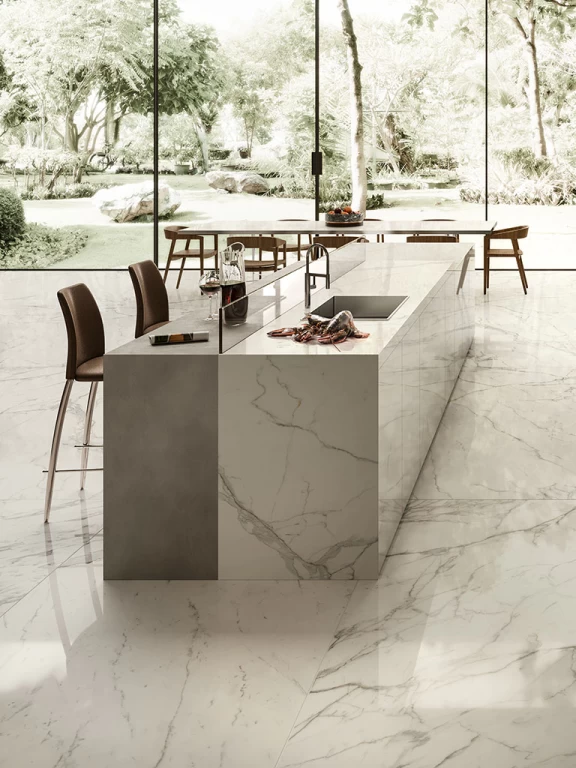 When the island also becomes an additional worktop, it is preferable to focus on continuity with the porcelain stoneware kitchen worktop to make the most of the potential of a high-performance material. Similar shades are emphasised to harmonise the environment or complementary ones are highlighted to give movement. Precisely because of its structural characteristics, the advantages of porcelain stoneware in humid and temperature-sensitive environments such as kitchens are considerable: thanks to its compact and non-porous surface, it is highly resistant, hygienic and very easy to clean, maintaining the same appearance over time.
Ideas for furnishing a modern linear kitchen
Since most kitchens are located in traditionally narrow and long rooms, the linear layout is certainly the most common, but this does not mean that you have to give up your creative flair.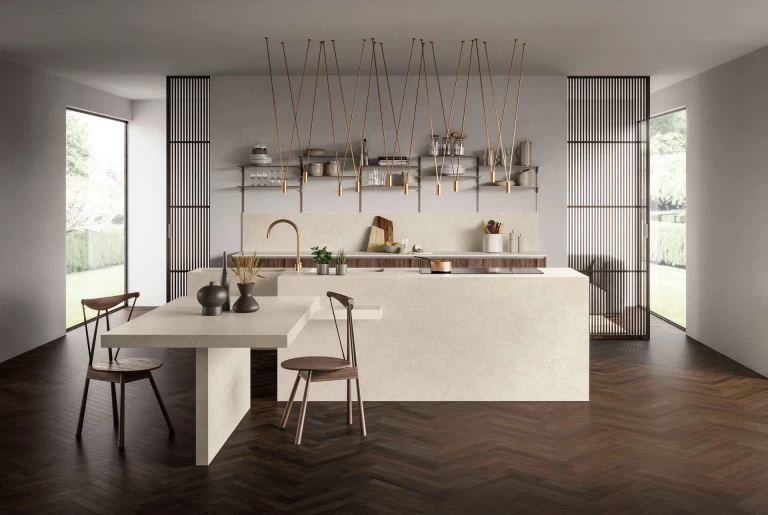 To embellish a modern linear kitchen, an original idea could be to go for a monolithic effect, with fitted columns, worktop and backsplash in textural finishes such as stone or concrete. A certainly scenic effect that gives character and rigour to the whole room, using the simplicity of the layout to its advantage.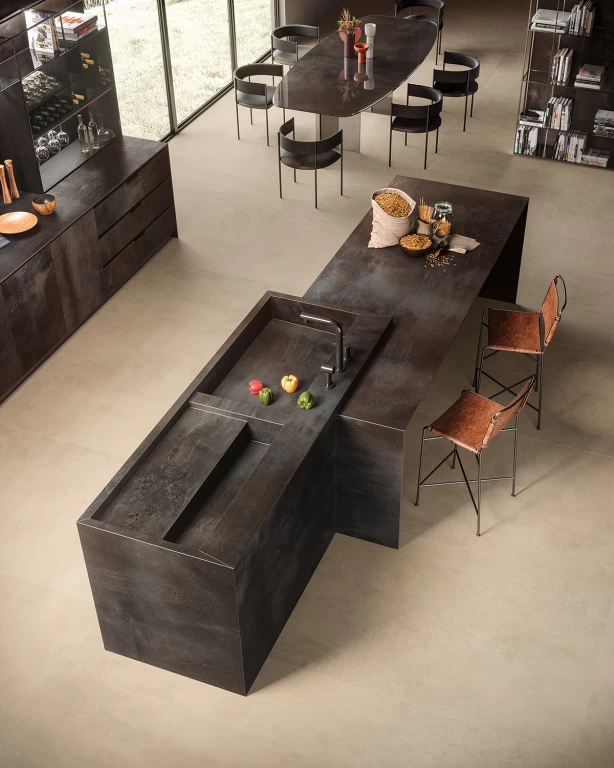 A second option that has been particularly in fashion in recent years is to design an essential modern kitchen, giving up wall cabinets and emphasising panelling. For example, those who love unexpected solutions can opt for oxidised metal-effect porcelain stoneware, which is extremely sought-after because it reflects light thanks to its iridescent surface. It can be combined with industrial-inspired taps and fittings and design elements. Those who prefer to distinguish themselves with warm, sophisticated atmospheres will find the ivory-coloured stone effect the ideal solution: the subtle veining and granular colouring are the best synthesis of contemporary taste and attention to detail.