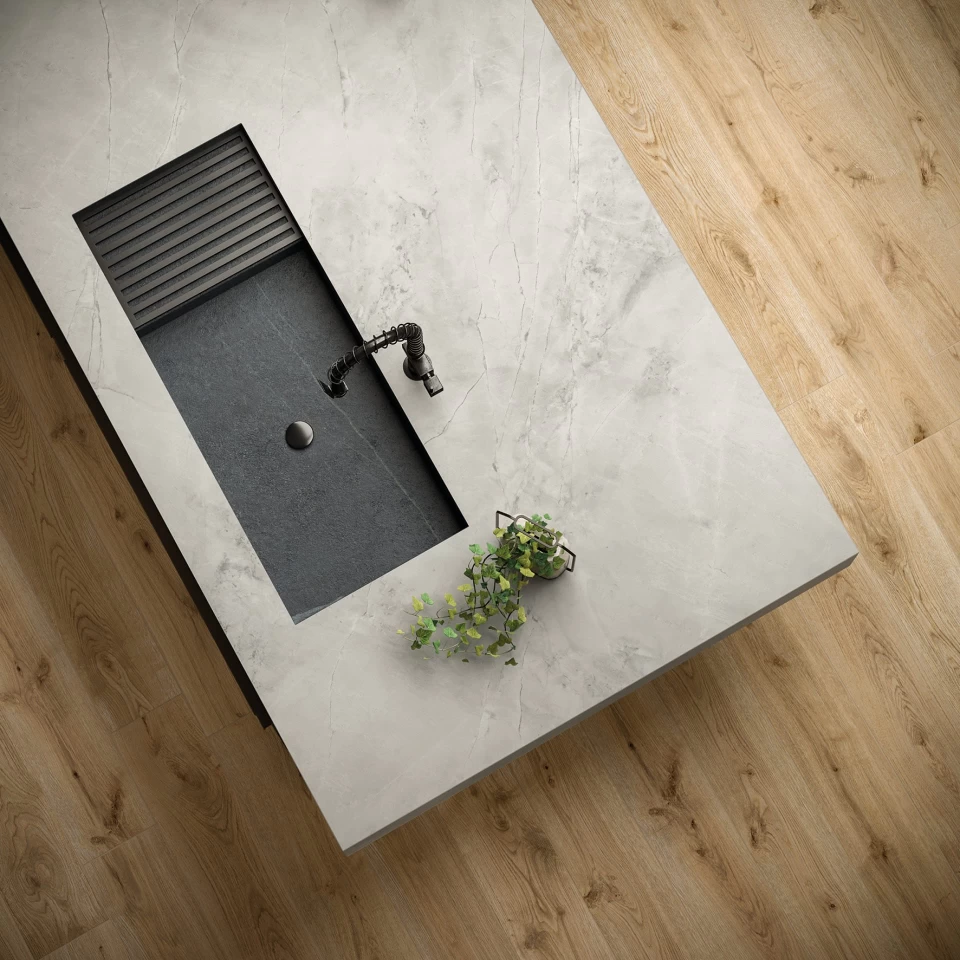 Decorating the kitchen with Atlas Plan porcelain stoneware
Modern kitchens are increasingly presenting themselves as open spaces capable of accommodating the new domestic conviviality. From a place of service, the kitchen has evolved into the living room, becoming a spacious, functional and central room in relation to the other rooms in the home.
In this framework, tiles are not just a functional element but become an expression of personal taste.
This is why Atlas Plan dedicates constant attention to the search for new materials, textures and colours, some simple and natural such as marble and stone effects, others styled and exclusive such as metal or concrete effects, without ever neglecting the technical and functional aspect. The result is a coherent, harmonious and elegant composition, designed to allow ever new combinations and guarantee maximum expression freedom.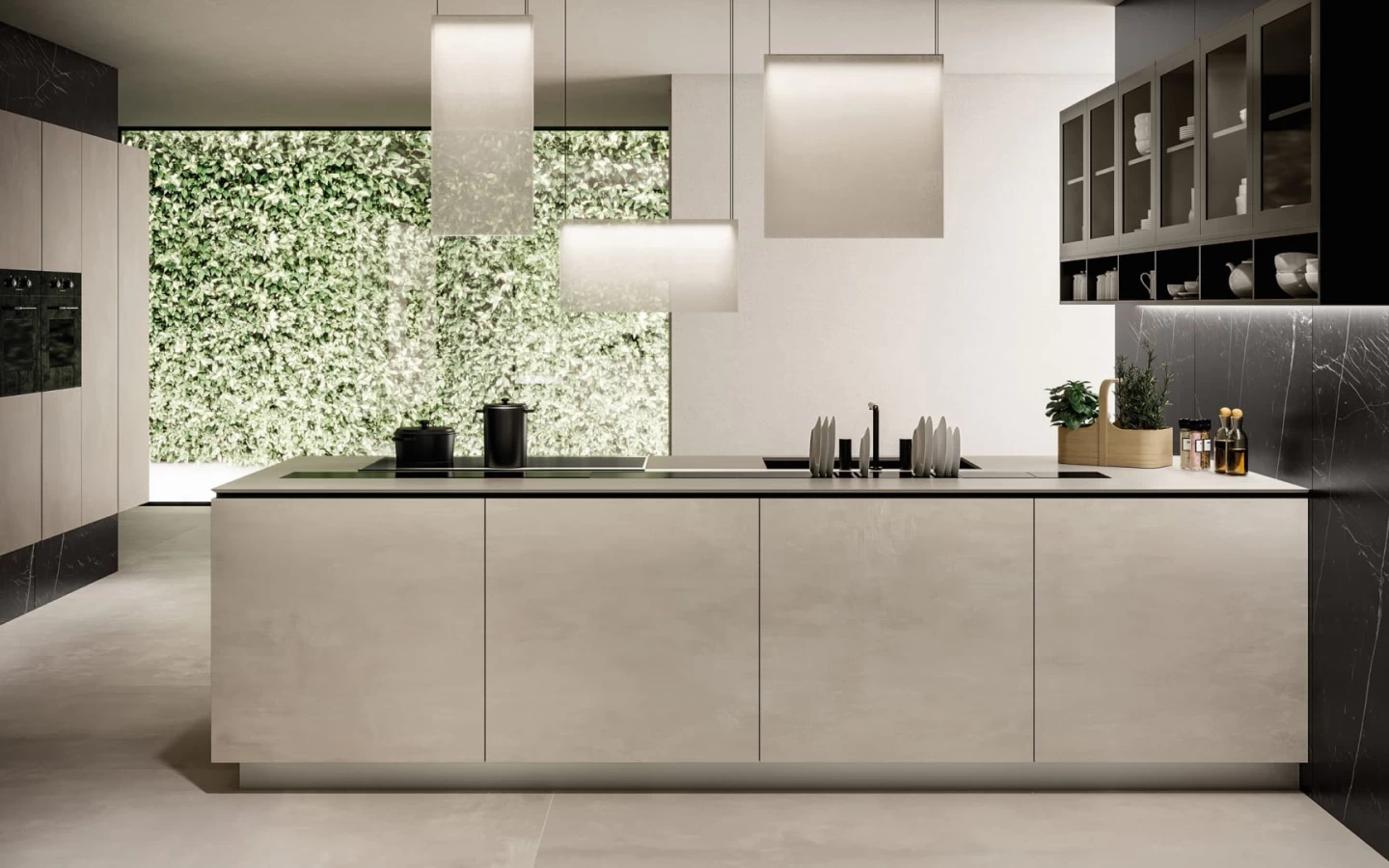 Porcelain stoneware in the kitchen: bespoke style
The variety of sizes, finishes, effects and colours available in the Atlas Plan catalogue, complemented by the Atlas Concorde offer, allows architects and designers to design a coordinated kitchen environment, from floors to walls and furniture, perfectly adapting to all living styles.
If you are a lover of the urban chic style, cement-effect wall tiles are the perfect choice: functionality and beauty are expressed in neutral tones with natural colours, recalling modern, minimalist atmospheres.
Don't want to give up classic style?
Marble-effect porcelain stoneware slabs will lend elegance to your kitchen surfaces in a timeless style. The sophisticated play of light and shadow and the variations in colour provided by the veining proper of marble will bring dynamism to your space, perfectly harmonizing with your style!
Lovers of metropolitan style, who search particular suggestions, will find the right product for their style among the metal-effect proposals: the bold look, expressive power and charm of the reminder to lived-in material make these porcelain stoneware surfaces perfect for an industrial touch to your kitchen.
We recommend porcelain stoneware for those in search of a modern, minimalist look for their kitchens: the faithful reproduction of traditional architectural stones, from which the slabs are inspired, imbues spaces with a delightful balance without renouncing a personal, identity-driven style.
The large-size porcelain stoneware slabs of Atlas Plan are well suited for all applications in the kitchen: from wall to floor tiles, from worktops to backsplashes and last to island coverings.
How to combine different surfaces: total look and mix and match
All Atlas Plan range products can be perfectly matched with Atlas Concorde ceramic surfaces and result in excellent solutions for walls and floors.
Depending on style and personal taste, appealing total-look solutions or unusual mix and match effects can be obtained.
The total look effect combines practicality and comfort, creating single-material spaces with a cosy atmosphere.
On the other hand, those who want to break out of the more traditional frames can opt for a mix-and-match style of furnishing where different styles, materials, colours and shades merge to create solutions with great visual impact.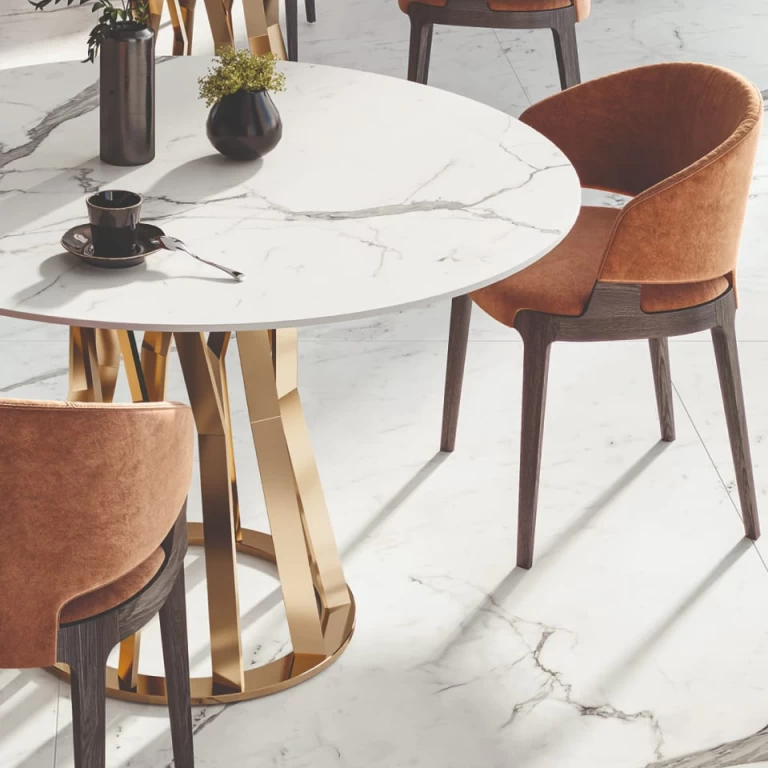 All the advantages of porcelain stoneware slabs
The extraordinary technical features of porcelain stoneware make this material highly safe, hygienic, easy to clean and maintain; it is particularly suitable for an environment such as the kitchen.
The compact, non-porous and totally waterproof surface does not retain dirt and makes cleaning quick and easy even when used as a worktop.
Resistance to water, humidity, sudden thermal changes and mites, bacteria, fungi and mould makes porcelain stoneware safe and suitable for environments requiring high standards of hygiene.
It is also a fire-proof and heat-resistant material and therefore perfect for kitchen worktops and backsplash walls.
If you are looking for inspiration, visit our project page or contact our team of experts!