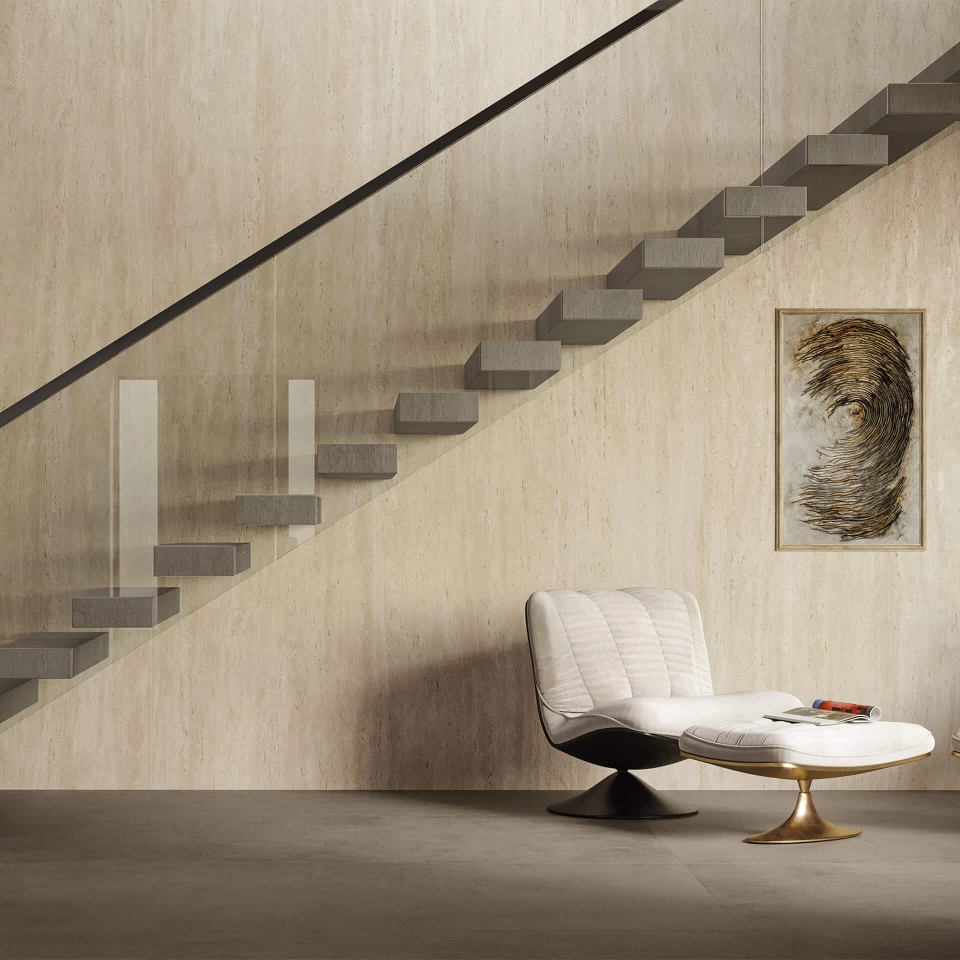 Ideas for cladding interior and exterior staircases
Stairs are often thought of as just a transit zone, but they can be become an essential part of the decor if they're clad in desirable, original materials. The alternatives that stoneware offers for both residential and commercial spaces are potentially infinite: stoneware panels, contrasting polished inserts and details that blend perfectly with the surrounding space are a just few indoor and outdoor stair covering ideas to transform staircases into grand small-scale design elements.
Porcelain stoneware stair cladding: advantages
If you're looking for ideas for cladding interior or exterior stairs, the first element to consider, before even thinking about the finish, is the material you use and whether it is sufficiently robust, durable, resistant to wear and easy to clean and maintain to meet the basic requirements. Porcelain stoneware satisfies all these requirements because it's a highly technical product. Not only is it designed to withstand wear, stress and heavy loads, the surface is also impermeable to liquids and chemical agents which makes it an excellent choice for both indoor and outdoor spaces. Porcelain stoneware is also an eco-friendly product that produces zero waste in its manufacture - a significant consideration for both designers and end users who are increasingly committed to environmental sustainability. One of the biggest benefits of porcelain stoneware is its extreme versatility, which means many different textures, effects and finishes can be reproduced to respond to any aesthetic requirement.
Outdoor stair covering ideas
Details make all the difference and the entrance to a building is its business card; designing an exterior flight of steps that's not only functional but also balanced and harmonious will lend the building prestige and convey the stylistic tenor of its occupants.
Stone effect outdoor stairs
There are many different porcelain stoneware alternatives for covering outdoor stairsdepending on what they're used for and the image you want to create. If the steps form a direct link to the building entrance from the garden, for example, you might prefer a stone effect solution such as a travertine with its discreet, neutral tone; an enduringly stylish option that will integrate well with the natural environment. If you prefer to take inspiration from traditional porphyry cobbles, on the other hand, you might decide to use full-body grey stoneware slabs for both the exterior stairs and for paving the footpath and terrace.
Marble effect outdoor stairs
Ideas for cladding exterior stairs don't necessarily have to reflect the overall style of the space, in fact a clever combination of apparently contrasting textures can produce a truly stunning overall effect. The ultra-modern lines of an industrial loft space, for instance, can be softened with an external staircase covered in a pale marble effect stoneware; light will be reflected by the slight nuance and the artificial veining detail will not go unnoticed.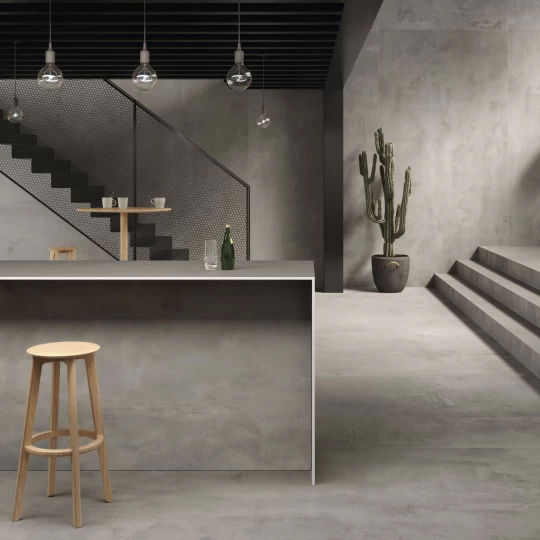 Indoor stair covering ideas - tips and ideas
In residential buildings the internal stairs are often designed to take up the least possible space and blend in with the rest of the surroundings.
Concrete effect indoor stairs
Concrete effect porcelain stoneware in a cool, grey finish is a highly sought-after and versatile contemporary design feature; compact and resolute with a minimalist elegance, it also partners well with parquet flooring and wood-effect stoneware, producing a contrast that's pleasing to the eye.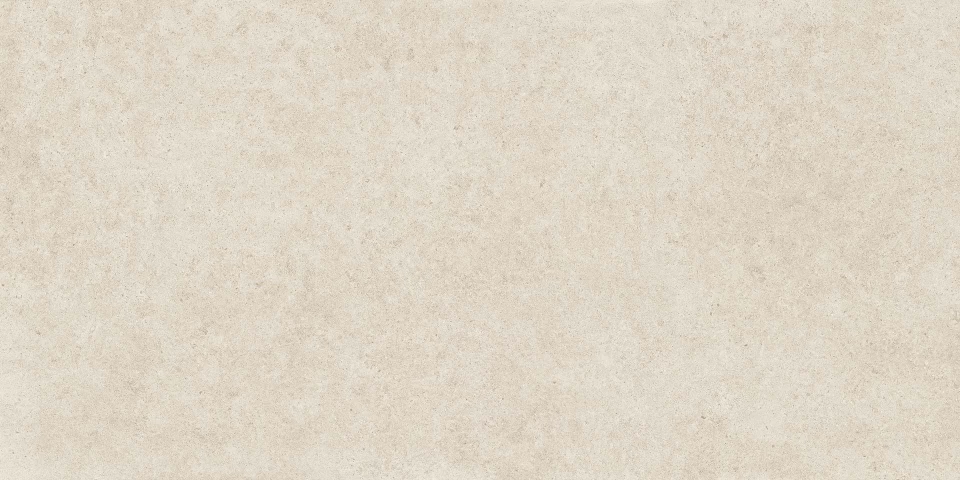 Stone effect indoor stairs
For a uniform, homogenous effect, you could opt for a monolithic effect for the interior staircase using the same type of stoneware as for the walls and flooring.
To create a more striking impression you can clad the indoor stairs in basalt effect stoneware, reminiscent of the distinctive texture of traditional lava stone.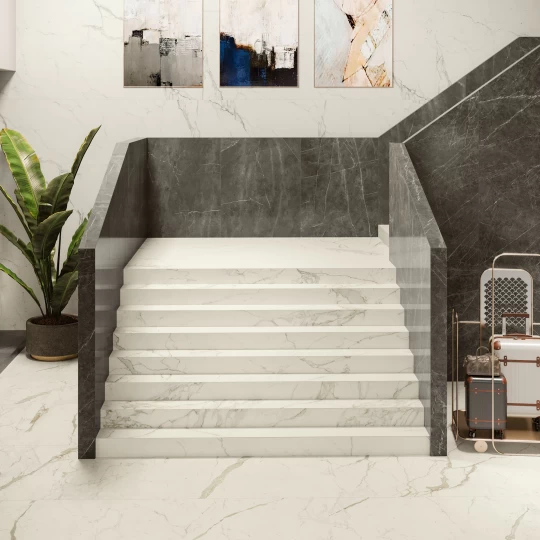 Marble effect indoor stairs
If you're bolder and are aiming for an imposing, elegant staircase, a white marble effect is absolutely the best choice. For classic, opulent styling Calacatta Antique porcelain stoneware is the perfect solution, or if you prefer a simpler effect the Calacatta Prestigio collection will be perfect for you.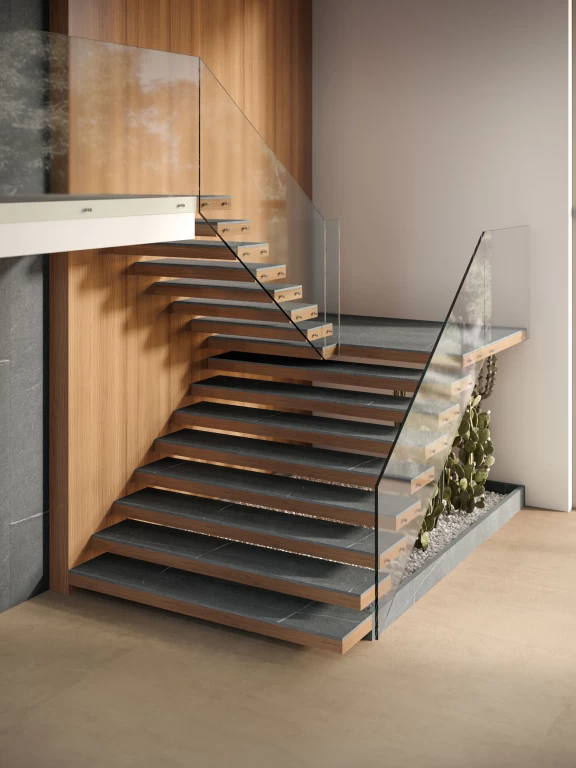 Tips on finishing touches
It's an ingenious idea to make the staircase the unrivalled star attraction in a space by using effects designed to capture the attention, and the versatility of porcelain stoneware makes it perfect for this type of scheme. The deep, ice-blue veining in a soapstone-inspired grey anthracite stoneware finish produces a powerful visual impact when used for stair treads, a feature that's even more eye-catching when the risers are given a contrasting finish.
If you prefer classic textures but don't like the conventional solutions, you can always add a contemporary touch with a special finish such as matt or polished porcelain stoneware. The most popular trends include the polished finish which brings out the nuances of the stone and gives the surface an ultra-glossy finish, and the flamed finish which produces a stylish, rough appearance both visually and to the touch.