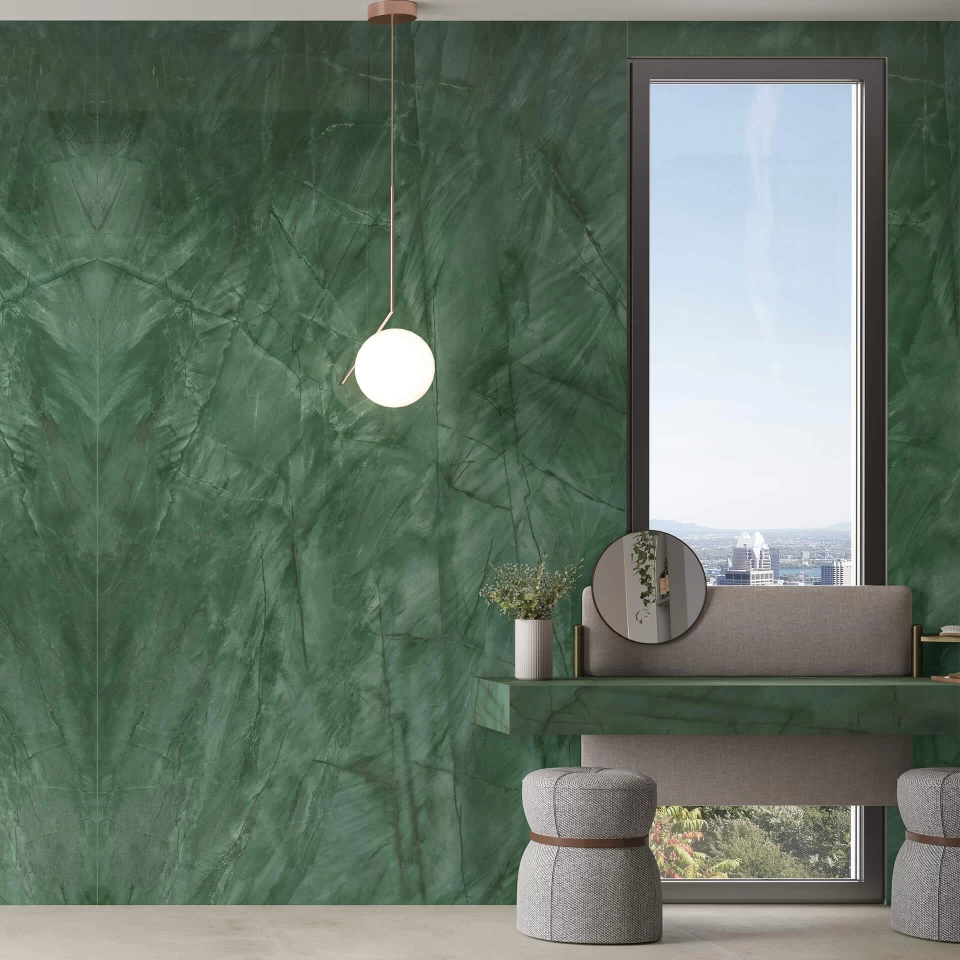 Wall tile ideas for modern bathrooms
In the past, choosing a classic white tile was practically compulsory. Today, the possibilities for tiling a modern bathroom are potentially endless, allowing you to combine aesthetic value with the functionality of the most innovative materials. Here is a selection of decorating ideas for a modern bathroom, including original shades of colour and finishes for a striking visual impact.
Modern bathroom ideas: choosing wall tiles
Before sifting through ideas for modern bathroom wall tiling, it is important to carefully evaluate the materials available to you. Bathrooms are subject to humidity, steam and condensation and therefore require durable, high-performance tiles that are non-porous and easy to clean. Porcelain stoneware is the perfect choice to meet these requirements. Not only is it a compact, durable and wear-resistant material, but thanks to its aesthetic versatility, it also allows you to design and decorate a modern bathroom with a broad range of finishes. We don't recommend traditional paints or wallpapers. Even if they are treated to make them suitable for the bathroom environment, they require frequent and rather demanding upkeep.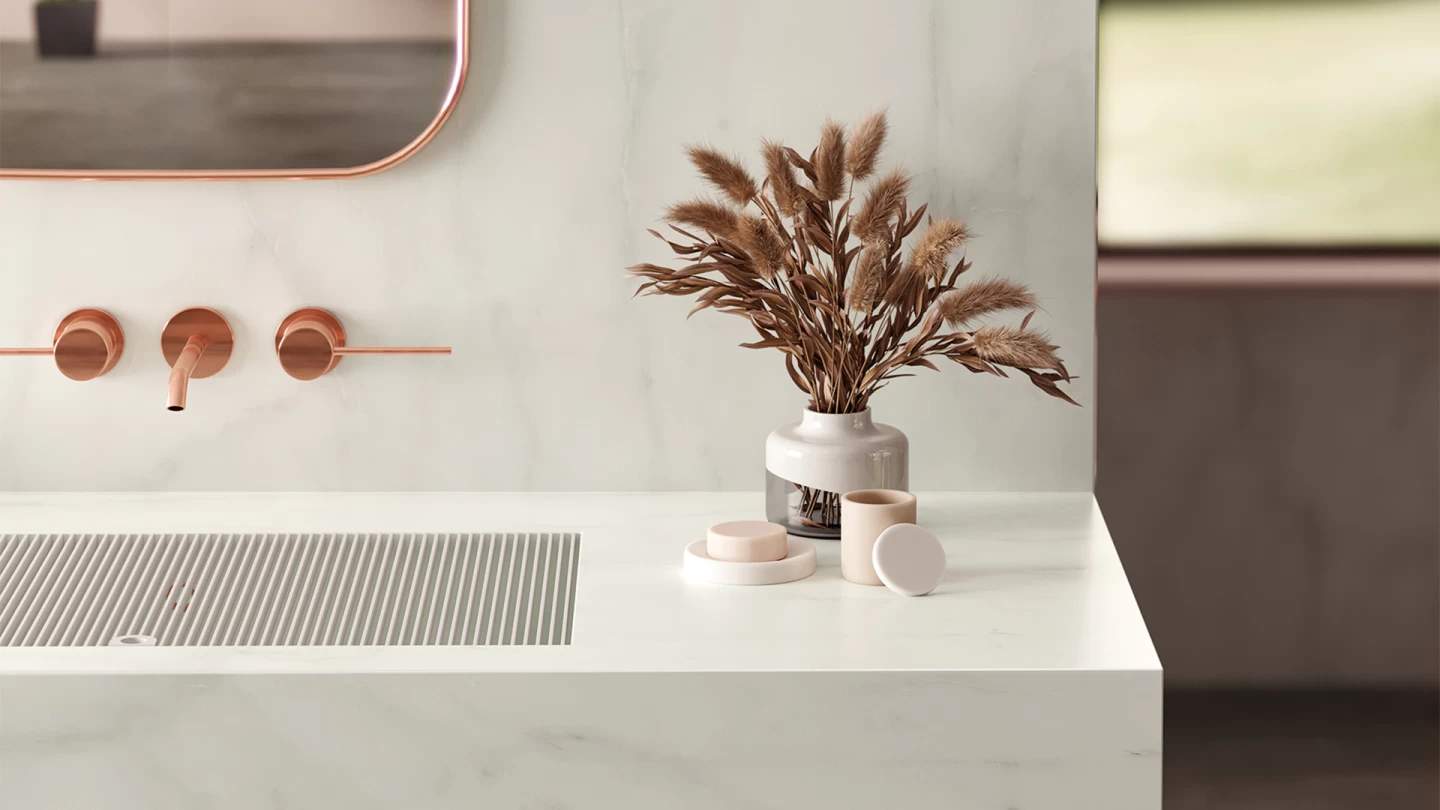 Porcelain stoneware wall tiles for modern bathrooms
From the floor to the walls, through to the worktops and washbasin, if you are looking for modern bathroom ideas and inspiration, here are 8 suggestions to help you unleash your creativity, with fascinating mix-and-match options covering a variety of colours and finishes.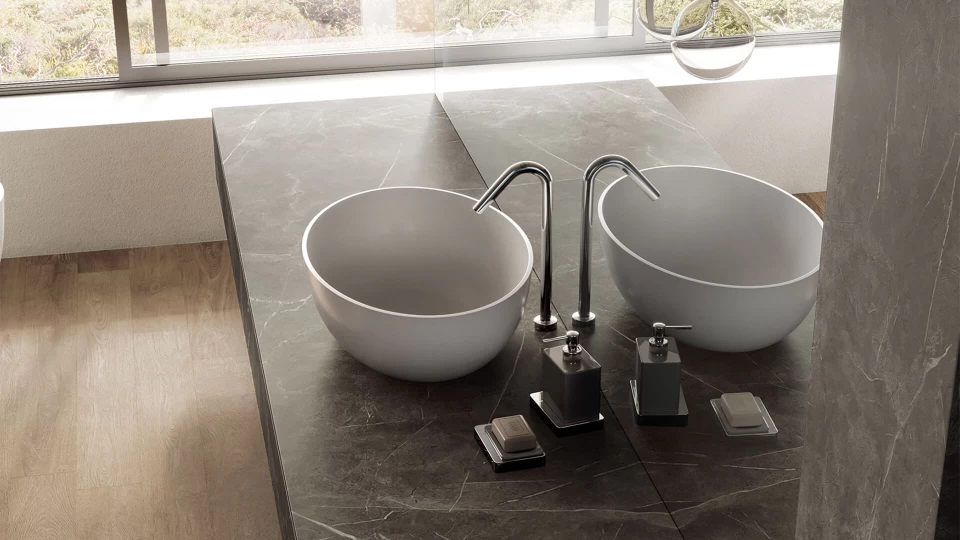 Grey Stone
If you're looking to create a contemporary atmosphere, you're sure to love intense grey marble-effect porcelain stoneware. On your bathroom vanity unit, its contrasting veining really pops against a white ceramic freestanding washbasin – a major design trend – and classic chrome fittings.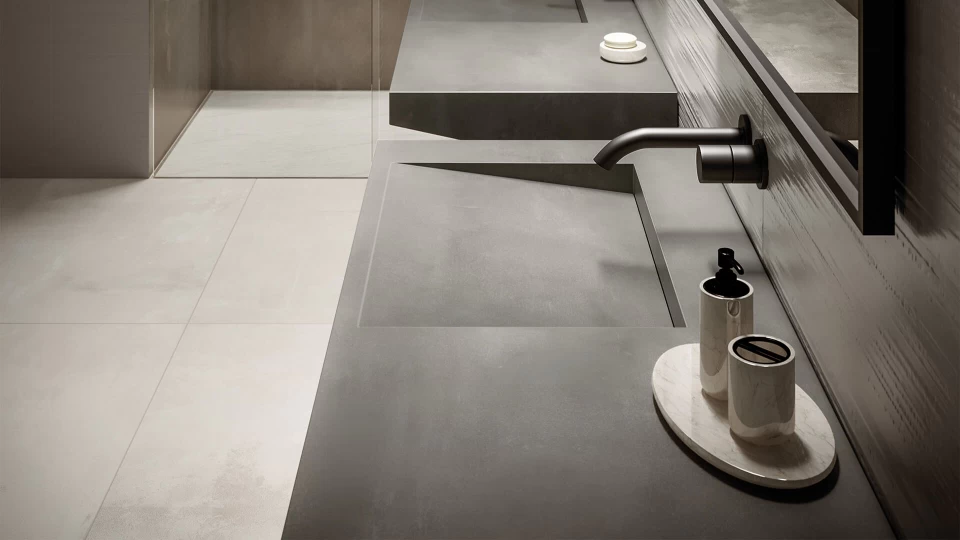 Boost Smoke
Elegance and an industrial style find perfect harmony in this concrete-effect porcelain stoneware with smoky grey hues. The texture of the surface adds personality to even the most minimalist spaces, especially when combined with flooring and shower trays in warmer shades. The finishing touch? The square washbasin integrated in the worktop imbues the entire room with a dynamic energy.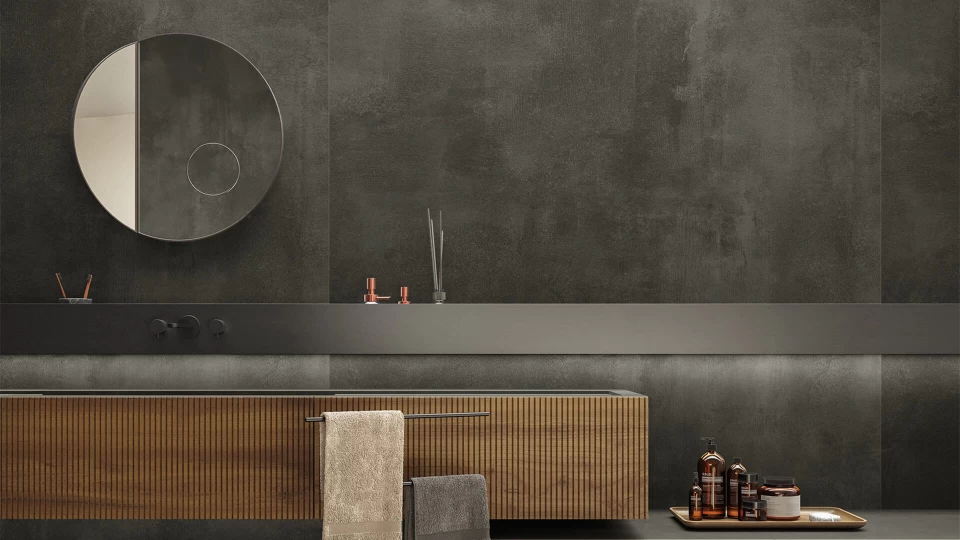 Boost Tarmac
Also from the Boost collection but with a more rustic look, the cement-effect porcelain stoneware in Tarmac finish makes a statement. The tiles can be used on both bathroom floors and walls to enhance its powerful aesthetic impact, while a combination with sandy tones or natural wood will highlight its softer lines.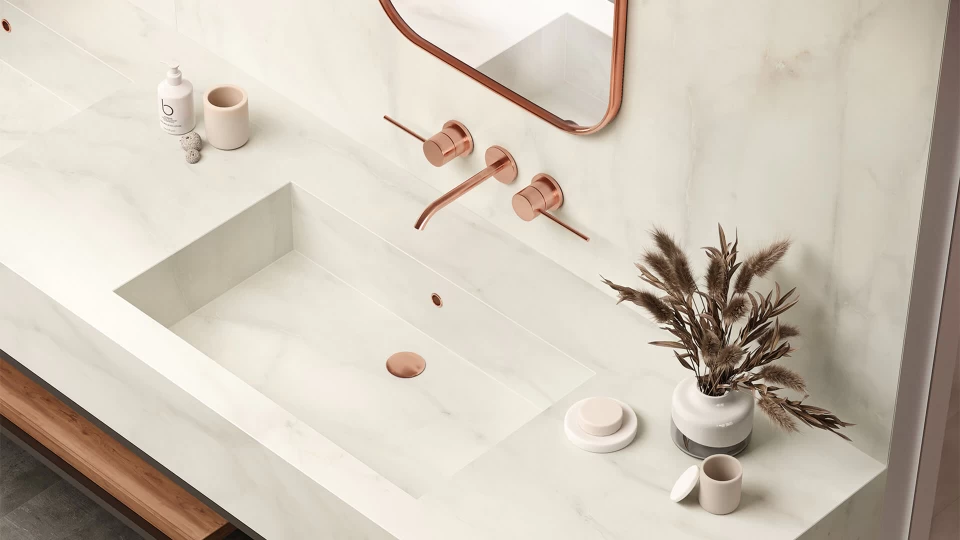 Calacatta Delicato
In complete contrast we have porcelain stoneware inspired by refined Apuano marble. Ideal for anyone who has classic and sophisticated tastes but also embraces modernity, the warm, brilliant white background colour and the very subtle veining are sure to make any bathroom unique. For an unusual twist, you can opt for brass fittings, some metallic contrasts and a concrete-effect porcelain stoneware floor.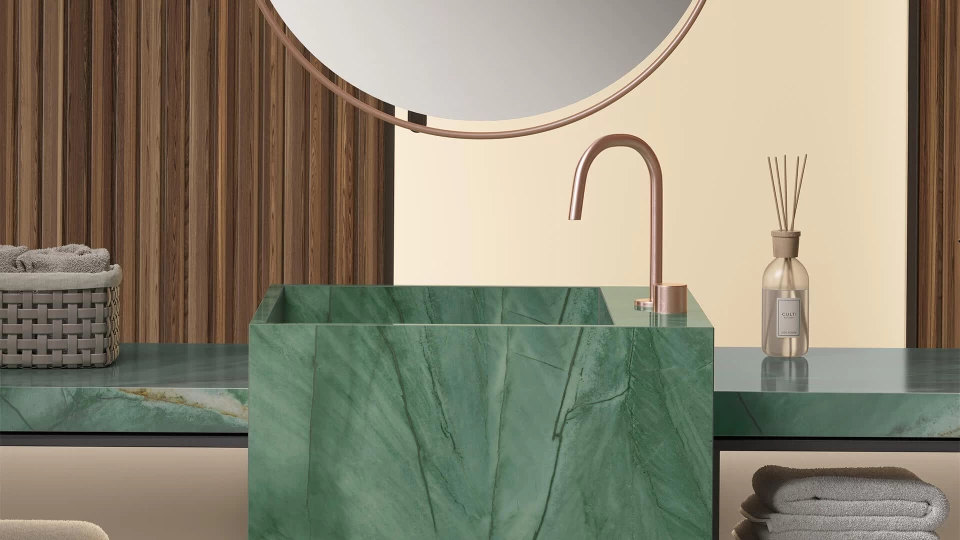 Exotic Green
If you're searching for an out-of-the-ordinary option for a modern bathroom tile, look no further than the vibrant and bold green marble-effect porcelain stoneware. Daring designers can experiment with a total look of evocative beauty by applying the tiles to both the walls and the washbasin worktop, embellishing the final appearance with gold finishes or natural-wood details.
Calacatta Borghini
Perfect for a master bathroom but also for adding a distinctive touch to an en-suite bathroom, the large Calacatta marble-effect slabs create a warm and sophisticated atmosphere. Embellished with the characteristic through-body veining, this finish is suitable not only for the floor but also for the bathroom vanity. It is also an excellent solution for anyone looking for elegant wall tiles with a modern touch.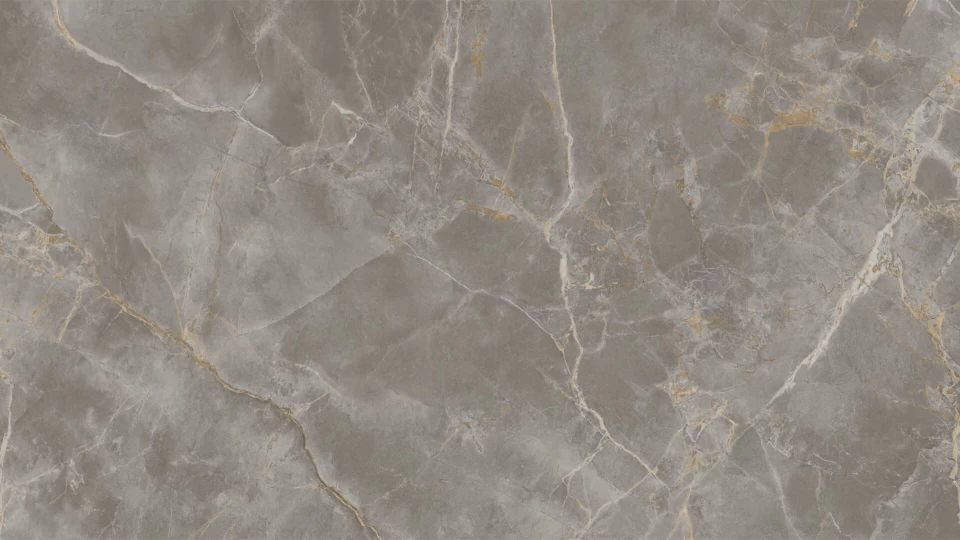 Fior di Bosco
When it comes to wall tiling ideas for a modern bathroom, the Fior Di Bosco grey marble-effect porcelain stoneware is undoubtedly one of the most original. This finish has all the charm of marble while offering a powerful personality thanks to its strong golden veins. When used to tile one of the walls of a small modern bathroom, it helps to redefine proportions, while in a shower cubicle or on a worktop it adds a glamorous and sophisticated touch.
Ideas for a modern shower
Until a few decades ago, classic shower cubicles were the norm, with interior walls covered with small tiles and embellished with Greek meanders or floral motifs. Today, however, modern bathrooms with showers are often designed with large porcelain stoneware slabs, which, thanks to their extreme versatility, allow for the creation of all kinds of atmospheres.
A popular design choice for porcelain gres modern showers is the walk-in shower, with just one glass panel. Natural stone-effect tiling is ideal for achieving a true spa effect, especially if the size of the shower allows for the addition of a wall-mounted shower bench. Or, if you want to visually separate the shower from the washbasin and bathroom fixtures, you can opt for shower tiling with a dynamic finish, such as black cement-effect porcelain stoneware, alongside contrasting finishes – such as a warm beige stone effect – for the vanity. This solution is also suitable for designs in which the shower stands opposite a window.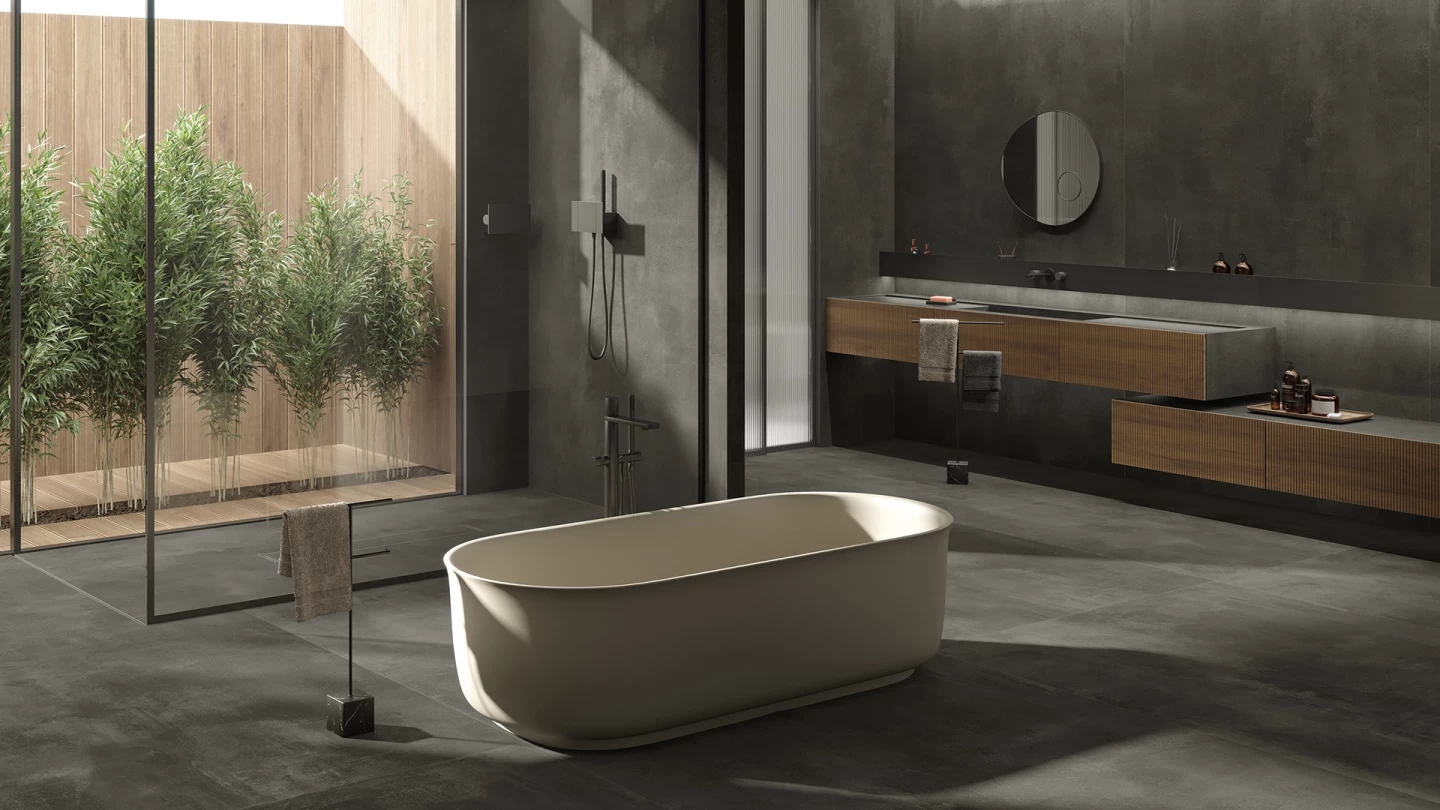 Decorating a modern bathroom: aspects to consider
While modern materials like porcelain stoneware offer extensive design freedom, when it comes to decorating a modern bathroom it is important to keep in mind a few tips that can make all the difference.
Functionality
The first aspect to consider is, of course, the functionality of spaces: for convenience, the washbasin and bathroom fixtures should ideally be positioned closer to the entrance of the bathroom, while placing a large shower against the back wall. As we have also seen in our in-depth look at small bathroom ideas, a well-planned arrangement of your bathroom accessories becomes crucial in bathrooms with limited space.
Brightness
The second aspect is brightness. If the bathroom has no windows or is north facing, it is especially important to provide a few extra light sources and to choose tiles that do not darken the room further. The most effective choice in this case is undoubtedly marble-effect porcelain stoneware in a light, bright colour, but if you prefer bold colours you can also opt for darker shades with a polished, smooth and highly reflective finish.
Aesthetics
The third aspect is aesthetic value. We tend to think of the bathroom as a functional room, but it's still important to make sure it is pleasing to the eye. Sophisticated finishes, matching coverings and attention to detail can really turn this room into a true oasis of relaxation.