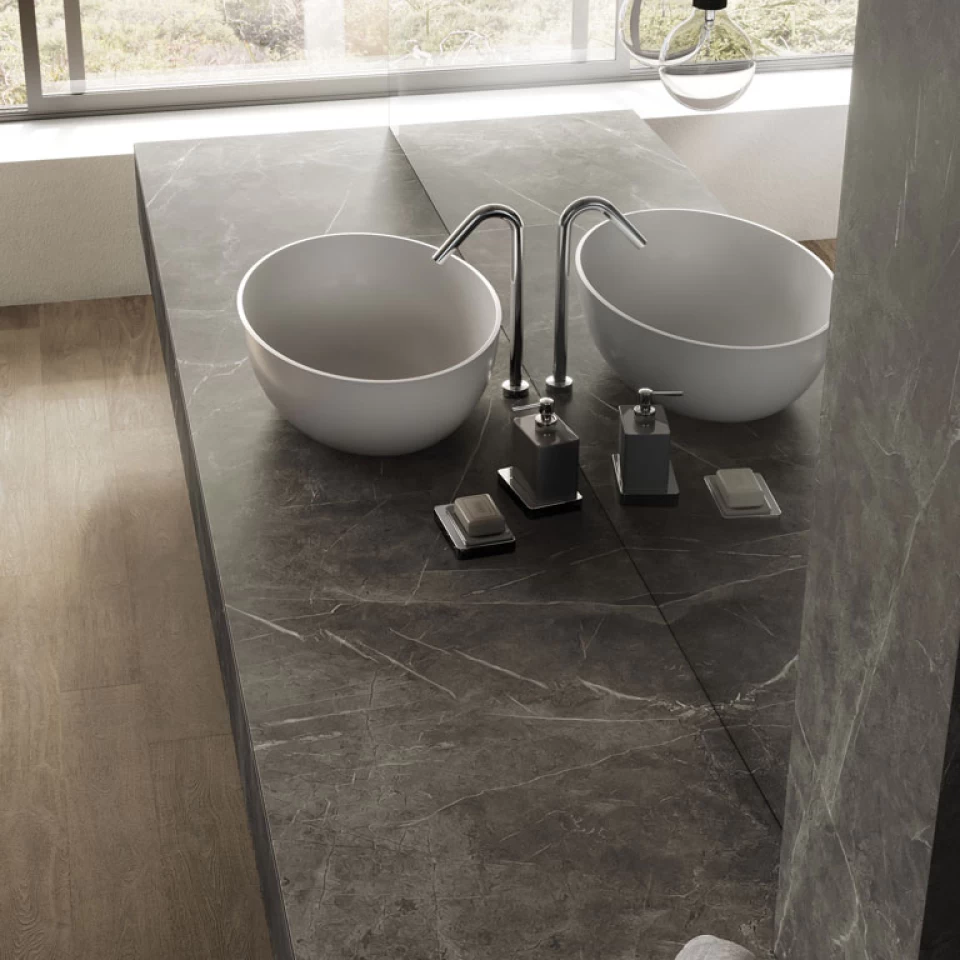 Small bathroom ideas: how to design and tile it
Those who are in progress of renovating a small bathroom or have a small room to be used as a service bathroom need space-saving ideas that combine aesthetic appeal with absolute practicality. Here are many solutions for furnishing small bathrooms with taste and a pinch of cleverness, which is essential to make the most of every inch.
Small bathroom cladding ideas
It is often mistakenly thought that the most elegant and styled wall tilings are for the large master bathroom, while we tend to put aesthetics on the back burner in favour of functionality when decorating a small bathroom.
In reality, the two can, or rather must, go hand in hand: to create modern and beautiful small bathrooms, it is sometimes enough to choose small sanitary-ware (even 40x50 ones exist), to prefer harmonious but space-saving decorating solutions such as sit-on sinks, and to choose carefully the colours to match.
Let's review the best space-saving solutions and ideas for a small bathroom that will be the envy of its big brothers.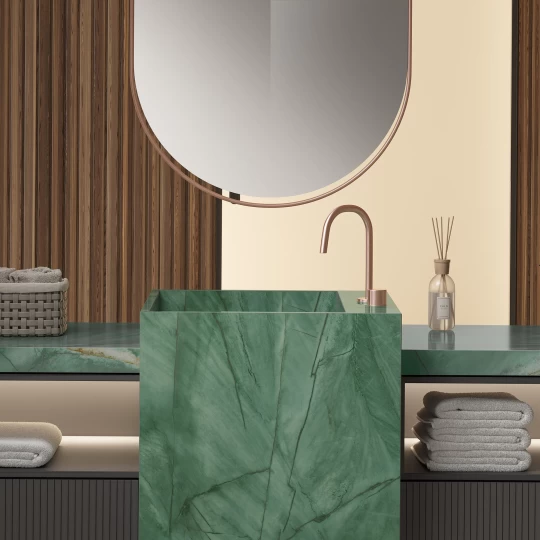 What are the best colours?
One of the most popular clichés about decoration is that, for small sizes, the choice should fall on light and delicate colours such as white, light blues and pastel greens. Yet, playing with the colours of the walls and sanitary-ware of a small bathroom can help disguise its small size: for example, a sink unit with an intense emerald green hue will look even more original if placed against a wall that enhances it, perhaps made with a texture reminiscent of wood grain. In addition, the contrast between different materials and colours allows you to express your own stylistic signature: a porcelain stoneware bathroom vanity topwith light marble effect will look even more sophisticated when combined with vigorous wall claddings such as light grey concrete-effect stoneware floor tiles.
Tiles suitable for a small bathroom
From an aesthetic point of view, the tiles in a small bathroom should be large in size to visually expand the space and give the impression that the volumes are larger, but it is the finishes that overshadow the square footage: if in a small bathroom the polished marble effect gives extreme brightness and elegance, matt stone conveys a feeling of solidity and lightness at the same time. Those who love minimalism, on the other hand, can choose absolute white tops and finishes, and then have fun with taps and fittings as well as furnishing design accessories.
While the finish of the tile is also a matter of taste, in the choice of material it is necessary to follow the technical aspects: humidity is the worst enemy of any room in the house, especially if there are no windows, and the most functional wall tiling ideas for a small bathroom are those involving the use of stoneware slabs. Porcelain stoneware has a compact, non-porous surface, is waterproof and highly resistant to temperature sudden changes; a porcelain stoneware bathroom is also more hygienic and easy to clean, and being resistant to chemicals it will always retain the colour and charm of the first day.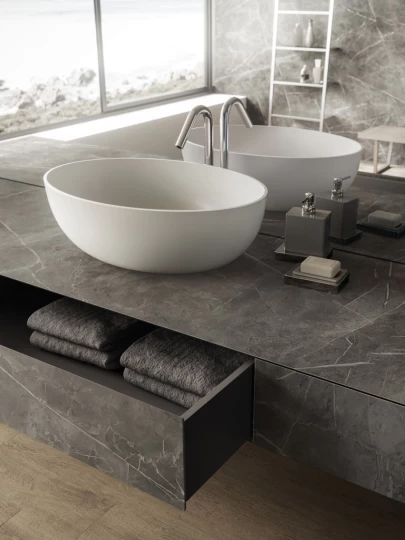 How to decorate a small bathroom in a simple and functional way
The ideas for furnishing a small bathroom can be many, but the starting point is always the needs: if the bathroom is for the exclusive use of one of the inhabitants of the house, it should have all the comforts, such as a mirror with dedicated lighting or a spacious vanity top with practical drawers, while if it is a service room, it is advisable to start with the bulkier elements. For example, placing the washing machine in the under-sink compartment optimises space, but makes it necessary to add at least one wall unit or storage cabinet to store toiletries. Finally, the choice of wall-mounted sanitary-ware with soft lines can help to make the room lighter to the eye.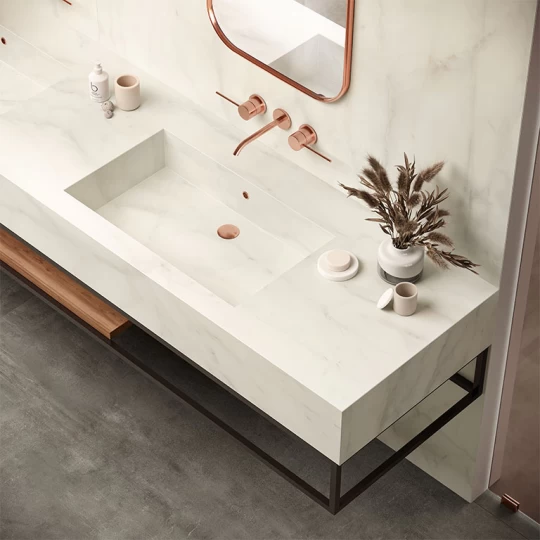 Space-saving solutions: some ideas for the small bathroom
Furnishing small bathrooms is not as complex as it sounds, but it is necessary to have some foresight and choose solutions that make good use of every inch and let you keep everything tidy. In this sense, choosing a sink integrated in the countertop and wall-mounted taps and fittings helps to optimise space, but exploiting heights canalso be decisive, for example with closed wall units that touch the ceiling or shallow shelves. When renovating, it is also useful to provide niches in strategic positions such as the inside of the shower, the wall on which the bathtub rests or the wall behind the sink.
Small bathroom with shower or bathtub: space organisation
Setting up a small bathroom with a bathtub can be useful if there is already a shower in the master bathroom, while if it is the only bathroom available, a shower stall is preferable, as it is more functional and less cumbersome, also thanks to the flat shower trays, which are smaller in size. If you really don't want to give up the relaxation of a nice warm bath, or don't want to change the existing structure, you can opt for compact bathtubs that take up less space and give a few inches back to the bathroom. Those who are looking for new ideas for placing the shower in a long, narrow bathroom can instead be inspired by the new trends in bathroom fittings, which have now cleared the way for positioning the shower in front of the window: an original idea for optimising the square footage without giving up the comfort of a large, spacious shower.