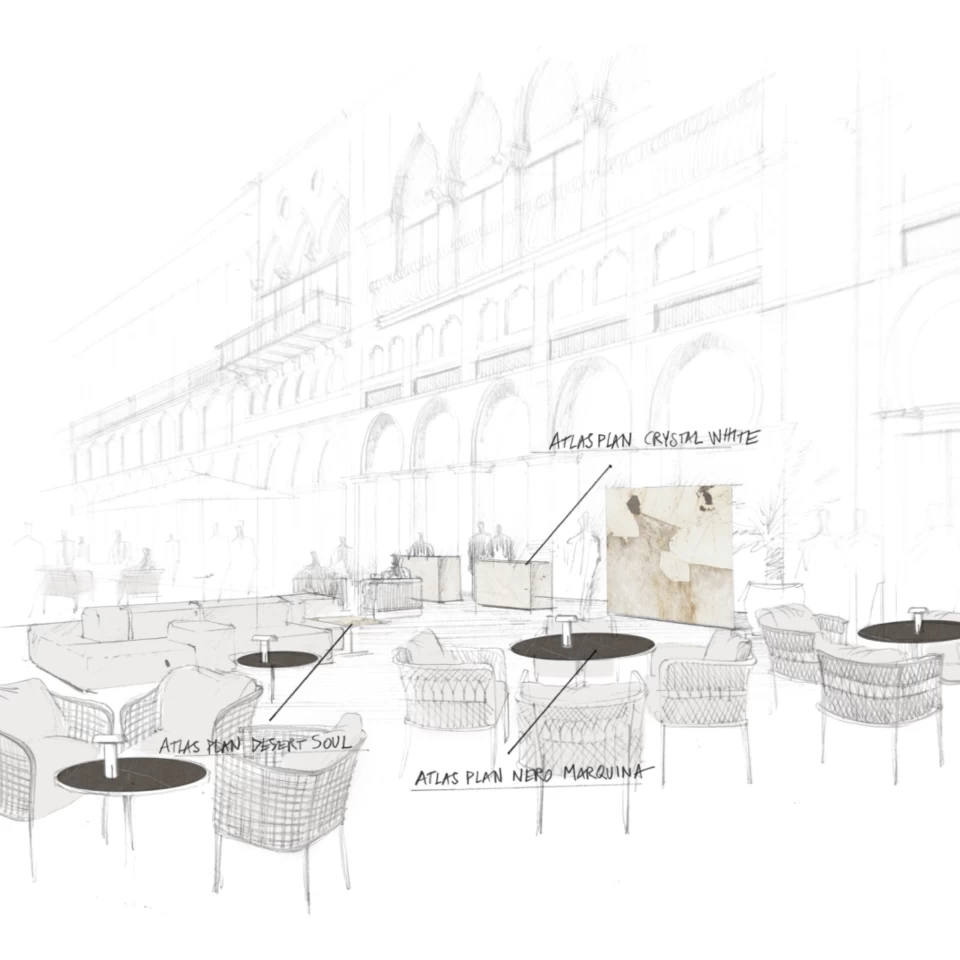 80th Venice International Film Festival
Against the backdrop of the 80th International Film Festival, Atlas Concorde and its brand Atlas Plan, in cooperation with Ente dello Spettacolo Foundation, reinterpret the famous Sala Tropicana and the terrace of the legendary Hotel Excelsior to recreate two glamorous locations.
A synthesis of passion for art, design and entertainment results in two areas: the Spazio Cinematografo and the new Terrazza Cinematografo by Atlas Concorde. This extremely fascinating design project was developed to transform the terrace of the famous Hotel Excelsior into an exclusive meeting place for talents and celebrities, becoming a true networking hub.
Terrazza Cinematografo by Atlas Concorde:
The now long-standing cooperation between Atlas Concorde, with its Atlas Plan brand, and Ente dello Spettacolo Foundation is consolidated inside the prestigious Hotel Excelsior, a true legend of the Venice of Cinema.
From 30 August to 9 September, during the 80th Venice International Film Festival, there will be two FEdS spaces: the already well-known institutional area "Spazio Cinematografo" set up in the Sala Tropicana 1 and the new "Terrazza Cinematografo by Atlas Concorde".
A project to fit out the well-known outdoor space, reinterpreted for the occasion in an exceptional lounge, designed to host Hollywood stars who dock their motorboats on the iconic hotel's pier.
"Terrazza Cinematografo by Atlas Concorde" is a context of unique charm and brings to the stage a complete furnishing project shaped following the interweaving between Atlas Concorde and its Atlas Plan Brand, along with companies recognised as well-known exponents of the design world, involved as technical partners of the project. Two bar counters made of Atlas Plan's large, white marble-effect Crystal White stoneware slabs feature the area. Coffee tables have marble-effect porcelain stoneware tops by Atlas Plan in the Desert Soul - from the Caleido collection - and Nero Marquina versions, elegantly adding a touch of refinement. The setting project is enriched with charm with the renowned Living Divani upholstered sofas designed together with Piero Lissoni and the table lamps by Artemide, which lend the space an even more striking atmosphere.
The Spazio Cinematografo will host a rich programme of activities related to the Film Festival and is also characterised by three counters made of large white marble-effect slabs in Crystal White stoneware by Atlas Plan. The Riflessi chairs will welcome on stage the protagonists of the Bresson Award and the main performers of the initiatives promoted by the Ente dello Spettacolo Foundation. There will also be small lounges with Riflessi chairs, dedicated to interviews. To attend lectures and presentations, guests can sit on Kartell chairs.