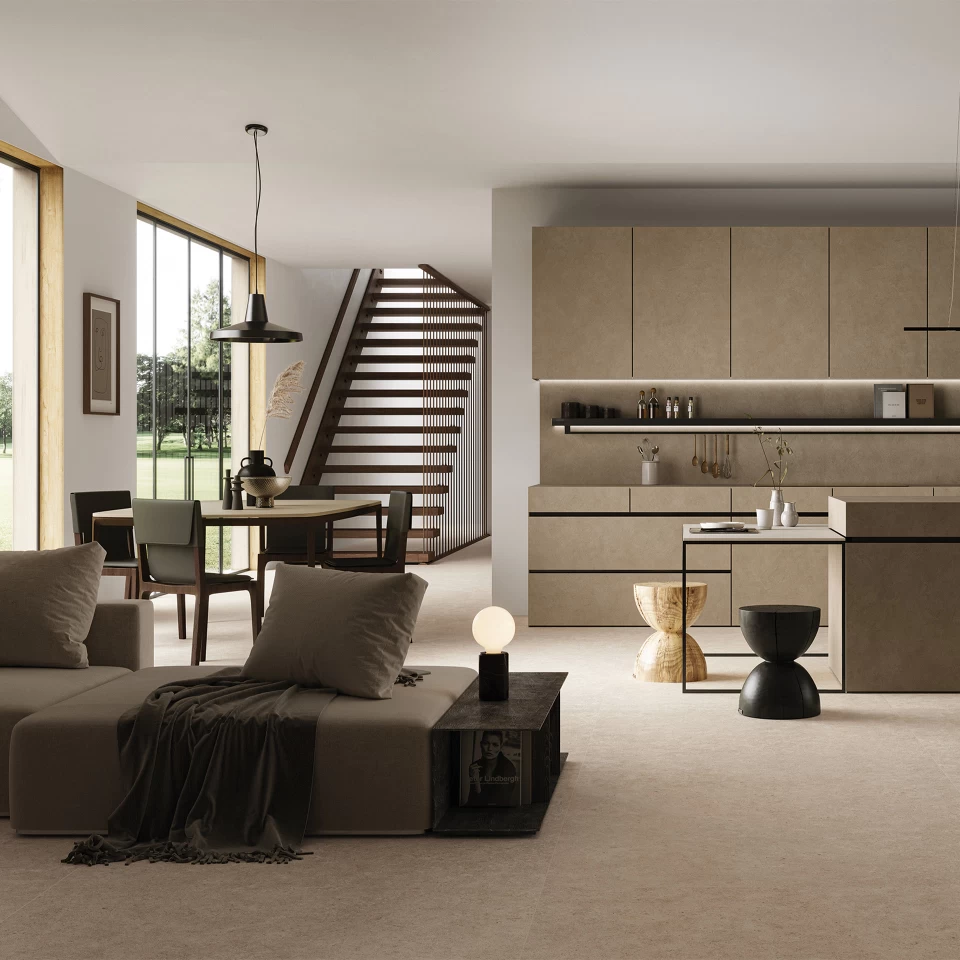 Open concept kitchen and living room ideas
Separate kitchen from living room, is really essential when designing an environment that has an open floor plan? Of course not: an open concept kitchen and living room can live together in absolute harmony, provided the finishes chosen are relevant and you opt for a functional arrangement of furniture capable of giving each space its own identity. Let's see some ideas.
Modern open concept: which materials to choose?
Every room has its purpose: the living room is for relaxing, chatting with friends or quiet reading in an armchair, while the kitchen is a more active place, where time is marked by the clinking of lids, culinary experiments and the aroma of family recipes. This is why when you are designing a modern open plan, with kitchen and living room combined, the choice of materials isn't always obvious.
Among the innovations that populate the world of design and architecture, porcelain stoneware has long proved to be one of the most appreciated materials: its technical characteristics make it perfect for the kitchen environment because it is compact, highly resistant and waterproof, while its great aesthetic versatility and the wide choice of colors and finishes provide the utmost expressive freedom and make it possible to create any modern open plan idea.
Open kitchen living room: here are 5 ideas
Visual harmony and careful selection of finishes are certainly the main guidelines for impeccably connecting an open floor plan kitchen and living room: here are 5 ideas to inspire you.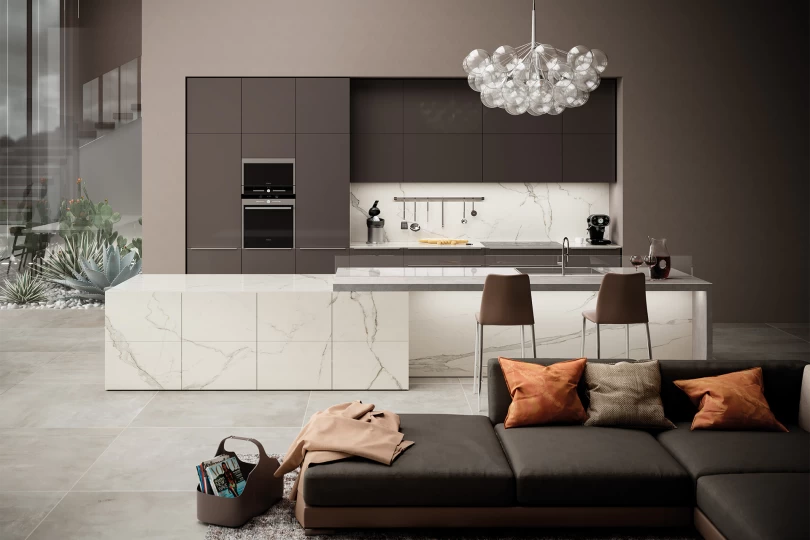 The island as a bridge
When furnishing an open plan, it is natural to focus on a modern kitchen with an island, and therefore the challenge for a designer is to make it unique rather than completely obvious. Choosing marble-effect porcelain stoneware not only for the cladding of the island but also for the floor will ensure that its elegance spreads throughout the open layout, especially if you focus on a finish that highlights the precious Calacatta marble: the bright white background, embellished with gray veins and golden reflections, adds a sophisticated touch to the space and lends itself to many combinations.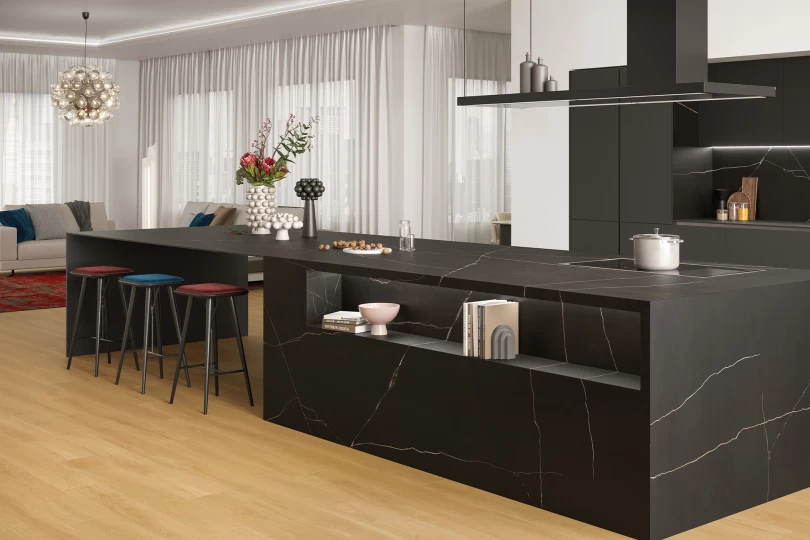 Wood and stone, the perfect combo
Porcelain tile perfectly reproduces natural materials such as wood and marble, restoring not only their aesthetic performance but also their tactile perception. If mixed with skill and a touch of audacity, they can give each space its own personality and, at the same time, create a highly impactful look.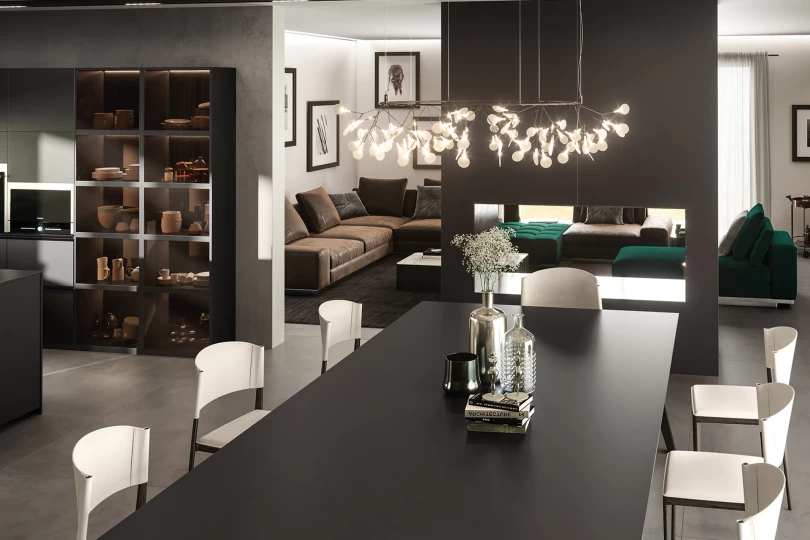 the strong character of total black
When open floorplan kitchen and living room ideas, black is too often a color that is not taken into account for fear that it will excessively limit the aesthetic choices of the entire space. However, black allows for the same expressive freedom as white, but with an extra touch of personality, and the solid color porcelain stoneware in absolute black allows you to design contemporary environments that are extremely welcoming and versatile. For example, if black is the protagonist of kitchen cladding, for the living room it can be used as accents, such as picture frames, rugs or small furnishing accessories.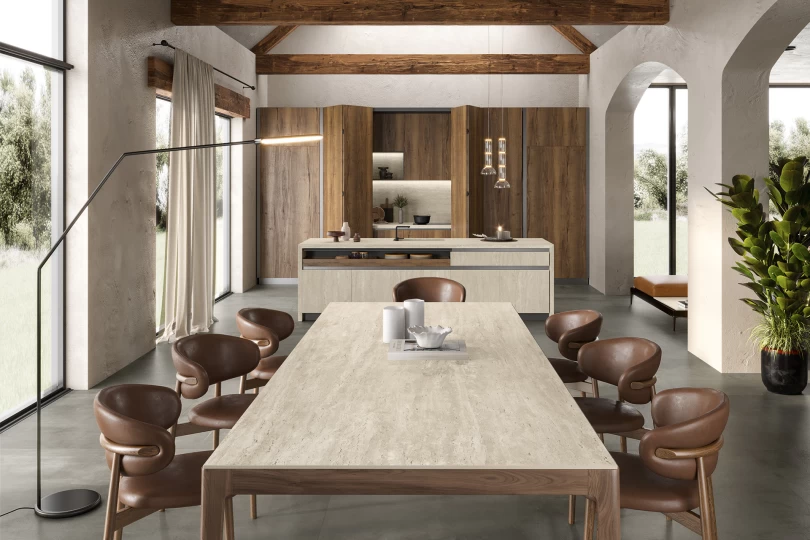 Combining spaces with travertine-effect stoneware
Essential, sober and delicate: the strength of travertine-effect stoneware lies in its innate ability to embellish any context and combine with very different styles. From ultra-contemporary lofts to spacious country houses, travertine-effect stoneware is ideal for cladding kitchen, worktops and dining tables, with a great uniform look that simultaneously enhances the special features of an individual space.
the colors of nature
Until now we have talked about materials and finishes, but focusing on specific color palettes can also be a winning strategy for open floor plan kitchens and living rooms. Nuances inspired by earthy colors such as ecru, beige, taupe and all shades of gray can create warm and familiar ambiences, even when choosing geometric and minimal furnishings, which can sometimes come off as cold or unwelcoming. The result is clean, basic but extremely hospitable.