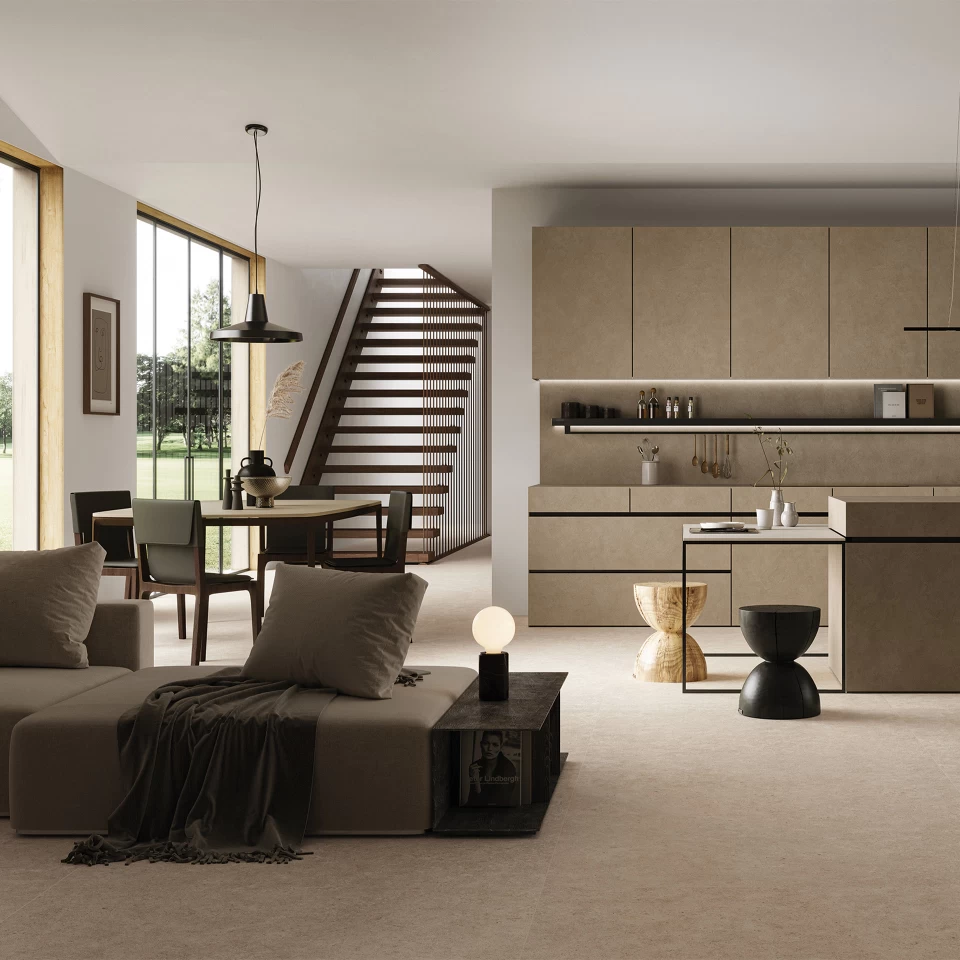 Open plan kitchen living room ideas
Is it absolutely essential to separate the kitchen from the living room when you're designing an open-plan space? Of course not! The kitchen and lounge areas can occupy the same space in perfect harmony as long as you choose the appropriate finishes and arrange the furniture in a way that's both functional and allows each space its own identity. Let's look at some ideas.
Modern open-plan spaces - what materials to choose
Each environment is designed with a particular purpose in mind: the living room is for relaxation, conversation with friends or solitary reading in an easy chair; the activity in the kitchen features culinary experiments, the aroma of family cooking and the clattering of pan lids. That's why when you're decorating a modern open-plan space comprising both kitchen and living room, it's no easy task deciding what materials to use.
Porcelain stoneware is one innovation that's been an established favourite among interior architects and designers for some time; its technical characteristics are ideal for the kitchen environment - compact, highly durable and impermeable - while its aesthetic versatility and wide range of colours and finishes allow maximum freedom of expression to achieve any style you like in your modern, open-plan space.
Open-plan kitchen and living room: 5 ideas
Visual harmony and a judicious selection of finishes are definitely the main considerations for flawless continuity between kitchen and living room in an open-plan space.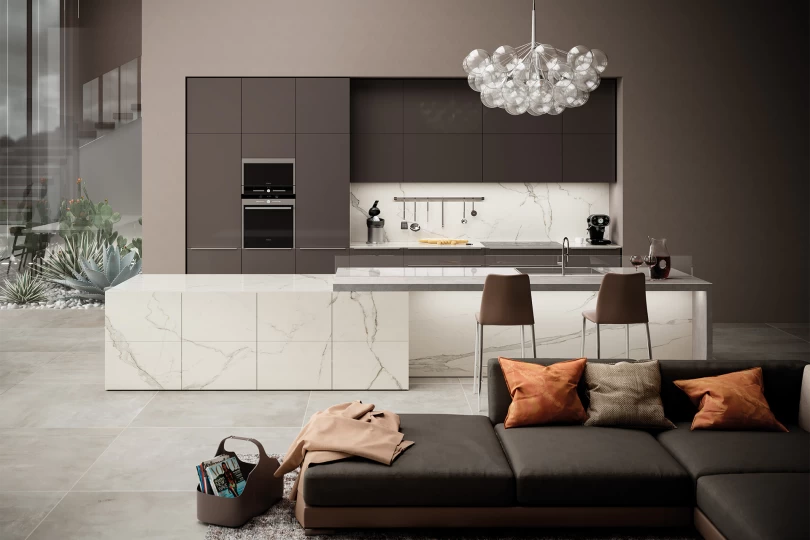 Kitchen island as a bridge
When you're designing an open-plan space, the natural choice is a modern kitchen with an island, and the challenge for the designer is to make it unique without being overly conspicuous. When you choose marble-effect porcelain stoneware not just to clad the island but also for the flooring, its charm will extend across the entire space, especially if you choose a finish evocative of the highly-esteemed Calacatta marble; its bright white background shot through with grey veining and gold flecks will give the environment a sophisticated air, and it can be incorporated in many different styles.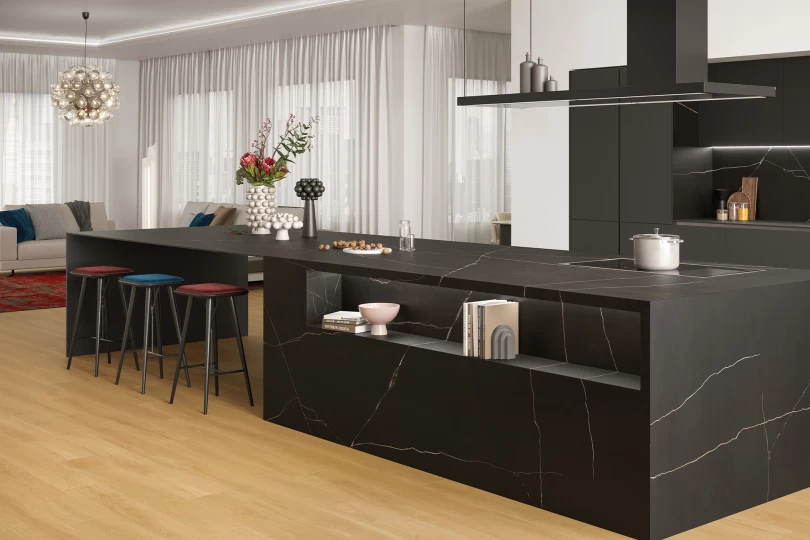 Wood and stone, the perfect combination
Natural materials like wood and marble can be reproduced to perfection in porcelain stoneware; not only does it look like the real thing, it even feels like it. With expert combinations and a little imagination it can give any space a personality of its own and at the same create an impactful artistic fusion.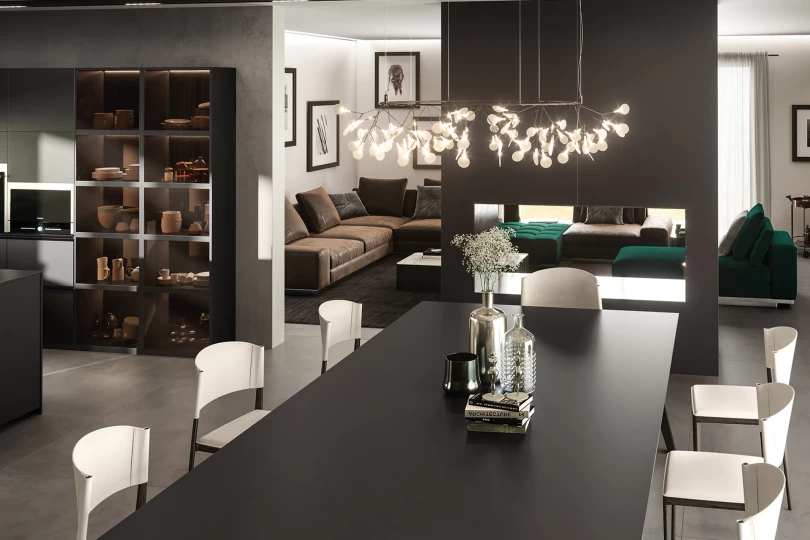 The uncompromising character of total black
Black isn't usually in the running as an option for open-plan kitchen-living rooms, the main reason being that it could greatly limit the aesthetic choices for the overall space. But you actually have the same freedom of expression with black as you do with white, and with a touch more personality. Solid-effect porcelain stoneware in a black tone gives you complete freedom to design a highly contemporary space that's also welcoming and versatile. If you choose black as the main colour for the kitchen cladding, for example, you can continue the theme with a few highlights in the living area, such as rugs, picture frames and small furnishing accessories.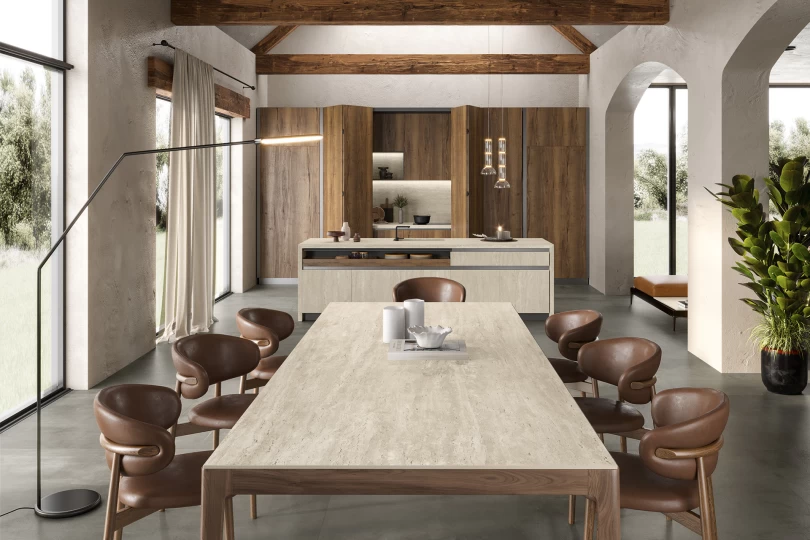 Uniting spaces with travertine-effect stoneware
Discreet, simple and elemental - the strength of travertine-effect stoneware is in its inherent capacity to enhance any environment and adapt to very different styles of décor; from ultra-modern loft spaces to country cottages, travertine-effect stoneware is ideal for cladding the kitchen, the worktops and even the dining table, establishing a uniform aesthetic and at the same time highlighting the features of each individual environment.
The colours of nature
So far we've focused on materials and finishes, but it might be an idea to take a look at specific colour palettes for open-plan kitchen-living rooms as well. Shades like ecru, beige, dove and other grey tones inspired by the natural environment can create a warm family atmosphere even if you go for minimalist, geometric furniture, which can sometimes seem cold and forbidding. The result is clean and simple but truly inviting.