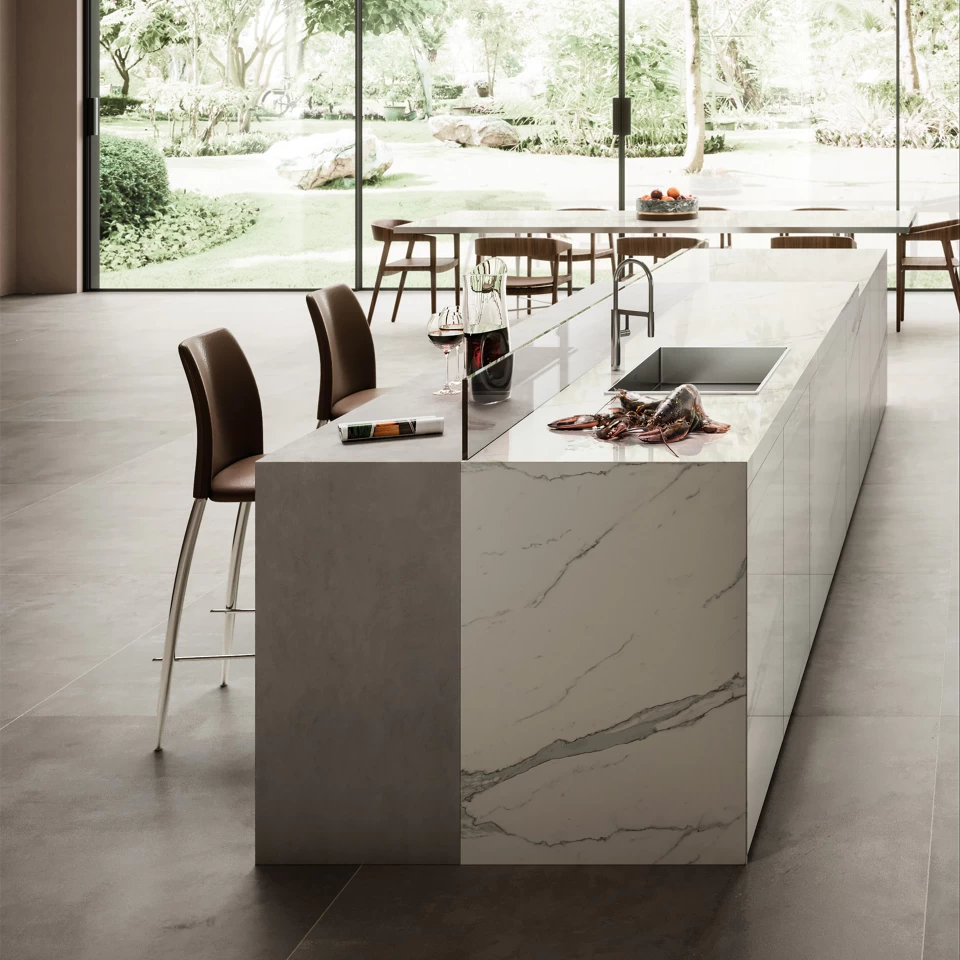 Kitchen ideas with island or peninsula
Perceptions of what constitutes a modern kitchen design idea, are constantly changing and subject to different interpretations depending on personal preference and individual requirements, but the one constant element is an island or peninsula. Here are a few tips and ideas for designing modern kitchens with island or peninsula that are not just functional but can transform the aesthetics of the whole house.
Why does a modern kitchen need an island?
It's an extra work surface, a space for appliances, a convenient bar for having drinks with friends, etc. When you're looking around for kitchen island ideas and before you start thinking about the finish, consider your basic requirements and how you can make the space useful and efficient.
For example, an island fitted with a hob might be useful if you have small children, so you can keep an eye on them when you're cooking without looking over your shoulder; if you often have guests over you might prefer a modern kitchen with a central island, or a peninsula with bar stools for pre-dinner drinks.
10 Kitchen island ideas with island or peninsula
If you're afraid it might take up too much space, don't worry; here are some tips and ideas for kitchens - even small ones - with a practical, accommodating island.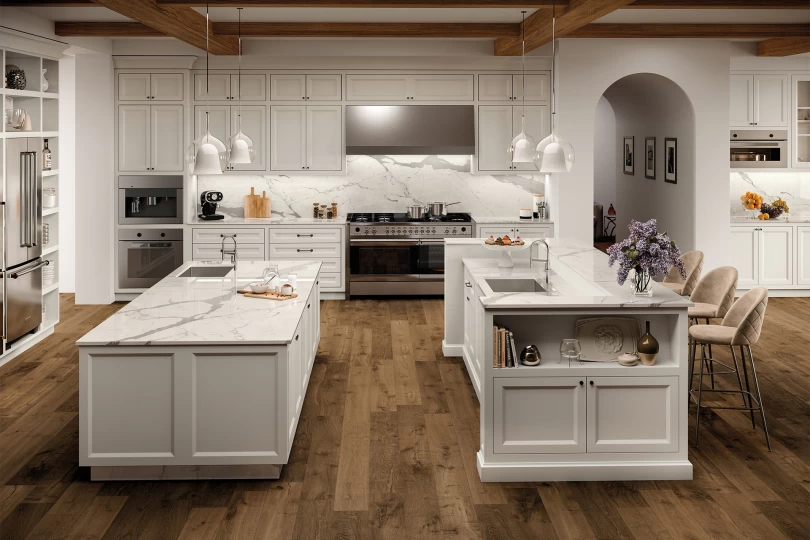 1. Island with appliances
It was once the fashion to hide the cooker and sink out of sight, but nowadays they're now on display as the central feature in modern kitchens with an island. An island is particularly convenient if you're aiming for an open-plan space where there's an uninterrupted flow from kitchen to dining room, creating an animated, convivial atmosphere where you can interact with family members or guests as you cook.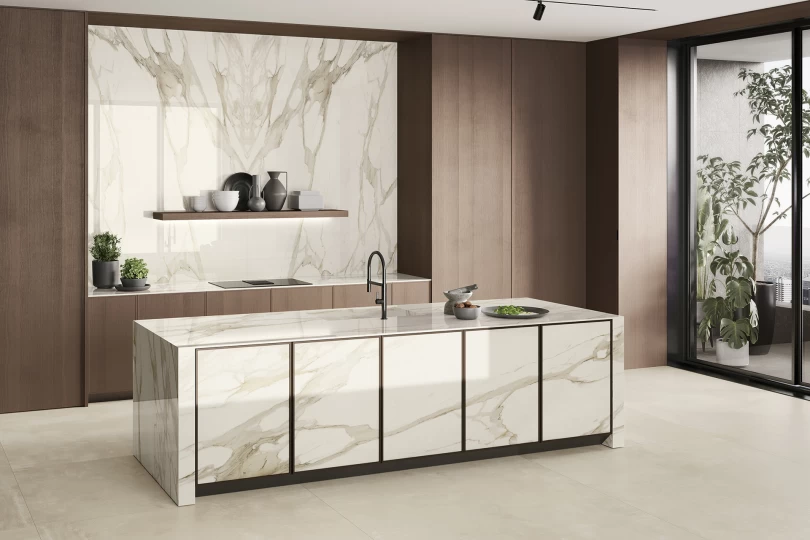 2. Central island
If you have a large space, a central island can be an attractive solution for creating visual balance because the fittings are not all arranged around the walls, leaving a redundant, empty space in the middle. Where this is the case, it's even more important for the finish to be consistent with the rest of the space; if you are looking for an idea for kitchen backsplash, you can clad your modern kitchen, the island and the dining table in the same finish, and use it for the kitchen backsplash too, to continue the theme.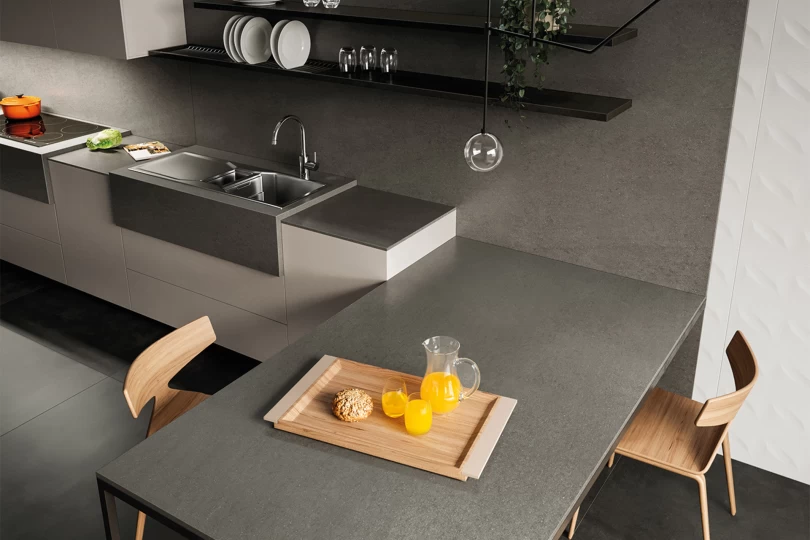 3. Space-saving peninsula
If you are looking for many small kitchen island ideas, peninsula for some people is the go-to solution where there's not enough space for a dining table, but to make a virtue out of a necessity, there are lots of ideas for creating a peninsula in a modern kitchen, and some fascinating designs. For example, instead of sticking to simple, linear finishes you could opt for Basaltina Volcano porcelain stoneware slabs with high visual impact, an extremely sophisticated, robust material inspired by volcanic basalt.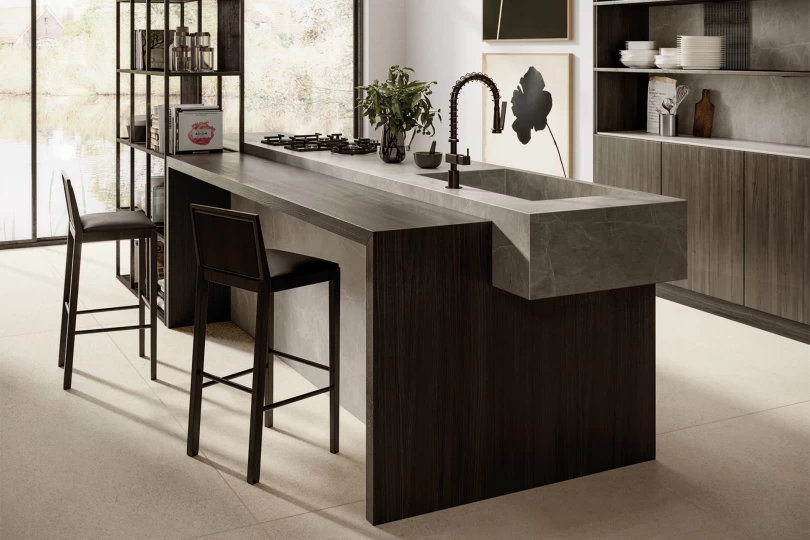 4. Kitchen island in two different finishes
When you're considering style options for a space occupied by both kitchen and living room, it can be difficult to choose a suitable finish, but with porcelain stoneware you can mix & match endlessly with superb results. You could have two different finishes on the island, for example; a marble-effect stoneware on the kitchen side for a contemporary, minimalist look, and a premium wood-effect stoneware on the living room side to reflect other design elements in the space, such as a bookcase or table.
5. Modern black kitchen with island
Many people find black a fascinating colour, but not many would use it in the kitchen. Nonetheless, the result might surprise you if you take the bull by the horns and go for a modern, black kitchen with an island in Black Atlantis marble-effect stoneware, an intense, stylish silk finish enhanced with white and gold veining that gives it a depth comparable to natural marble.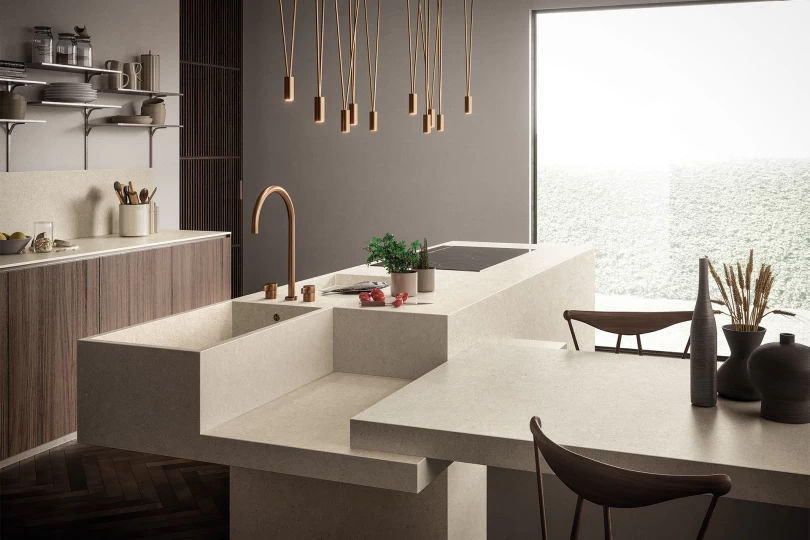 6. Island and peninsul
The option of a modern kitchen with both island and peninsula is for those with a larger space to occupy. It's a great idea to have a breakfast bar adjacent to the kitchen counter top, as it makes the best use of the available space and creates a place to sit that's both welcoming and functional. For a touch of sophistication, stone-effect porcelain stoneware in hammered Kone Gypsum would be the ideal finish: a pale ivory colour enhanced with hazelnut tones and pearly details that conveys a sense of timeless elegance.
7. Island and table coordinated in stoneware
You might think it's impractical to introduce an island in a kitchen that already has a dining table, along with all the other elements, because it would look too imposing. But in reality, the wide variety of finishes in porcelain stoneware cladding provides ample opportunities for customisation, so you can match the counter top on the island with the table top or experiment with attractive contrasts. Stoneware is a safe, hard-wearing material designed for food contact, so you can use it for any surface in the house.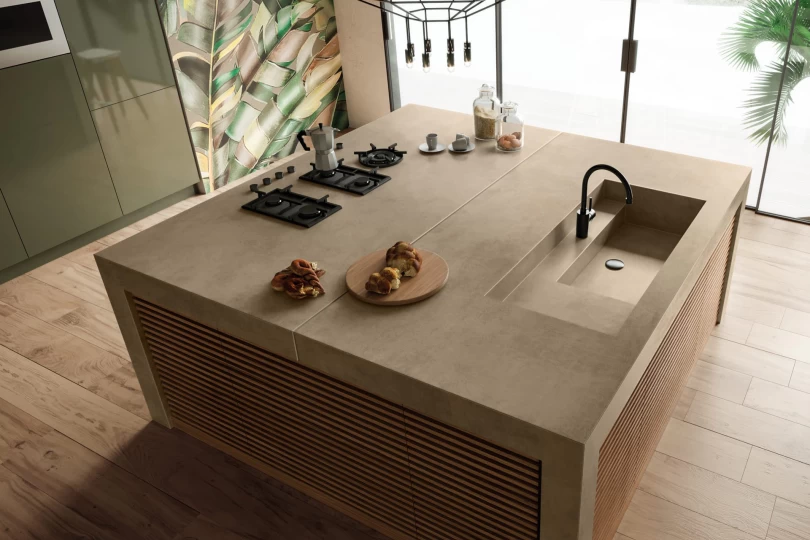 8. Storage island
Contrary to what you might think, an island can be a useful element even where space is restricted, with some clever planning; every inch of the space under the counter top can be used as cupboards, drawers and shelves to store all your kitchen essentials.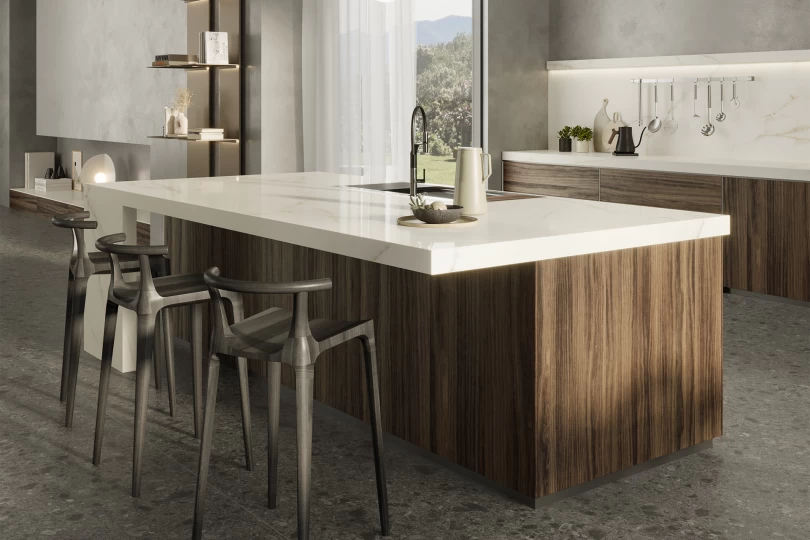 9. Kitchen island with breakfast bar
Even if you have an ample dining area, a breakfast bar on the kitchen island can still be a practical idea; it's not just a convenient place for quick meals, it's also extra space to use for food preparation.
10. The island as an expression of style
So far we've looked at the practical aspects of having an island or peninsula in the kitchen, but don't forget they can also be an expression of your personal style when you choose a premium or highly decorative finish. One example would be slabs in Kone Mix porcelain inspired by the well-known, imposing Lombardy ceppo di gré stone; its delicate pebble motif on a light grey background can set off both a subtle wood grain and the more uncompromising nuances of metal, making your kitchen island a true hub of family life and giving it a unique fascination.