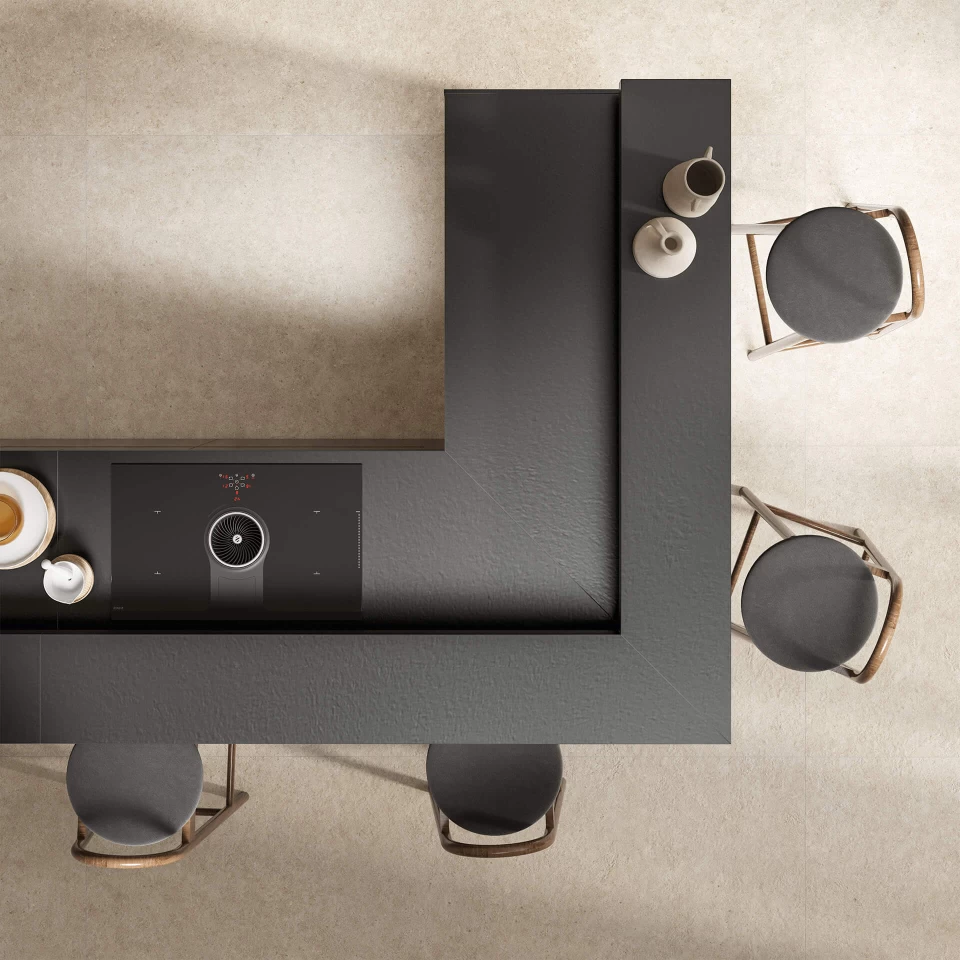 Modern no grout floor tiles and cladding
In the collective imagination flooring usually means classic tiles with bevelled edges laid side-by-side and separated by a line of grout about 4-5 millimetres wide. But interior design has opened up new paths and new trends over the years, and nowadays modern flooring and cladding without gaps - or rather, with smaller gaps - is an advanced solution that finds maximum expression in large format porcelain stoneware, perfect for creating stunning continuous flooring and cladding and hard-wearing over time.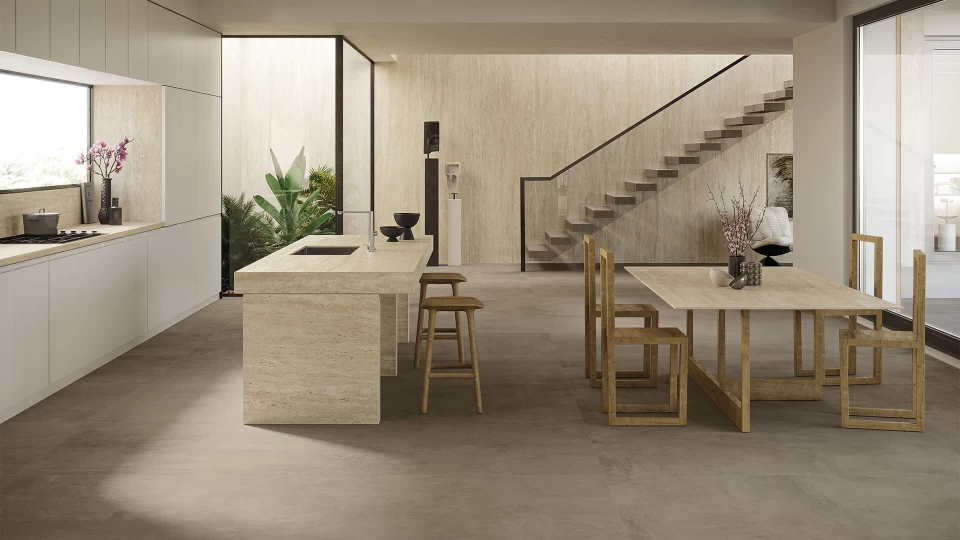 Continuous flooring and cladding: what is it and why choose it?
From a practical point of view and as the name suggests, the space between the tiles is minimal with no grout flooring and cladding - it's called 'continuous' precisely because there are no gaps between the tiles to accentuate them and they become invisible. The absence of gaps creates the perfect, uniform surface if you're looking for a stylish floor or cladding option; it visibly enhances the space and creates an agreeable continuity between surfaces.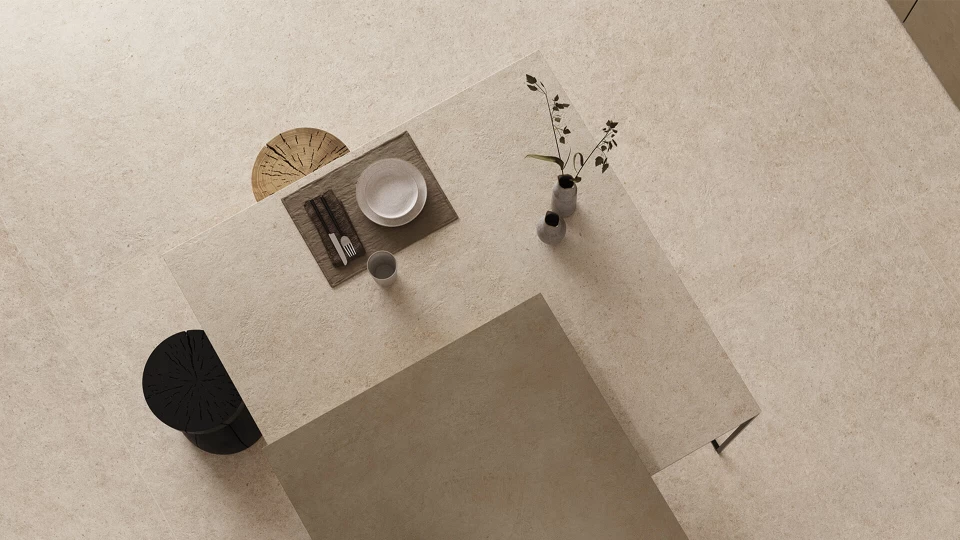 But the aesthetic appeal is not the only advantage; continuous slabs are much easier to maintain than traditional tiles because dust and dirt can't settle in the gaps and make them look grubby. When you choose a modern continuous floor in porcelain stoneware you get all the benefits of a safe, hard-wearing, highly technical material that retains all its beauty over time if you follow the same procedures to clean porcelain slabs as you use for the rest of the house.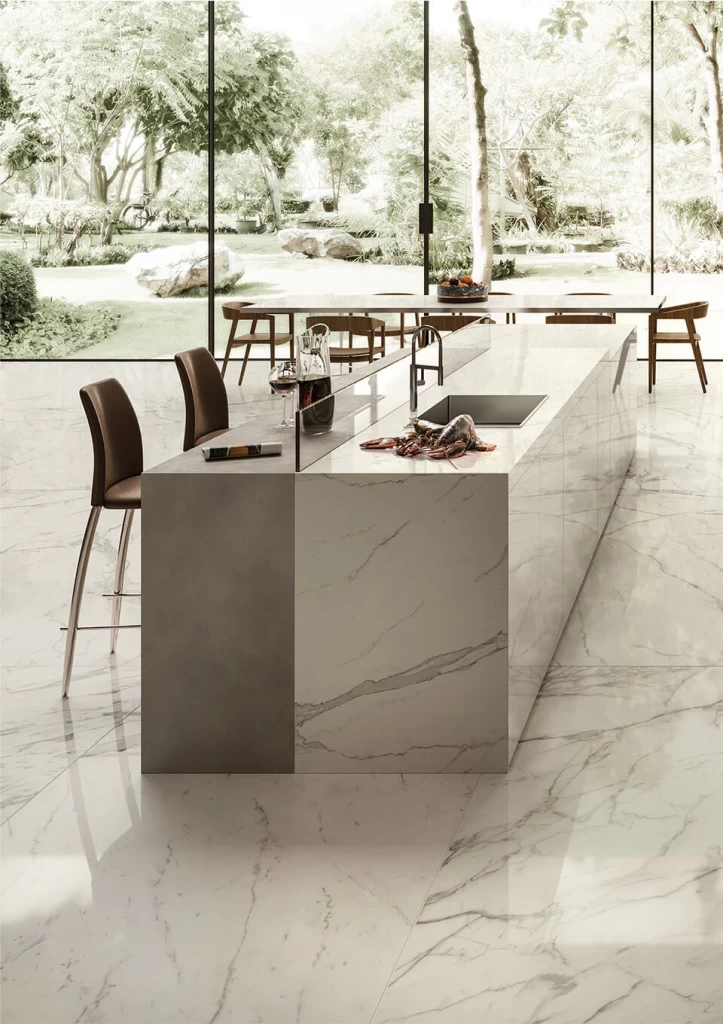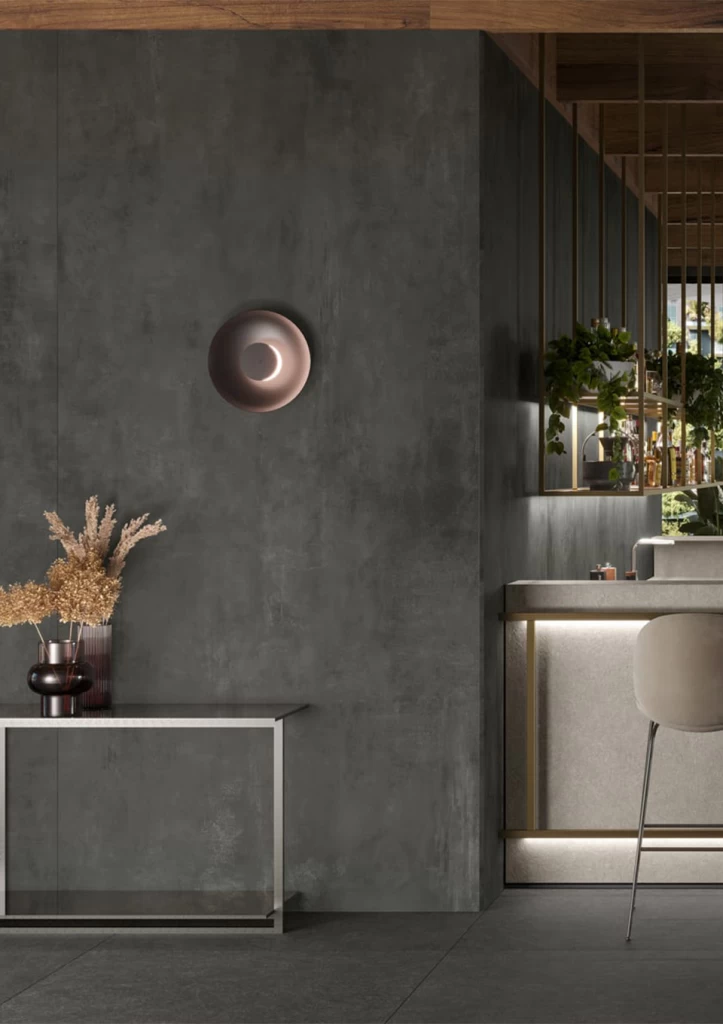 Continuous porcelain stoneware: formats
There are plenty of ideas for installing modern groutless tiles, but for a flawless result and guaranteed impact the material makes all the difference: Atlas Plan porcelain slabs in large format (160 x 320) are specially designed for creating continuous flooring and cladding in any environment and come in dozens of different of different finishes, from elegant marble to contemporary, elemental stone. The same shades and finishes are available in the small-format slab collections too, so you can create attractive, desirable combinations by taking the veining of your continuous marble effect floor, for example, up to your kitchen facings or breakfast bar.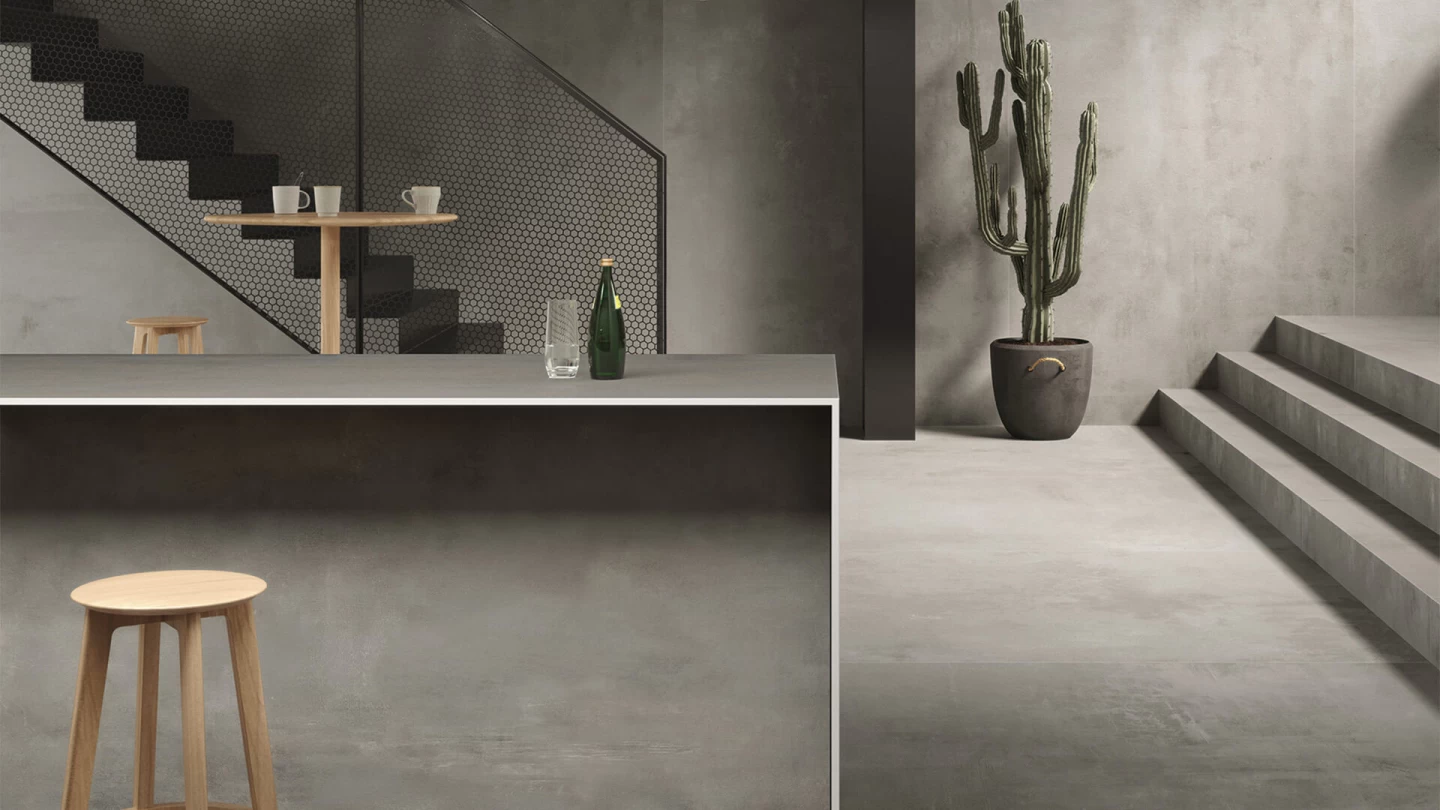 Continuous flooring and cladding for offices and business environments
Large formats are not just for residential spaces, of course; they also work perfectly in business environments where first impressions are even more important. For example, a clever combination of jointless floor tiles and cladding in polished, white porcelain stoneware has immediate impact that accompanies your customers in a seamless transition from entrance to office.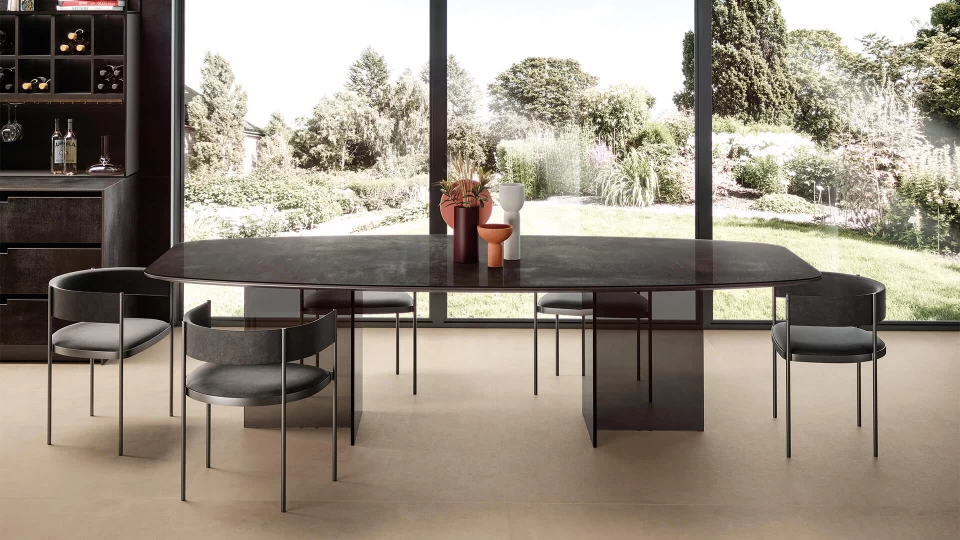 No grout tiles for any environment
The type of slab you need depends on the layout, like it would if you were laying parquet flooring for example, where there are different rules for different layouts - the boards used for a herringbone layout are different from those for a chevron or running layout. If you're laying no grout tiles, you need large format slabs in rectified porcelain stoneware, a specific finish that creates perfectly smooth edges and eliminates any faults - every corner will be exactly 90° and the contours even sharper, which makes them invisible in the finished profile.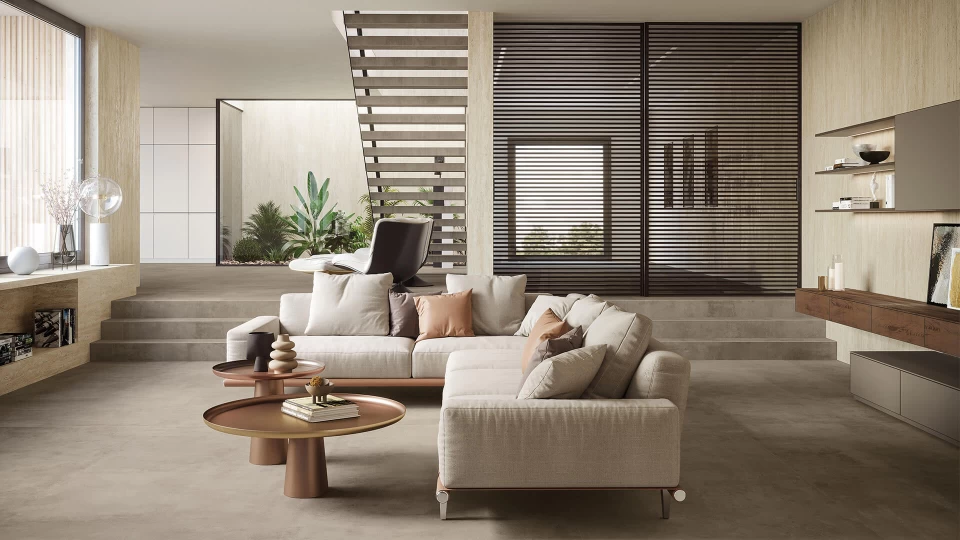 Installing this type of flooring or cladding requires a tradesman with the skill and precision to lay the slabs as close as possible to each other while leaving the right amount of space between them to absorb any stress or expansion due to heat. Groutless tiles should therefore be laid with a minimum 2 mm space between them, and the gaps filled with a special type of sealant in the same colour as the tiles so they become invisible.