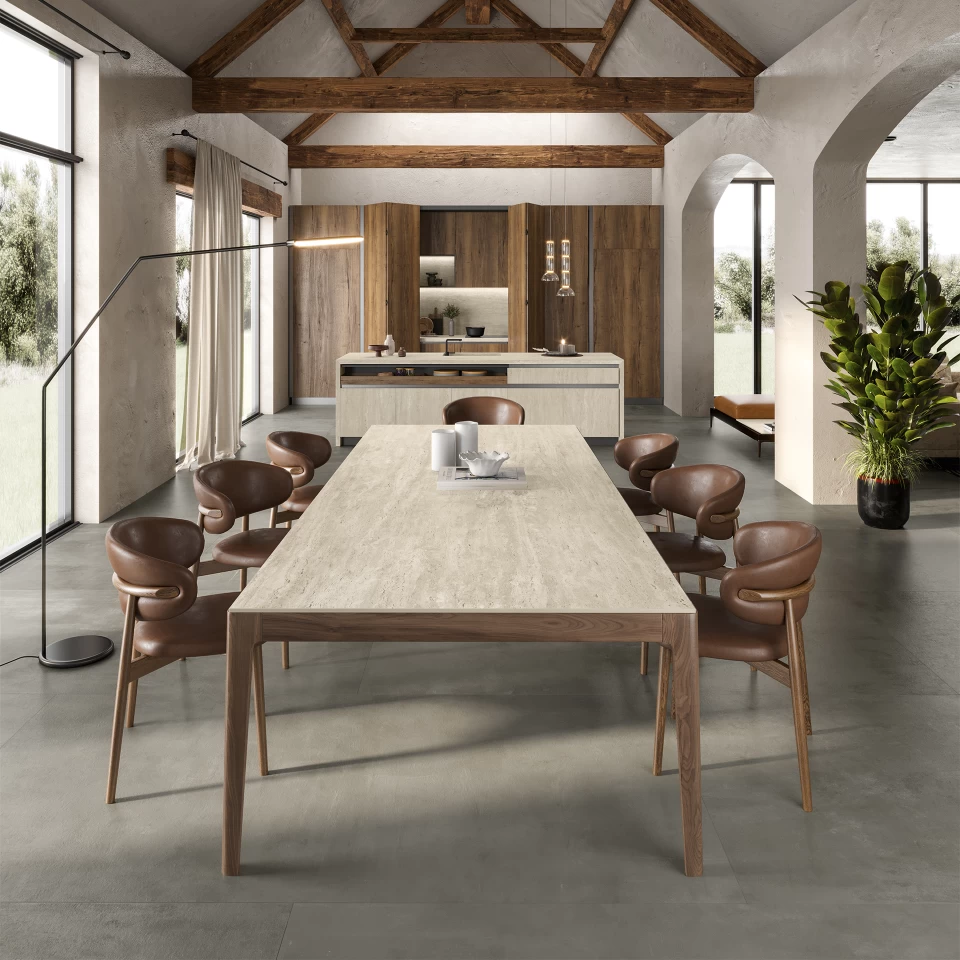 Ideas to separate living room from kitchen
The latest trends in residential interior architecture focus on conviviality and shared space, so it's no surprise when the kitchen and living area often occupy the same area, however extensive the overall space in the building. To enjoy all the convenience of an open space without creating the impression of two separate rooms, however, you have to find the right solution to visually separate the kitchen from the living room. Here are 10 ideas for using porcelain stoneware to its maximum effect and creating combined environments that retain an element of separation.
1. Half-height partition between kitchen and living room
A partition is practical, functional and can often be the simplest solution for dividing two spaces in the same room. In the noughties they were mainly used in bathrooms to hide the toilet, but the idea of a kitchen and living room divider is gaining ground even with the most sophisticated designers, as it can also be a veritable addition to the furnishings if it's decorated with fashionable paintwork or wallpaper or contains an industrial-style window.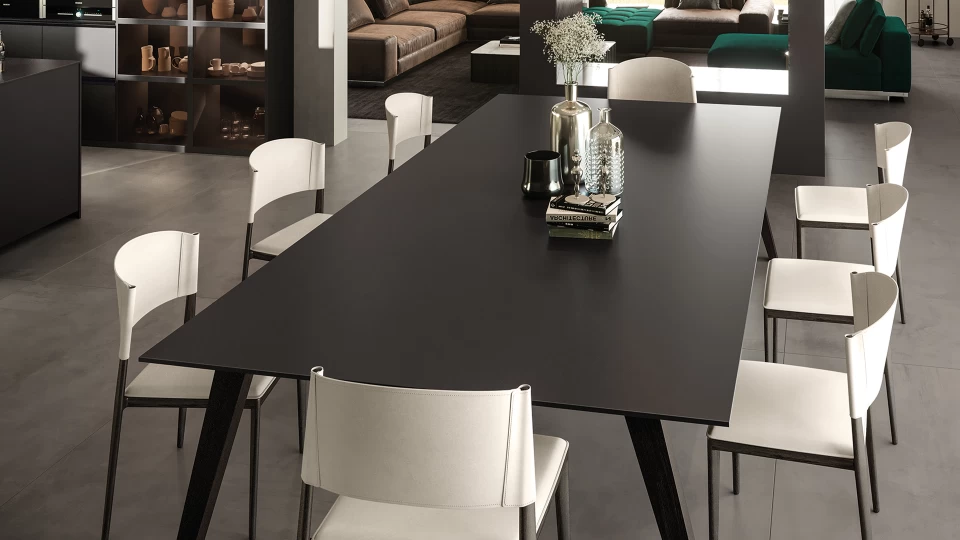 2. Stoneware dividing wall
Installing a partition in the middle of the room to separate the kitchen from the living area can be an appealing choice, especially in a large space; the advice in this case is to create an opening that links the two environments while retaining visual separation. Choosing a porcelain stoneware cladding to complement the furniture in both areas ensures stylish aesthetic interest and a harmonious visual appeal.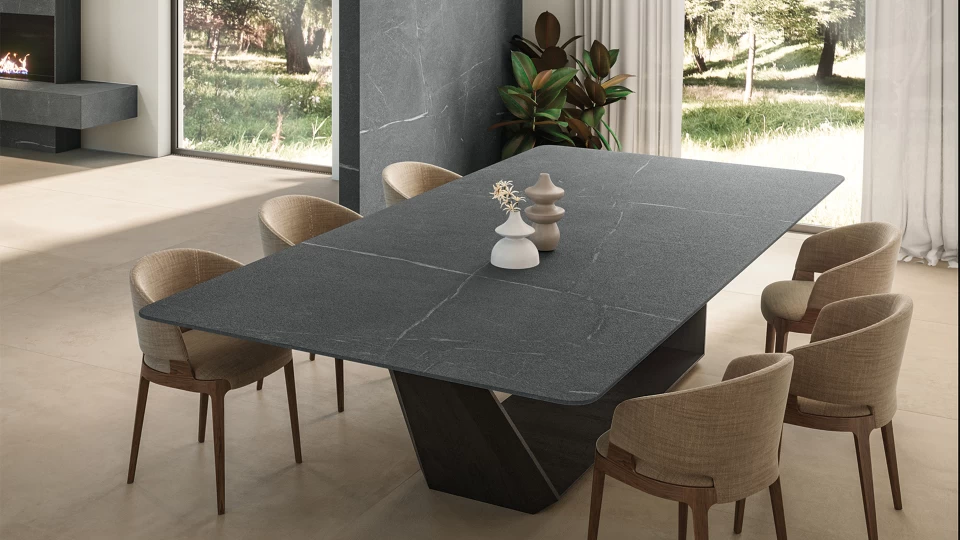 3. Opening without a door
If you're decorating an open-plan space that was originally two separate rooms, you might want to remove the door but keep the opening and enlarge it. This is an ingenious idea for a combined living and dining room that gives the impression of a much larger space, especially if you use the same cladding as a continuous theme. The stylish anthracite background of Soapstone Dark in stone-effect stoneware is the perfect solution for adding character and personality to an open kitchen that faces the living area.
4. Smart furniture arrangements
If it's a limited space you're working with, constructing an actual partition between the kitchen and living areas might not be the best solution. Before you think about walls and partitions, therefore, you should consider the layout and positioning of the furniture; a designer sofa placed across the space or a large rug under the dining table can 'help the eye' distinguish the different areas.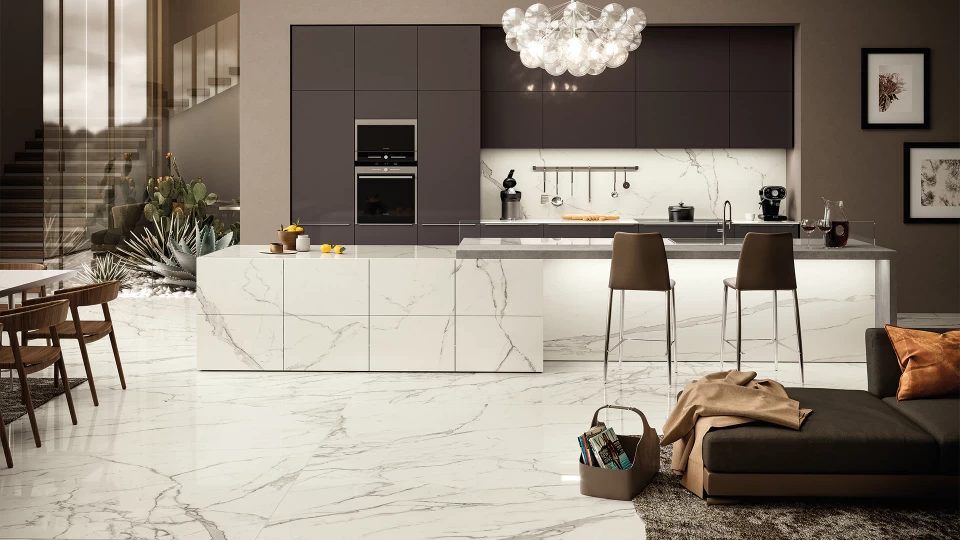 5. Kitchen island as divider
The kitchen island is a typically American kitchen design element, but over the last ten years kitchen islands have been a big success in Europe because they're so versatile. Clad in sought-after materials like Calacatta marble-effect porcelain stoneware, an island is one of the most effective solutions for dividing a modern kitchen from a living room with stylish elegance. In smaller spaces it's advisable to clad the island in the same material as the floor to achieve visual harmony.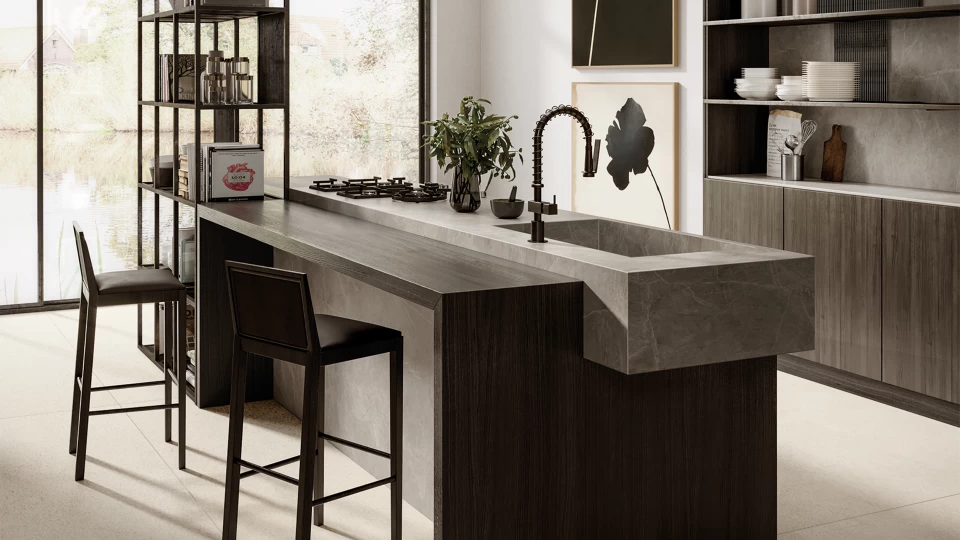 6. Kitchen island in two finishes
A kitchen island is a useful thing in itself, but an innovative design can also turn it into an excellent alternative to a dividing partition between kitchen and living room. Porcelain stoneware is an extremely hard-wearing material that's designed for food contact and comes in a vast range of effects and finishes, and can be used to create some very original design combinations. For example, why not match grey marble-effect stoneware on the kitchen side with wood-effect stoneware on the side facing the living room?
7. A partition that's there but you don't see it
One of the most practical and intriguing ideas for separating kitchen and living room is to install a glass partition. That way, the light pervades the whole space because there's nothing to block it, yet the two spaces are still separated. If you prefer something more prominent, you could divide the kitchen and living room with a smoked glass partition for a stylish retro vibe.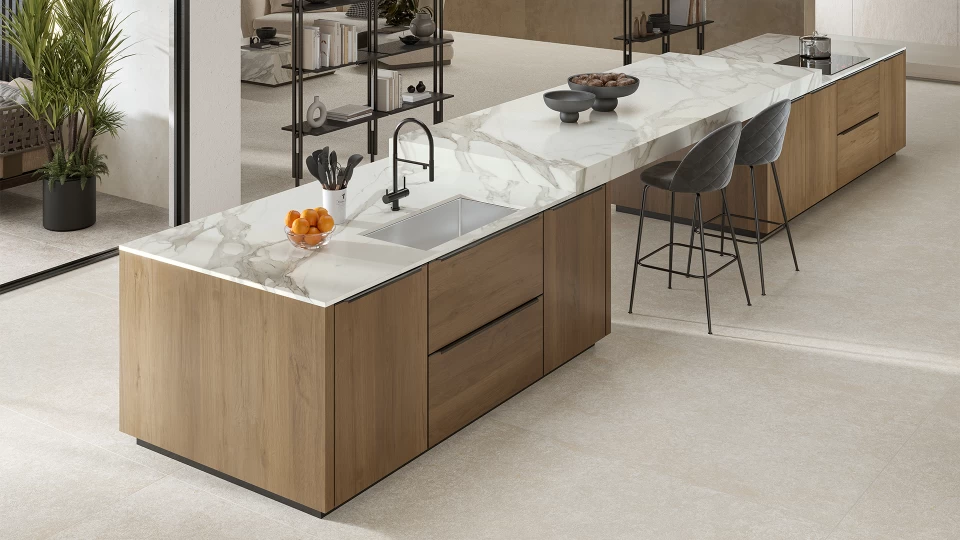 8. Open bookcase
Another way to separate the kitchen from the living room without constructing a wall is to install an open bookcase between the two areas, which offers the right amount of demarcation but allows the light to filter through. The important thing to remember here is to choose a light, airy structure with shelves that are fairly wide apart, and not to stack too many things on them!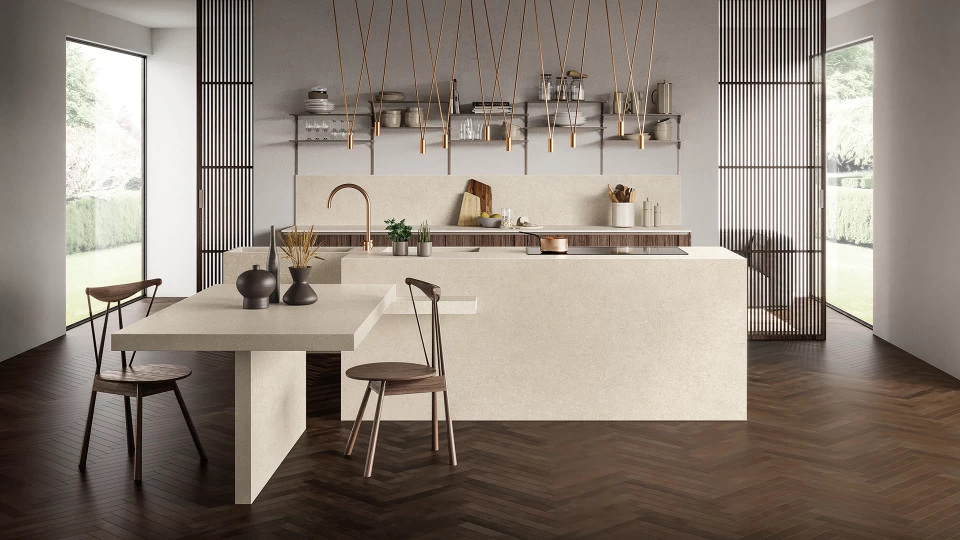 9. Flooring as a kitchen and living room divider
If you're planning a complete overhaul, there are lots more brilliant, innovative ideas to choose from for dividing the kitchen from the living space. Laying new flooring is definitely a radical decision, but the end result might surprise you; a dark wood effect stoneware is solid and impactful, makes any kitchen look handsome and creates a stylish contrast to stone-effect elements such as a kitchen worktop in porcelain stoneware slabs. A bolder choice would be to create a dialogue between the different environments by using the same finish for a table top in the living space or the shelves in a bookcase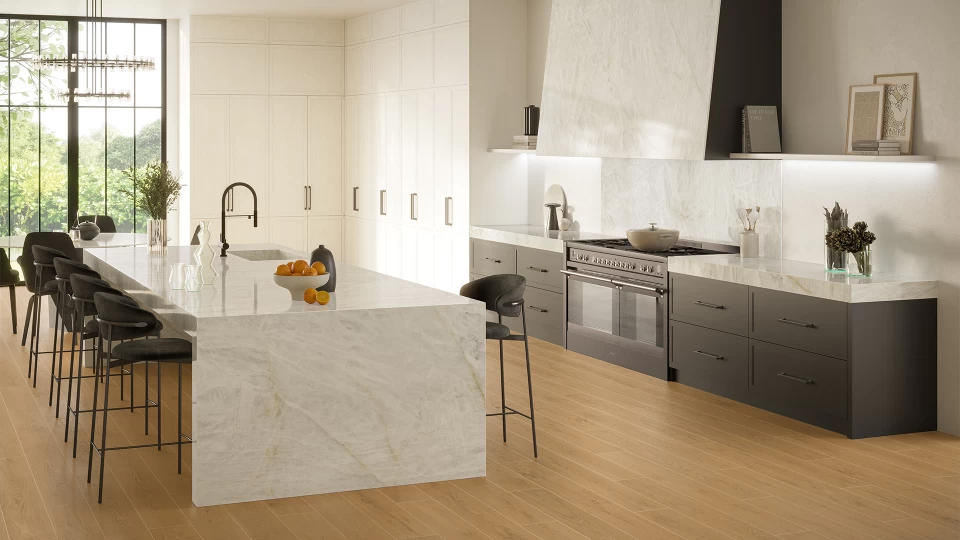 10. Separating kitchen from living room… without dividing them.
It's not essential to divide the kitchen and living spaces of course; in fact with porcelain stoneware you can still decorate the two areas harmoniously using different colours and finishes. Marble effect stoneware in Crystal White is one of the most versatile cladding materials in this respect; the brilliant white background creates a crystalline effect with intense light-reflecting properties that will enhance either the kitchen worktops or a TV unit with a fashionable, high-class impact.